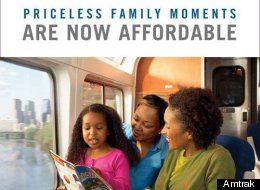 Amtrak's all-inclusive new advertising campaign is drawing praise in the lesbian, gay, bisexual and transgender (LGBT) blogosphere.
The new "Ride With Pride" campaign depicts two same-sex couples with children, while directing users to a unique, gay-friendly site featuring vacation packages for Martha's Vineyard and Lake Placid, N.Y., among other popular destinations. The two ads -- one featuring two men, the other featuring two women -- also promotes the company's half-price campaign for children between the ages of two and 15 years old who are traveling an adult.
Check out one of the ads, then scroll down to keep reading: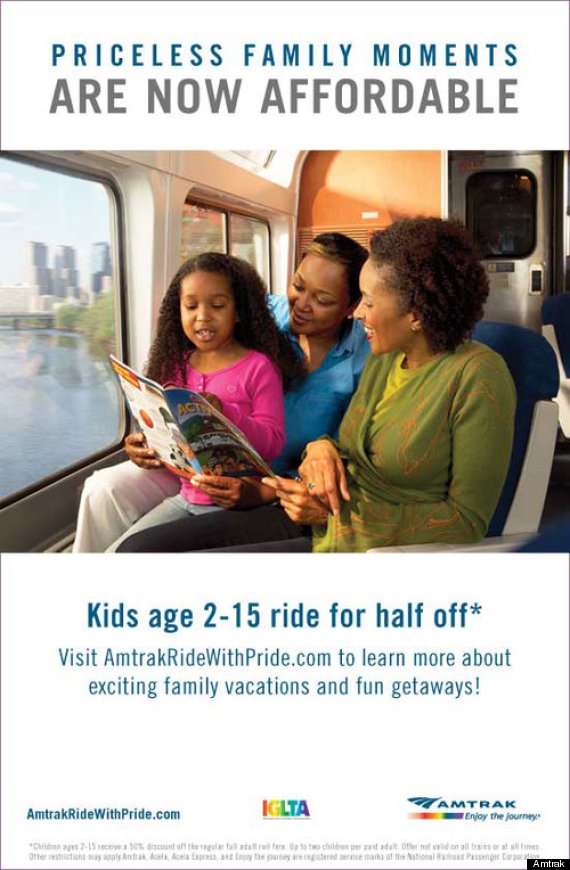 "Priceless family moments are now affordable," the ads read.
Towleroad, Instinct magazine and MetroWeekly are just three of the numerous media outlets to feature the ads already.
"At Amtrak, diversity is not just a corporate buzzword, it's a priority," the company notes on the site. "We understand that valuing diversity is not only a good thing to do, but a business necessity beyond compliance that plays a vital role in customer service delivery and ultimately the success of our operations. Simply put, our business diversity philosophy means commitment to ensuring our company embraces a culture of respect and appreciation for differences and similarities of all people."
It's unlikely that the Amtrak ads were released to coincide with "Chick-fil-A Appreciation Day," which was designated by former GOP presidential candidate Mike Huckabee in hopes of combating the backlash sparked by the fast food chain's president, who confirmed his company's anti-gay stance in a controversial interview last month.
Regardless, they've certainly brought a smile to our faces.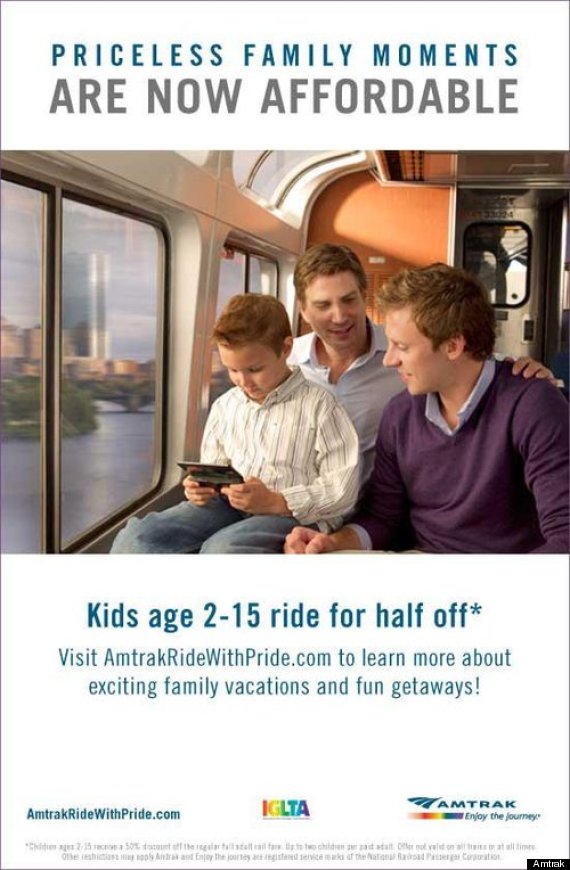 Check out some great LGBT-inclusive advertisements below:

The first of two scrapped Doritos ads, which had been submitted to the company for its "Crash the Super Bowl" contest, shows a man gazing longingly across a fence at his two gay neighbors, who happen to be eating -- surprise! -- Doritos.

The Oreo cookie brand sparked controversy by posting a picture backing gay pride on its official Facebook page. The image sees the famous biscuit stuffed with rainbow-coloured filling, with the date June 25 and the word "Pride." It was also posted on the Oreo Cookie Twitter feed, with the phrase: "Celebrate your pride for love!"

A number of media outlets praised Target's new same-sex wedding registry ad -- but whether it will prove to be enough to quiet naysayers' doubts about the megabrand's seemingly contradictory stance on LGBT issues remains to be seen. The ad features two formally-dressed men holding hands with the slogan: "Be Yourself, Together." Still, the ad comes just after Target found itself in the headlines after deciding not to sell "Channel Orange," the critically acclaimed new album by R&B singer Frank Ocean. Though Target officials claimed the decision was purely a reaction to iTunes' one-week exclusive sale of the album, many wondered if the move had actually been prompted by Ocean coming out as a gay man.

The tongue-in-cheek new ad depicts the silver Chevrolet Volt as "coming out" to his older-model "parents," along with the text: "Volt runs on an electric battery and a gas generator. So, whatever revs your engine, we support you 100 percent." The ad ran in a Detroit-based LGBT publication before Motor City's Pride celebration this year.

Similarly, a second gay-themed Doritos commercial was submitted as part of the Super Bowl contest but never officially saw the light of day. This time, a man eyes another man's nether regions in a sauna before a bowl of Dortitos is revealed to be placed on his crotch.

Orangina's "gay" cat ad was yanked from French airwaves in 2010 -- but is the ad actually promoting a same-sex relationship or one based on zoophilia?

In 2008, Heinz pulled an ad for its mayonnaise featuring two men kissing after approximately 200 complaints to the British Advertising Standards Authority that it was "offensive" and "inappropriate." "It is our policy to listen to consumers. We recognise that some consumers raised concerns over the content of the ad and this prompted our decision to withdraw it," Nigel Dickie, director of corporate affairs for Heinz UK, told The Guardian.

This clip -- which features a young man eating in McDonald's with his father, who doesn't know his son is gay -- raised more than a few eyebrows when it was released last year. "The point was not to show someone who is troubled, especially a teenager," the brand director of McDonald's France was quoted as saying at the time of the clip's release. "We know it can be difficult for some people, but we wouldn't have dared show someone who is struggling".

The classically sexy Renault adverts, which birthed Thierry Henry's famous "va va voom" as well as a saucy striptease from Dita Von Teese have pioneered a new breed of commercial to advertise their latest car, the Renault Twingo. A girl dressed in white and her father sit in the car, on the way to the church. Happy smiles greet the couple as they enter the building, and walk down the aisle. However this advertisement, like most Renault commercials, aims to challenge the viewer's perception.

Things aren't always what they seem in this cheeky 2006 Toyota's commercial, in which a father incorrectly identifies the gender of his daughter's date.

This 2007 ad for Levi's Jeans featured alternate endings with male and female love interests appearing in the telephone booth at its conclusion.

An unlikely male couple finds love -- temporarily -- in this humorous Virgin Atlantic spot.

Aimed at promoting the Renault Twingo, this steamy European commercial features two comely women, one blonde and one brunette, exchanging flirtatious glances at a cocktail party before trailing off to a bedroom and stripping down to lingerie. Not everyone was smitten with the controversial ad, however, and it was yanked from Italian airwaves in late 2010.

Starring Justin Long (best known as Drew Barrymore's ex), this humorous clip -- filmed in opposition of California's Prop 8 -- takes a look at the potential flip side of same-sex marriage.

Yanked from airwaves, this steamy Jawbone Bluetooth ad featured members of a real-life rugby team. The lovers, however, were actors.

This ad -- for iPhone's gay-dating app West Fourth -- has the benefit of featuring Manhattan locations (Hudson River Park, Christopher Street Pier) instantly recognizable to the New York gay community.

Jeans once again get the gay advertising treatment in this clip, set in a prison shower room.

A controversial Spanish ad starring a British soccer player was yanked earlier this year amidst accusations it was both homophobic and racist. As Pink News is reporting, the commercials for multinational insurance firm Groupama Seguros feature Liverpool goalkeeper José Manuel Reina (known as Pepe Reina), dressed in full football gear, arriving at an African tribal meeting in a jungle with an interpreter. Playing on the fact that the Madrid-born Reina's surname means "queen" in Spanish, the tribe's chief reportedly tells the athlete, "You queen, me king," before crowning him with flowers.

In a hilarious ad for Australian-based Miroslav, a hotel worker gets cozy with a guest to appreciate the quality of his underwear "up close."