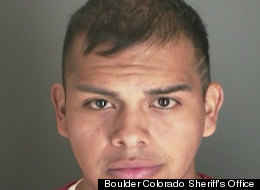 Someday, they'll tell their grandkids about this. Or not.
The Daily Camera reports that Timothy Paez is accused of peeing on a woman in Colorado after she rejected his advances.
A police report obtained by the Camera said Paez came up and put his arm around a woman at a bar in Longmont on Saturday night.
The woman turned around and said, "Um, really?," at which point Paez backed off, according to the report.
But Paez hadn't used up all of his smooth moves. At first, the woman thought the rejected Romeo was spilling his beer on her, but when she turned around, she discovered Paez was urinating on her leg, the report said.
The Denver Channel reports that police who questioned Paez found most of his answers were "unintelligible" because he was so intoxicated.
Paez was arrested on suspicion of harassment and public indecency. according to the Boulder County Sheriff's Office.
Believe it or not, the law looks down on publicly micturating on other people's legs, especially when that person is a cop. In 2010, the Express-Times reported on a man who was arrested after he peed on an Allentown, Pa. police officer.
Samantha Goudie -- who also went by her Twitter alias, "Vodka Samm" -- was arrested at a University of Iowa football game in August 2013, after she allegedly tried to run onto the field. "Vodka Samm" blew a .341 BAC in jail, and later tweeted about it. Her outrageous tweets made her a viral sensation, but once she sobered up, she deleted her account.

When this middle school math teacher was arrested on a DUI charge, she allegedly offered the arresting officer oral sex and the opportunity to fondle her breasts. Read the whole story here.

His last name might sound like "car," but he was allegedly driving a motorized shopping car while drunk in a Florida Walmart. Read the whole story here.

Harjo allegedly told cops in December, 2012 that she couldn't be arrested for alleged DUI because she had a court date the following day for a previous DUI.

Bryan Wendler was arrested for his sixth DUI while wearing a shirt that read "Been Drinking? Free Breathalyzer Test: Blow Here." He blew a .19 on the police breathalyzer, more than twice the legal limit.

Jesse James Thomas, arrested March 28 for public drunkenness, Thomas was wearing a sombrero when he jumped on an officer's parked patrol car screaming his name, according to an account in the Sacramento Bee. Read more.

Jana Lawrence, 46, of Dacula, Ga., is accused of wreaking havoc at two restaurants Saturday, by groping, licking and flashing fellow patrons before being arrested.

Vanessa Robinson was charged with aggravated assult after she allegedly cut up her boyfriend after he tried leaving her apartment with the last beer -- a Colt 45 to be specific.

Ohio man Niles Gammons found himself in a bit of double trouble when -- thanks to daylight savings -- authorities busted him twice in one day, at the exact same time.

Laniewski, 41, was arrested for allegedly endangering her child, among other charges, when she ran in to a raging creek to "save" ducks during Hurricane Sandy's onslaught on Oct. 30, 2012. Police say that Laniewski left her 4-year-old unattended while she plunged into neck-high waters in Glen Rock, Pa. It took 8 firefighters to rescue the woman, who allegedly had a blood alcohol level more than twice the legal limit for driving.

Police say that Patricia Libby was under the influence when repeatedly crashed her car into another vehicle in the parking lot of a Marco Island, Fla. elementary school where her children are enrolled.

William Liddell is accused of getting into a tussle with cops after they tried to arrest him for a hit and run. During the altercation, a police report said Liddell defecated in his pants.

Ty Alsop was allegedly found passed out in a car with pants soaked in urine. He was taken to an Evansville, Ind. hospital to detoxify. Instead of staying put, he sneaked out past the staff. Witnesses saw him in the parking lot wearing a hospital gown that exposed his backside. Alsop asked police for a second chance, claiming "I'm not really a bad guy. I've just been a drunken a-----e tonight," according to the police report.

This 51-year-old Brit hijacked a ferry in September 2011, reportedly yelling to police officers that she was Jack Sparrow. Read the whole story here.

Largo (Fla.) Police pulled over Kotelman allegedly for speeding and driving drunk on May 3. Cops checked the trunk and say they found a small monkey tucked inside. Read more.

Coley Mitchell, a lab tech at Georgia Health Sciences University, was arrested for public drunkenness after being found in a locker room intoxicated with his pants down halfway his legs surrounded by two lab monkeys that had been let out of their cages.

Police in Illinois say that Olivia Ornelas blamed her DUI and crashed vehicle on her boyfriend's failure to take her, as he promised, to the new "Twilight" movie. Read more.

An Australian man caught driving a motorized cooler box through a beachside resort town appeared in court charged with drunk driving, The Courier Mail reported Monday. Christopher Ian Petrie, 23, faces charges of driving under the influence and driving without a license after police caught him on the makeshift vehicle, which was powered by a 50cc engine.

Police in Phoenix, Ariz., have accused Randon Reid of the crime of flight -- and a crime against flight. Investigators say the 26-year-old suspect opened fire on an airplane parked at Deer Valley Airport, then fled from authorities who tried to pull him over. He has reportedly been charged with felony flight and driving under the influence.

It's always best to practice what you preach. Police in Florida say they arrested the former president of a local chapter of Mother's Against Drunk Driving for driving under the influence. Debra Oberlin has been charged with drunk driving for the Feb. 18 incident.

Andrei Bibbs, 54, of the 3000 block of Coopers Grove Court, was arrested Jan. 7 Illinois State Police and charged with driving while under the influence of alcohol. He was clearly shocked by the change.

Pope was arrested for DUI. He allegedly told police that he was a "covert agent" and that he had drank 100 beers.

In early August 2012, David Caruso was busted for allegedly deciding to grab a beer while driving through a sobriety checkpoint in Connecticut. Read more.

Phipps was arrested and charged with driving under the influence after he got into a car accident that he allegedly blamed on an elephant.

Sherri Wilkins, a drug and alcohol counselor, was arrested after allegedly fatally hitting pedestrian Philip Moreno with her car while driving under the influence. Police say Wilkins then drove over two miles with Moreno partially through her windshield. Read the whole story here.