China Badminton Coach, Li Yongbo, Says 'It's Me To Blame' For Disqualification At London Olympics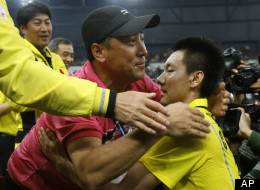 -- The coach of the Chinese badminton players who were disqualified for throwing a game says he is to blame.
"As the head coach, I owe the fans and the Chinese an apology," coach Li Yongbo said, according to a report by official Xinhua news agency. "Chinese players failed to demonstrate their fighting spirit of the national team. It's me to blame."
China's Olympic delegation also criticized the two players.
"The behavior by Yu Yang and Wang Xiaoli on court violated the Olympics ideal and the spirit of fair play. The Chinese delegation feels distressed over this matter," Chinese Olympic delegation said in a statement released to Xinhua.
___
EDITOR'S NOTE - "Eyes on London" shows you the Olympics through the eyes of Associated Press journalists across the 2012 Olympic city and around the world. Follow them on Twitter where available with the handles listed after each item.