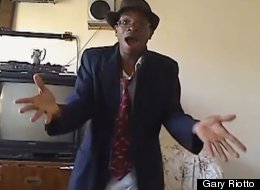 "I'm Lindon Warren -- that's Lindon with an 'I,' like Liza with a 'Z.'"
That's how the young subject of "Finding Judy," a new short film by actor-director Gary Riotto, describes himself -- but judging by the impression he has already made on festival audiences nationwide, it's uncertain just how much longer Warren will still need an introduction.
As Riotto's film reveals, the Chicago-born Warren has a truly astonishing knack for channeling Judy Garland. Remarkably, the 20-year-old is able to capture the essence of Garland as both the fresh-faced "Wizard of Oz" ingenue and the smoky-voiced diva of her twilight years. True, it's a skill that countless drag queens have sought to hone for generations, but as Riotto explains, Warren's impression (unlike many celebrity impersonators before him) of his legendary idol is neither comic nor camp.
"He's far enough removed generationally from Judy so he didn't really know who she was, and yet to this day, he cannot articulate why he is drawn to her or what she means to him," Riotto, a lifelong Garland fan who first encountered Warren's eerily spot-on rendition of "Over the Rainbow" on YouTube, says. "I see Lindon as someone who is able to channel Judy's talent and spirit, but is not really 'playing her,' in a sense."
The eight-minute, surprisingly poignant new film comprises clips of Warren's teenage performances along with more recent footage of him tracking down Garland's handprints in the courtyard of Grauman's Chinese Theatre in Hollywood. In high school, Warren says his newfound talent served another purpose, too, helping to combat the bullies who taunted him mercilessly in the classroom. "They wouldn't be laughing at me; they'd be laughing with me," he says.
No one on the festival circuit seems to be laughing at "Finding Judy," as Riotto's film nabbed the Audience Award for Best Short Film at the Vancouver Queer Film Festival following a well-received world premiere at the Boston LGBT Film Festival and subsequent engagements in New York, Seattle and San Diego, among other cities. Riotto now hopes the film will soon head overseas as well, as festivals in London, Berlin and even Singapore have already expressed interest.
But the director is taking those accolades in stride, saying that his ultimate goal for "Finding Judy" is for the film serve as an anti-bullying educational tool. "I was just blown away by the fact that there was this young man who was being true to himself, he was embracing his special talent and sharing with all the world," he explains. "I'm pretty certain that one way to put an end to bullying is to embrace our young people and all their uniqueness, and to celebrate it."
For more information on "Finding Judy," click here. To read more about Riotto's work, click here.
Still can't get enough Judy Garland? Check out 20 of her most legendary performances below:
Judy Garland's Greatest Moments
It's hard to imagine now, but "Over The Rainbow" was almost cut from "The Wizard of Oz" because MGM officials felt it slowed down the pace of the movie. In addition, Shirley Temple was the original choice to play Dorothy, but 20th Century Fox refused to lend her to MGM.

Judy starred opposite Mickey Rooney in nine films, including "Love Finds Andy Hardy." "Words and Music" was their final picture together.

The 1942 movie "For Me And My Gal" was Gene Kelly's screen debut. Here, Judy sings the title song from the movie.

Ginger Rogers introduced this Gershwin standard in 1930's "Girl Crazy," while Judy sang it in the film version of the musical 13 years later.

Director Vincente Minnelli helmed "Meet Me In St. Louis," which Garland often cited as one of her favorite films she worked on. She and Minnelli married in 1945.

Judy introduced this Christmas classic in 1944's "Meet Me In St. Louis."

Garland was pregnant with daughter Liza Minnelli at the time the film "Till The Clouds Roll By" was produced, and hence appears in only two short numbers, including this one. Creative steps were taken to hide her blossoming figure.

This sequence from "The Pirate" was reportedly cut by exhibitors in Memphis and other southern U.S. cities because it included The Nicholas Brothers, African-American performers.

This song, from "The Harvey Girls," took home the Academy Award for Best Original Song in 1946.

"Summer Stock" was Garland's last movie with MGM, and while she was plagued with personal problems and had fluctuating weight during filming, she shines brighter than ever with this amazing number.

"A Star Is Born" brought Judy an Oscar nomination and introduced this incredible song to her concert repertoire.

Interestingly, Garland only performed her signature song twice during her many TV appearances, which spanned 14 years. Rare footage from her first TV Special, "Ford Star Jubilee," show her performing the number dressed in the tramp costume made famous in her film "Easter Parade" with Fred Astaire.

Two gay icons, one legendary TV performance.

Judy became one of the few female singers to attempt the song on her TV show in 1963.

This stellar performance -- among others seen on "The Judy Garland Show"-- made it clear that daughter Liza Minnelli was poised to follow in her legendary mother's footsteps.

Though she performed this Frank Loesser standard to perfection on her TV series, Garland was actually married five times in real life.

Judy made this "Oliver" ballad her own during a moving performance on "The Judy Garland Show."

Judy paid tribute to the late Cole Porter with a spirited medley of the composter's music at the 1965 Academy Awards.