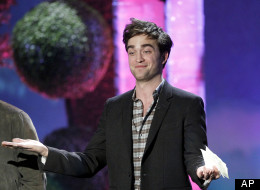 Robert Pattinson is missing -- OK, he's not "missing persons" missing -- but in the days following the news that his girlfriend Kristen Stewart cheated on him, no one knows where the actor is staying.
On Wednesday, People magazine reported that Pattinson was hiding out at Reese Witherspoon's tranquil estate in Ojai, Calif., but those reports are false, according to "Entertainment Tonight." The 26-year-old actor was also reported to have been seen partying with friends at the club 93 Feet East in London, but Gossip Cop says those reports are fake, as a source connected to the club says that "no one" could confirm Pattinson was at the venue over the weekend.
As of this moment Robert Pattinson has gone AWOL and we here at HuffPost Celebrity want to find him. We're launching the Find Rob campaign and we want your help. Where in the world is he hiding? Tweet us @huffpostceleb with the hashtag #FindRob to let us know where you think he's hiding out, though we have a few ideas of our own:
Where In The World Is Robert Pattinson?
Perhaps Rob went back to where it all began -- the set of "Twilight." Could the heartbroken actor be camping out in the lush forest of Silver Falls State Park in Oregon? Pattinson and Stewart spent plenty of time together in those woods filming some of the film's most romantic scenes.

Rob is reportedly confused and looking for answers about Kristen's affair. Perhaps he took a trip to Scotland to visit one of the filming locations of "Snow White and the Huntsman" so he could see where Kristen and director Rupert Sanders' attraction first blossomed.

Maybe Rob is in England after all and is hiding out with his parents Richard and Clare Pattinson at their home in Richmond, a town in southwest London.

Though reports that Rob was spotted partying in London have been refuted, he might be taking advantage of the enormous crowds at the 2012 London Olympic Summer Games. While there are photographers everywhere, the focus on the athletes and the throngs of people making their way through the city could make for the perfect place to hide, provided he has the right disguise.

Rob is reportedly heartbroken over the fact Kristen cheated on him, and he has to be absolutely exhausted by all this drama. If we were him, we'd check ourselves into an ultra-fancy "rehab" center and just get treated for exhaustion.

Hogwarts School of Witchcraft and Wizardry doesn't really exist, but if it did, we're pretty sure that's where Rob would be hiding out. Or maybe he just got his hands on an invisibility cloak and he's been running around Los Angeles this whole time.