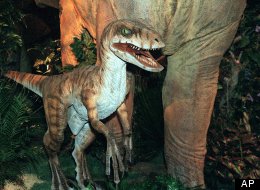 Rumors are running wild that a real-life Jurassic Park is in the works, but after the man behind the project has denied the claims, only one question remains: Will life find a way?
Australian billionaire Clive Palmer has reportedly been discussing plans to make a theme park based on the 1993 film "Jurassic Park" that would feature real-life genetically cloned dinosaurs, the Gold Coast Bulletin reports (h/t The Daily Mail). The idea may seem outlandish, but it wouldn't be the first time the man worth an estimated $8 billion made some larger-than-life dioramas; he's already commissioned a replica of the Titanic from a Chinese shipbuilder that's slated to be done by 2016.
But according to the man himself, the Jurassic Park rumors are just that.
"It's just a beat-up of a story and untrue," Palmer told the Gold Coast Bulletin.
A press conference scheduled for Friday is likely to shed further light on whether Palmer intends to become the real-life John Hammond or not, according to The Daily Mail.
Even if Palmer's plans are nothing more than myth, it seems that a Jurassic Park-style tourist attraction is destined to become a reality. Already, scientists have said that a wooly mammoth "could be born in four or five years" using cloning.
Likewise, the "Symposium on the Future of Zoos" held in Buffalo last February, predicted that attractions could one day include extinct cloned animals such as the dodo bird and so-called "Tasmanian Wolf."
Here are the countries with the most billionaires:
The 10 Countries With The Most Billionaires
Number of billionaires: 22 Total Population: 33,739,900 Notable Billionaires Include: David Thompson (Chairman of Thompson Reuters), Jeffrey Skoll (ex-eBay President) and Guy Laliberté (CEO of Cirque du Soleil).

Number of billionaires: 23 Total Population: 127,560,000 Notable Billionaires Include: Masayoshi Son (CEO of venture capital Softbank Capital), Hiroshi Yamauchi (President and Chairman of Nintendo) and Tadashi Yanai (Founder and President of retail holding company Fast Retailing).

Number of billionaires: 27 Total Population: 7,731,167 Notable Billionaires Include: Ernesto Bertarelli (biotech entrepreneur known for Merck-Serono) and Esther Grether (art collector and Swatch shareholder).

Number of billionaires: 29 Total Population: 7,003,700 Notable Billionaires Include: Li Ka-shing (businessman and Chairman of Hutchison Whampoa Limited) and Thomas and Raymond Kwok (inherited Real Estate developer Sun Hung Kai Properties.)

Number of billionaires: 42 Total Population: 61,838,154 Notable Billionaires Include: Gerald Cavendish Grosvenor (owner of Real Estate property company Grosvenor Group), Bernard Ecclestone (sports entrpreneur, CEO of Formula 1 racing Management) and Richard Branson (Chairman of Virgin Group).

Number of billionaires: 43 Total Population: 81,879,976 Notable Billionaires Include: Karl Albrecht (Founder of discount supermarket chain Aldi) and Susanne Klatten (shareholder in BMW and pharmaceutical manufacturer Altana).

Number of billionaires: 47 Total Population: 1,155,347,678 Notable Billionaires Include: Lakshmi Mittal (chairman and CEO of steelmaker ArcelorMittal) and Mukesh Ambani (Chairman and managing director of conglomerate Reliance Industries).

Number of billionaires: 58 Total Population: 141,850,000 Notable Billionaires Include: Vladimir Lisin (Chairman of Novolipetsk Steel), Vagit Alekperov (president of oil company Lukoil) and Roman Abramovich (Oil businessman and owner of England's Chelsea Football Club)

Number of billionaires: 72 Total Population: 1,331,460,000 Notable Billionaires Include: Robin Li (CEO and Founder of search engine Baidu), Liang Wengen (Chairman and main shareholder of manufacturer Sany Group) and Zong Qinghou (founder of beverage producer Wahaha).

Number of billionaires: 396 Total Population: 307,006,550 Notable Billionaires Include: Bill Gates (Chairman of Microsoft), Warren Buffett (Chairman and CEO of Berkshire Hathaway) and Larry Ellison (Co-founder and CEO of enterprise software company Oracle Corporation).