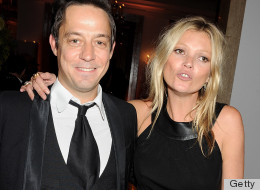 Supermodel Kate Moss can be credited with a lot of things: making shorts with Wellies a thing, being a leading figure in the Models Dating Rock Stars movement and of course, being the most chronic wardrobe malfunction-er of all time.
But apparently, Miss Moss is good for something else, too: seducing you with a sexy platter of bacon.
Moss' husband of a little over a year, Jamie Hince of the (totally awesome) band the Kills, says in a new interview with the London Evening Standard that his wife helped tempt him away from his 20 years of veganism, which both he and bandmate Alison Mosshart have since given up for good.
Hince explains in the article how Moss lured him over the edge while they were still dating... with bacon. In underwear.
'I was vegan for about 20 years,' says Jamie slowly. 'But then… the thing that really tipped me over the edge was when I first met Kate, had just started seeing her, and I walked into the kitchen and she was in her underwear making me a bacon sandwich. She didn't know I was vegan, and I was like… all my principles went out of the window.' He smiles sheepishly. 'Or my priorities went right.'
So, heads up to any rockers out there who are planning on meat-teetotaling: you'd better clear a path through the supermodels in skivvies.
Click over to the Evening Standard to read more of the interview with the Kills, including the surprising way Alison Mosshart celebrated at the Hince-Moss nuptials.
See pics from Kate & Jamie's wedding below!
Kate Moss' Wedding In Vogue September 2011
Jamie and Kate channel a modern-day Mick and Bianca Jagger, re-creating the couple's 1971 backseat wedding portrait by royal photographer Lord Lichfield. Tom Ford velvet-and-fur coat. On Hince: Tom Ford red velvet jacket. (Mario Testino for Vogue)

Like Pre-Raphaelite visions in diaphanous silk and delicate eyelet petticoat dresses, angelic flower girls and bridesmaids (and a pageboy) encircle the bride. Top row (standing), from left: Ella de la Falaise, Charlotte Moss, Mercy Magic Cutler, Bliss Ferguson, Lila Grace Moss, Etta Cutler Lindegren. Bottom row (sitting), from left: Blythe Ferguson, Alfie Watters, Elfie Ferguson, Stella Jones, Ava Jones, Kate Moss, Lara Birindelli, Iris Law, and Poppy Spaceman. On Moss: Calvin Klein Collection dress by Francisco Costa. (Mario Testino for Vogue)

The newlyweds bring a bit of the Roaring '20s to the bucolic English countryside. Rodarte paillette coat and beaded lace dress. On Hince: Lanvin velvet blazer and Charvet cotton shirt. (Mario Testino for Vogue)

Lila Grace and Kate recapture the early-'90s minimalist aesthetic of the black-and-white Calvin Klein campaigns that elevated Moss to supermodel status. (Mario Testino for Vogue)

(Mario Testino for Vogue)
Want more? Be sure to check out HuffPost Style on Twitter, Facebook, Tumblr and Pinterest.