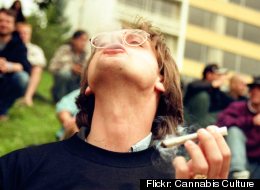 Chicago's biggest summer music festival hits Grant Park this weekend, and over the years it has developed a reputation for bringing a distinctly skunk-like smell to the Loop for three days.
So what does that mean for this year's festival? On day two of Lollapalooza, Chicago's new, more lenient marijuana policy takes effect, giving police the option to issue tickets instead of making arrests for possession of up to 15 grams.
The festival takes place on city Park District property, so arrests can still be made and the ordinance doesn't technically apply, according to NBC Chicago.
But the Chicago Tribune reports that there wasn't a single marijuana-related arrest made last year at the event, which was attended by 270,000 people (not all of whom likely followed the rules). Arrests are still mandated for smoking (as opposed to possession), possession on school grounds and intent to sell.
Will police turn a blind eye or will we see a spike in ticketing outside the festival's boundaries? Tell us your thoughts in the comments:
Pot In Chicago: A Timeline
AUGUST 2012 -- A mere passing mention of the "war on drugs" has the tendency to send Chicago-area media into a firestorm. After Cook County Board President Toni Preckwinkle stated, during an event led by former Republican Gov. Jim Edgar, that former President Reagan deserved "a special place in hell" for his administration's drug policy, she almost immediately backtracked on the comment. Preckwinkle later emphasized that, although she could have used more careful wording, she remained critical of how the United States has approached substance abuse as a criminal problem rather than a health crisis, the Chicago Tribune reports, though Reagan is not the only president whose administration has held such a position. "Drug policy in this country has been in the wrong direction for 30 years," she noted.

JUNE 2012 -- Chicago's City Council passed an ordinance that allows police to ticket people found with small amounts of marijuana instead of arresting them, saying aldermen had to do something to keep officers on the street where they can combat the surging homicide rate and not be tied up for hours doing paperwork. The 43-3 vote in favor of the ordinance, which allows officers to write a ticket for $250 to $500 for possessing as much as 15 grams of marijuana or about 15 marijuana cigarettes, was expected after a council committee voted 13-1 previously to approve the measure. But aldermen still debated about two hours before passing the ordinance, with many saying they were not comfortable with a measure that could be seen as sending a message that they are condoning drug use. Others said they needed to act to protect an increasingly nervous city where homicides are up 38 percent this year compared to the same period last year. One day after the council approved the ordinance, police announce their seizure of 16,000 pounds of marijuana with an estimated street value of $40 million -- one of the city's biggest pot busts ever.

JUNE 2012 -- Chicago Mayor Rahm Emanuel introduced a proposal that would allow police officers to issue tickets to individuals caught with small amounts of marijuana. Under current law, those arrested for pot possession can face a punishment of up to six months in jail, plus a $1,500 fine, but the mayor's proposal essentially decriminalized the possession of small amounts of weed. Police would newly be able to ticket low-level offenders -- those possessing less than 15 grams of the drug -- and fine them up to $500. Emanuel initially stayed quiet on the ordinance but said that after researching the issue, he realized that such a change would allow the city to "observe the law, while reducing the processing time for minor possession of marijuana - ultimately freeing up police officers for the street."

APRIL 2012 -- It's likely not the skunks contributing to the whiffs Chicago Tribune columnist Barbara Brotman has been catching around Chicago. "The smell [of marijuana] has changed," Ryan Vandrey, a behavioral pharmacologist and assistant professor at the Johns Hopkins University School of Medicine who has studied marijuana for 12 years told Brotman. Another expert explained that the skunk-like smell is an increasingly popular variety associated with a powerful high. With the warmer weather and the onslaught of outdoor concert and festivals headed Chicago's way, this "infestation" is likely to grow just as rapidly as the skunk population this season.

MARCH 2012 -- In the course of reporting on the traffic stop of Terrance Huff, HuffPost was able to obtain the reports of an Illinois State Police K-9 unit over an 11-month period in 2007 and 2008. An analysis of those reports shows that only 25.7 percent of the drug dog "alerts" resulted in police finding a measurable quantity of illicit drugs. Just 13 percent resulted in the recovery of more than 10 grams of marijuana, generally considered an amount for personal use, and 10.4 percent turned up enough drugs to charge the motorists or their passengers with at least one felony.

FEBRUARY 2012 -- Police confiscated more than a ton--2,100 pounds total--of marijuana on the South Side of Chicago. Combined with 64 grams of cocaine also found at the scene, the estimated value of the drugs is more than $6 million. Four people were charged in the bust -- Atef Dissi, 27; Nika Hines, 27; Keith Mackmore, 39 and Gregory Wright, 28. Dissi, of the 4500 block of West 77th Place, faces the most serious charges, including one felony count of manufacture and delivery of cannabis and one misdemeanor count of criminal trespass to vehicles. That same week, officers on the West Side responding to a domestic battery call stumbled upon an "elaborate" marijuana-growing operation, confiscating about 70 pounds of bagged marijuana and live plants and charging Darick Bryant, 39, with felony manufacture and delivery of cannabis and other misdemeanor infractions.

JANUARY 2012 -- A 20-year study of marijuana users in four U.S. cities, including Chicago, found that marijuana smoke is less damaging to the lungs and body than tobacco smoke. Unlike cigarette smokers, marijuana users tend to breathe in deeply when they inhale a joint, which some researchers think might strengthen lung tissue. But the common lung function tests used in the study require the same kind of deep breathing that marijuana smokers are used to, so their good test results might partly reflect lots of practice, said Kertesz, a drug abuse researcher and preventive medicine specialist at the Alabama university.

NOVEMBER 2011 -- The Evanston City Council voted 6-3 on a $250 million budget that included decriminalizing marijuana possession of 10 grams or less, penalizing offenders with a fine rather than the jail time they could face elsewhere. Aldermen justified the more lenient marijuana ordinance as a protection against young people's futures (infractions under the new ordinance will not appear on criminal records), and as part of an effort to free up police they say are overextended in the town, which has about 75,000 residents and contains Northwestern University. The similar Chicago proposal, meanwhile, has failed to pick up much steam.

NOVEMBER 2011 -- Ald. Danny Solis (25th) introduced an ordinance to the City Council that would make possession of small amounts of marijuana a ticketable offense -- leaving offenders to pay a $200 fine versus a misdemeanor charge. "In these trying times of the economy, we could really use the revenue generated by fines versus arrests," Solis told the AP. "And each (arrest) means police officers are spending an inordinate amount of time outside the neighborhoods, inside the district offices doing paperwork." Solis estimates that the change would bring the city $7 million per year and also save police and court workers "money and thousands of hours of time."

AUGUST 2011 -- Though reliable statistics on the subject are difficult to track for obvious reasons, analysis last summer estimated that the average selling price of marijuana in Illinois, particularly in the Chicagoland area, is among the highest in the nation. The blogger behind FloatingSheep.org created a map of average marijuana prices across the country based on data from Price of Weed, a website that crowdsources information regarding how much people are paying to light up. The blogger's analysis indicates that Illinois, particularly in its northeastern corner, is home to some of the highest prices for green found in the nation. According to Price of Weed, the average price of a high-quality ounce of marijuana in Illinois is $430.80, while a medium-quality ounce can be purchased for roughly $303.13. The data is based on just under 1,000 submissions. In Chicago, based on recent data, the average price of a high-quality eighth of marijuana appears to hover just under $60.

AUGUST 2011 -- Chicago police arrested seven men and found an estimated $33 million in cannabis, weighing more than 12,000 pounds, from a West Side warehouse, the biggest bust in the city's history. According to a news release, narcotics unit officers were led to the warehouse, located on the 1000 block of South Kolmar Avenue, after they received a tip about a drug trafficking organization that was linked to multiple street gangs, in addition to storing and distributing massive amounts of narcotics. Monday, police observed a cargo van leaving the grounds which, upon further investigation, contained nearly 2,500 pounds of marijuana. The warehouse contained 9,800 more pounds of cannabis, as well as seven vehicles, a rifle and a handgun that were "connected with the illicit activity," according to police.

JULY 2011 -- Cook County Board President Toni Preckwinkle, an outspoken opponent of arrests for low-level drug possession offenses, reportedly discussed the idea of decriminalization with Chicago Police Supt. Garry McCarthy. "It's pretty well known within the criminal justice system that the judges will dismiss those charges [involving] very modest amounts of illicit drugs," Preckwinkle said, according to the Chicago Sun-Times. "I suggested to [McCarthy] that although the law is pretty clear that such possession is a violation of the law, that since the judges routinely and almost universally dismiss such low-level drug charges that the police might stop arresting people for this since it clogs up our jail and these people their cases will be dismissed out anyway." The suggestion ccame about a month after Preckwinkle called the "war on drugs" a failure. "The cost is too great to continue fighting this war on drugs with so little success," she said. McCarthy has publicly made similar comments about drug enforcement previously. In an interview with WBBM-AM 780, he said "narcotics use is a criminalized social issue" which causes crime.