OAKLAND, Calif. -- Police say protesters marching through downtown Oakland smashed a window at President Barack Obama's campaign office.
Officials say the window at Obama's office at 16th Street and Telegraph Avenue was broken as more than 100 protesters marched around 9 p.m. Friday.
Police say the marchers also smashed several car windows.
Twitter user Michael Liskin snapped a photo from the scene: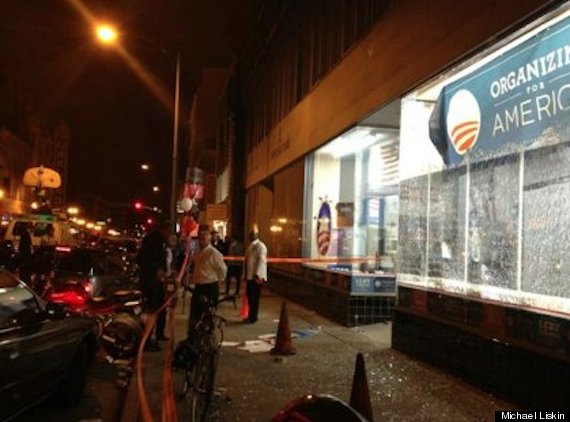 Also on HuffPost:
Loading Slideshow
Obama Ad: 'The Choice'

Obama Ad: Romney Is The Problem Not The Solution

Obama Ad: Why Would Romney In vest In The Caymans?

Marc Anthony For Obama

Obama Campaign Ad: 'Outsourcer-In-Chief'

Obama Campaign Ad: 'What WIll They Mean

Obama Ad: Romney Raised Taxes and Fees

Obama Ad Presses Congress On Jobs Plan

Sarah Jessica Parker Supports Obama in Ad

Obama Ad Focuses on Romney's Statements in Primary

Let the Attack Ads Begin - Obama Hits Romney First

Only a week after the Presidential campaign sort of officially became Mitt Romney versus Barack Obama the first official negative ad has launched. While Republican Super PACs have been blasting Obama for months in swing states, the Obama campaign's first anti-Romney ad is up now: Swiss Bank Account.

Obama Ad: Would Romney Have Gone After Bin Laden?