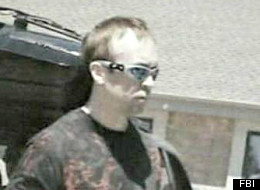 Authorities investigating the killing of six people at a Sikh temple in Wisconsin are trying to identify a person of interest who was at the crime scene after the shooting.
According to Oak Creek police chief John Edwards, the individual "showed up at the scene after the shooting." Edwards said officers who spotted the guy thought "this guy looks suspicious" but he left before they could speak with him. (Live Updates)
Authorities cautioned that they do not believe anyone other than the suspected shooter, Wade Michael Page, was involved in the deadly shooting spree.
"We have every reason to believe there was only one shooter ... though our investigation to that end continues," U.S. Attorney James Santelle said at a press conference Monday morning.
Page, 40, was founder of the band End Apathy and lived in an apartment building in Cudahy, Wis. Authorities searched the building Sunday. The landlord there told authorities Page held a night job making welding supplies.
Earlier today, Oak Creek Police said Page joined the U.S. Army in 1992 and was serving in the psychological operations unit in Fort Bragg, N.C. He was allegedly discharged in October 1998, under less-than-honorable circumstances. The circumstances of his discharge are not immediately clear.
CASE PHOTOS: (Story Continues Below)
End Apathy -- The Band of the Suspected Sikh Temple Shooter
The Southern Poverty Law Center says that the Sikh temple shooting suspect -- Wade Michael Page -- was the member of a "skinhead" band named End Apathy.

End Apathy band members

The Southern Poverty Law Center reported that in 2000 Page attempted to buy goods from the National Alliance, what the SPLC said was "then America's most important hate group."

Performance photos from End Apathy's Myspace page.

Performance photos from End Apathy's Myspace page

The trio of musicians that makes up End Apathy, a "skinhead" band according to the SPLC.

Recordings of End Apathy songs with titles like "Self Destruct" and "Useful Idiots" have been played more than a thousand times on the band's Myspace page.

End Apathy's Myspace identifies their genre of music as "hardcore, metal [and] punk."
Police say Page, whom they initially described as a heavy-set Caucasian man with a shaved head and numerous tattoos, stormed the Sikh temple Sunday morning. He allegedly shot six people to death and wounded three others. Wade was killed outside the temple in a shootout with police officers.
A motive in the case is unclear. Authorities said they were treating the attack as an act of domestic terrorism. Because of their dress and appearance, Sikh men are often confused with Muslims.