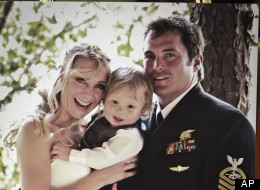 Marking the one-year anniversary of the tragic Navy SEALs helicopter crash in Afghanistan, loved ones grieve and the world pays tribute to the fallen heroes.
The crash that killed 25 U.S. Special Operations members and five crewmen in Afghanistan on August 6, 2011, leaves widows such as Kimberly Vaughn grappling with the tragedy a year later.
Vaughn told the Independent Mail that her children will ask question such as:
"Can Daddy come back to have cake?" and "Don't you think God can let Daddy come back for a few minutes?"
Kimberly's husband, Special Warfare Operator Petty Officer 1st Class Aaron C. Vaughn, was one of 17 Navy SEALs killed. All but two of the SEALs were from SEAL Team Six, the unit that killed Osama bin Laden in Pakistan in May. None of the servicemen killed took part in the mission, the Associated Press reported.
The crash was the deadliest single loss for the U.S. in Afghanistan.
Read stories of the fallen heroes in the slideshow below and consider paying tribute in other ways. The Navy SEAL Foundation offers up support by providing families with funding for memorial services, scholarships for children and spouses and assistance with other financial needs.
SLIDESHOW:
Navy SEALs Lost In Helicopter Crash
Lt. Cmdr. Jonas B. Kelsall, 32, enlisted at 17 and quickly became a member of the elite special force, the Los Angeles Times reports. His mother, Teri Kelsall, tells the paper her family is staying strong for their son, who loved his country endlessly: "He told us once, 'If I die on a mission, I'll die happy because I'm doing something for my country.'" Kelsall's best friend since ninth grade, Robert James Reeves, also died in the Aug. 6 crash.

"My name is Kevin, and I'm gonna be a Navy SEAL." That's how Special Warfare Operator Kevin A. Houston, 35, introduced himself to Joe Kennedy in the fifth grade, according to WBUR. Houston played basketball and football in high school and though a motorcycle accident put him in a wheelchair for his graduation, he still stood up and walked across the stage to accept his diploma, according to WBUR. After recovering, he joined the Navy. "He would often say, 'I'm at the tip of the spear," his friend Jarrod Paquette told the station. "I'm right where I wanna be."

A football star who loved to hunt, Special Warfare Operator Aaron C. Vaughn, 30, knew from an early age what his future held. "He wanted to be a SEAL from the time he was 10 or 12 years old," Vaughn's grandmother told USA Today. Vaughn's wife told CNN that her husband would have pursued this path even if he had known his life would be cut short. "He loved his job," Kimberly Vaughn said. "There was no way -- even if you could tell him that this would have happened he would have done it anyway."

When Special Warfare Operator Jason R. Workman was 14 years old, he declared that he would one day become a SEAL."He didn't become a Navy SEAL by chance," Workman's childhood friend Tate Bennett told the Deseret News. An All-State athlete who competed in football, baseball, swimming and triathlons, friends say he had the athletic and intellectual prowess required of such an elite and demanding role. "He was just really, really well-rounded. He was very personable, very outgoing," Bennett shared with the news outlet.

Friends remember Special Warfare Operator Matthew D. Mason, 37, as the linebacker and first basemen who loved to make others laugh and refused to quit until he achieved his goals, the Kansas City Star reports. Mason injured himself in Iraq in 2005, "but he came back from that and rejoined his team," his high school football coach John Ball said. "He was quite the person."

Best friends since freshman year of high school, both Special Warfare Operator Robert J. Reeves, 32, and Jonas B. Kelsall served and died together in Afghanistan on Aug. 6, according to the U.S. Navy SEALs blog. Shreveport is now reeling from the dual loss. "The war comes home to you when it is a neighbor, when it is a hometown boy. Here we've lost two of them on the same team," John Shaughnessy told KSLA. "We just don't know what to do."

Friends and family remember Special Warfare Operator John Faas, 31, as humble, hardworking and outgoing, the Star Tribune reports. Valedictorian of his 1998 class at Minnehaha Academy, Faas was admired for his integrity and willingness to stand up for others. "He was the defender of the undefended," his football coach Ron Monson told the news outlet. "He was quite a guy."

A high school football, baseball and swim star and academic-letter winner, Special Warfare Operator Nicholas Spehar, 24, didn't shock those who knew him when he became a Navy SEAL. "I could see him as a Navy SEAL and giving 110 percent to serve his country," Chisago Lakes High School principal Dave Ertl told the Star Tribune. Spehar graduated from Chisago Lakes in 2005. "He always gave everything his all," Ertl said. "I know Nick, and if there's one message that should be taken away about Nick and the lesson he taught us, that's it."

Though friends and family tried to dissuade him, Special Warfare Operator Jesse D. Pittman, 27, joined the military after spending two seasons working for the California fire department, SFGate.com reports. "He liked to be challenged, and I think that challenge is what drew him to both of those careers," Pittman's friend Chris Wilkes told the website. "He was definitely special."

Though Special Warfare Operator Christopher Campbell, 36, had a slight build, that didn't keep him from joining the SEALs, his family told the Associated Press. "If Chris thought he could, he would try," said his mom, Diane. Campbell became a SEAL after graduating from White Oak High School in 1993. He requested that if he were to die in the line of duty, that donations be made in his memory to the Wounded Warrior Project.

After graduating from Petoskey High School in 1995, Special Warfare Operator Heath M. Robinson, 34, joined the Navy SEALs, according to the Petoskey News. Robinson's high school buddy, Ryan Boldrey told Our Colorado News how his bravery extended to his relationships too. "He was one of those people whose friendship saw no boundaries when it came to lines that cliques tend to draw in the sand -- especially at that age. And he exhibited real friendship to all."

An athlete who worked challenging construction jobs around town as a kid, Special Warfare Operator Jon T. Tumilson, 35, impressed locals with his committed work ethic. "I never heard him complain about hard work, or ball practice or cutting weight for wrestling or even basic training in the Navy. Nothing," Tumilson's neighbor Mark Biggs told the Des Moines Register. "You asked him to do something, he did it."

During his service with the Navy SEALs, Special Warfare Operator Stephen M. Mills, 35, garnered a number of awards, including Global War on Terrorism Service Medal, National Defense Service Medal and the Bronze Star Medal with 'V' device for valor, according to the Department of Defense. "Matt was a great guy, he was a team leader of his Navy SEALs," family friend Martha Harris told the Bastrop Advertiser."The family hasn't determined yet what they will do, but they will be setting up something (in Matt Mills') memory."

Special Warfare Operator Darrik C. Benson, 28, always talked about joining the military and fulfilled his mission after high school, his grandmother, Claudia Benson, told the St. Helena Star. "He was an outdoor fellow, he just loved life and loved to ride motorcycles," she said. Despite his lifelong passion, those who knew him are struggling to accept the loss. "It's like a little piece of you goes missing," Linda Hansel, Benson's 8th grade teacher told KGO. "He was the kind of fellow who lived life in the moment. Enjoy it today."

Special Warfare Operator Brian Bill eventually wanted to become an astronaut. The 31-year-old from Stamford, Conn. was an avid outdoorsman, pilot and triathlete, according to Boston.com. His friend Kimberly Hess tells the news site that he was an ambitious and supportive friend. "He set his standards high. He was that kind of person," she said. "He was remarkably gifted and very thoughtful. There wasn't anything he wouldn't do for you no matter the time or day."

Special Warfare Operator Louis Langlais, 44, died alongside fellow church member Kevin Houston, WAVY reports. The two worked with the Virginia Beach, Va. church's youth, the Rev. Kyle Wall tells the news outlet. "We're thankful for these guys," Wall said. "Every time we gather to worship we're free to do that because [of] the men and women before them and because of these men who gave their lives." Langlais leaves behind his wife and two young sons.

Special Warfare Operator Thomas Ratzlaff, 34, wanted to be a Navy SEAL ever since he was young boy growing up in a small Arkansas town. Loree Blackburn, who runs a log cabin restaurant in Green Forest, told the Associated Press he was the city's crown jewel. "The whole town was proud of him." Ratzlaff leaves behind two sons and a wife expecting a baby girl in November.