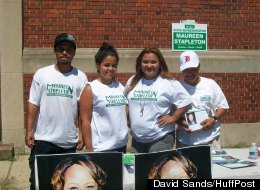 HuffPost Detroit visited polling places in Lathrup Village, Southfield and Southwest Detroit to get a pulse on what really brought Metro Detroit voters to the polls during the August 2012 primary.
(SCROLL BELOW FOR PHOTOS!)
Citizens spoke out for and against a variety of candidates. Some chimed in about the race between Pete Hoekstra and Clark Durant for the Republican U.S. Senate nomination. Others told us why they supported Gary Peters or Hansen Clarke as Democratic nominees for the U.S. House of Representatives. In Southwest Detroit, plenty of voters sounded off on the race between incumbent State Reps. Rashida Tlaib and Maureen Stapleton for the newly redrawn 6th District Democratic State House nomination.
Metro Detroiters also had plenty to say about the issues: whether they chose to support the DIA, SMART bus and Wayne County jail millages; the effects of redistricting on the 2012 campaign; even their personal motivations for participating in the election. Take a look below to see what voters were saying.
And, to all of you who made it to the polls today, thanks for voting.
Voters Have Their Say At The Polls During The Michigan August Primary
"I always vote because I know my ancestors died for the right," said Debra Martin of Lathrup Village, Mich., who cast her ballot at City Hall Tuesday morning for the August primaries. "I'm going to come vote every time those polls open." Martin said she voted for Brenda Lawrence, her friend and former Southfield mayor running for the democratic nomination for the 14th district seat in the U.S. House against Rep. Hansen Clarke, Mary Waters and Rep. Gary Peters, who currently has the lead over his opponents. Martin believes Lawrence had a large commitment to keeping business in Southfield and keeping the crime rate down.

Antonio Carmona, 70, a retired UAW worker who lives in southwest Detroit, voted for Rashida Tlaib to be the Democratic candidate for state Rep. in District 6. "She does good. The woman comes to my house. Helps my kids. Does stuff for the community," he said.

Sarah McCarthy (pictured here with her husband Paul) told The Huffington Post she's basically a conservative voter, but voted for politicans she thought were doing their jobs including state Rep. Rashida Tlaib and Wayne County Prosecutor Kym Worthy. One issue she was extremely supportive of was a renewal of a millage for the Wayne County jail. "They're turning them loose, aren't they? There's no room. If you don't have more space, you can't lock them up," she said. "We need a big, big jail!"

Isiah Southward, 21, of Detroit showed up at the polls in southwest Detroit to educate people about the candidates chosen by the Fannie Lou Hamer Political Action Committee Slate. "There aren't many people to make a change in the city," he said. "But the people who are should be supported 110 percent."

Jen Rusciano, 24, of southwest Detroit (pictured with Adam Milgrom) told The Huffington Post she was frustrated by the results of redistricting. "There are a lot of good incumbents forced to run against one another. It's a damn shame."

"As an African American ... voting is very important to me," said Southfield voter Charmika Elder. "A lot of our people died, a lot of women marched for our right to vote." Elder voted in favor of the SMART public transit millage, saying there's a lot of peop'e who don't have cars that rely on buses to get to work. She also said it was a shame that turnout for primaries was low, when it matters for November's election. "Everybody always complains afterwards," she said.

Gaston Munoz, 29, of southwest Detroit is a realtor helping out with Maureen Stapelton's campaign near the polling location at Detroit's Most Holy Redeemer Church. State Rep. Stapleton is running for the democratic choice for state rep in the 6th district against colleague Rashida Tlaib. Munoz was critical of Stapleton's opponent. "Rashida Tlaib has been here four years already, and I haven't seen a lot of change," he said.

Blayne Leonard, Lathrup Village resident, voted at City Hall for Republican candidates. In the U.S. Senate race, he voted for Clark Durant, who is challenging Pete Hoekstra to take on incumbent Dem Debbie Stabenow. "He has more straight-line Republican conservative values," Leonard said. He also noted that Hoekstra was "slamming the Democratic candidate," which he received widespread criticism for after his campaign released an ad targeted at Stabenow featuring an Asian woman speaking in broken English about China taking away American jobs.

Ron Cole, 55, a retired Internal Revenue Service worker voted in the primary at The Most Holy Redeemer Church in southwest Detroit. He told The Huffington Post he refused to vote for Stapleton or Tlaib as state representative candidates and also refused to vote for Clarke or Peters as U.S. Congress candidates. He criticized Democrats and Republicans alike for redistricting, saying that Democrats would likely change district lines in their favor ten years from now. One thing he did vote against was the Wayne County jail millage. "I'll be damned if I spend any more money on jails. I'm tired of them using my people as cash crops."

Southfield voter Carol Izant said she voted for Rep. Hansen Clarke in the 14th Congressional district race. "He's grassroots, approachable, willing to get involved, very much of the people," she said. Izant also voted for to renew the millage for SMART buses. "We need a unified regional transit system," she said. "We need more public transportation, not less." (MANDEL NGAN/AFP/Getty Images)

Rashida Tlaib campaigners Mayra Valle, Deb Sumner and Cindy Garcia take a break from their education efforts near The Most Holy Redeemer Church polling site in southwest Detroit to pose for a picture. State Rep. Tlaib is running for the democratic spot on the 6th district state house seat ballot in the Novemebr election. "She's the hardest working state Rep I've known," said Sumner. "I've had the honor to see her at work. She's quite the warrior!"

Maureen Stapleton campaigners including Bernard Burton (left), Jasmine Reyes (third from left) and Ramon Garcia (right) have been working out in the heat to raise awareness about their candidate on primary day near The Most Holy Redeemer Church polling site in southwest Detroit. Reyes, 20, said of 6th district State Rep. candidate Maureen Stapleton: "I think she'll be good for our community, for the hispanic community," she said. She's fighting for the people that are illegal to get back [their driver's] licenses [and] more medical care."

Campaigners for several candidates handed literature to voters as they drove up to Lathrup Village City Hall.