Lucy Hale is Cosmopolitan's September cover girl, but you might not know who she is.
Last month, the 22-year-old picked up a Teen Choice Award for her role as Aria on ABC Family's hit series "Pretty Little Liars." She also recently inked a deal with Hollywood Records, and might give Taylor Swift some competition as her forthcoming album will likely be in the country genre, according to The Hollywood Reporter.
Hale got her start in 2003 on the short-lived show "American Juniors," an "American Idol" spinoff with younger contestants, and went on to land guest-starring roles on Nickelodeon and Disney Channel shows. Fans might remember Hale from the also-short-lived CW drama "Privileged," which was actress's first leading role. Hale has become a teen favorite with made-for-TV movies, such as "Sorority Wars" and "A Cinderella Story: Once Upon a Song," but is slowly becoming a better-known name through the breakout success of "Pretty Little Liars," which is now in its third season.
The rising star rocks a midriff-baring yellow shirt with faded jeans on the cover of Cosmopolitan and looks like she's practically glowing, but she also opened up to the magazine about her eating disorder and struggle with body-image issues.
"I've never really talked about this, but I would go days without eating. Or maybe I'd have some fruit and then go to the gym for three hours. I knew I had a problem…It was a gradual process but I changed myself," she revealed.
For more on Lucy Hale, pick up a copy of the September issue of Cosmopolitan, on sale Tuesday, August 14.
PHOTO: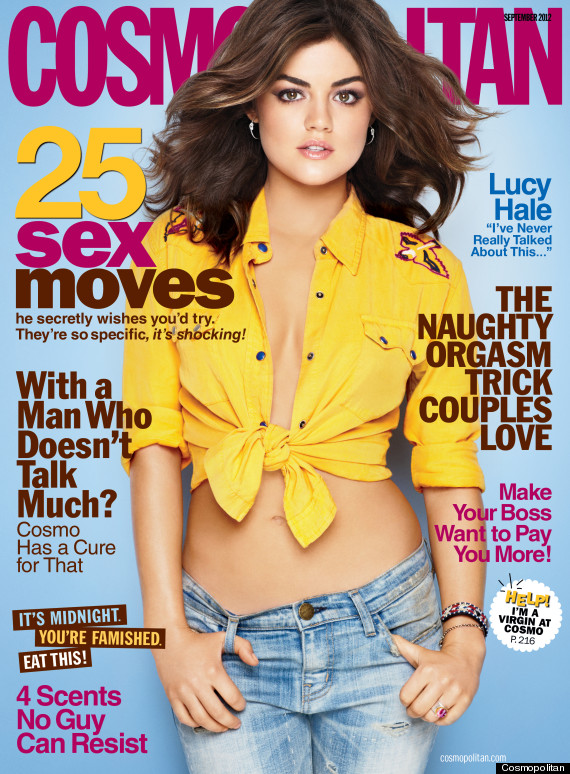 Celebrities Who Have Battled Eating Disorders
In 2005, actress Jessica Alba told Glamour, "A lot of girls have eating disorders, and I did too. I got obsessed with it. When I went from a girl's body to a woman's body with natural fat in places, I freaked out. It makes you feel weird, like you're not ready for that body."

In 2006, singer Katharine McPhee talked to "Good Morning America" about her five-year battle with bulimia that nearly destroyed her vocal chords. At her worst point, McPhee binged and purged as many as seven times a day, she said just a few weeks ago. She said that appearing on "American Idol" saved her life by forcing her to confront her problem.

"Sopranos" star Jamie-Lynn Sigler told "The Early Show" she had exercise bulimia: "I ended up starting at a routine which was, you know, 20 minutes in the morning and cutting back a little on my calories. And it snowballed into six or seven hours a day of exercise," said Sigler.

In 2007, singer Kelly Clarkson told CosmoGirl that she was bulimic in high school. "The lesson I took from that was purely superficial, but that's what I grew up thinking for a long time. It wasn't smart, and I headed straight into an eating disorder and became bulimic for the next six months," she said.

In 2010, former "Full House" star Candace Cameron Bure revealed her battle with bulimia when she released her book titled, "Reshaping It All." She told People that she began binging and purging after "Full House" ended its run in 1995 and she was adjusting to life in Canada with her new husband, Russian-born NHL player Valeri Bure.

In 2005 actress Kate Beckinsale opened up about her anorexic past. The star once weighed only 70 lbs and needed to attend five therapy sessions a week for four years to fight the disease.

In 2005 singer and actress Ashlee Simpson told Cosmopolitan that as a young ballerina she struggled with anorexia. "I was around a lot of girls with eating disorders, and I actually had a minor one myself," says Simpson, who at one point stood 5'2" but only weighed 70 lbs. Simpson said her parents stepped in and made her eat, adding that family support really helped her.

In 2006 after the public watched her shrink before their eyes, actress Lindsay Lohan confessed to Vanity Fair that she was "making herself sick," which many took as a reference to bulimia. She told the magazine that Tina Fed and SNL producer Lorne Michaels staged an intervention telling her she needed to take care of herself.

Actress and former child star Mary Kate Olsen famously went to rehab in 2003 for anorexia, but rarely spoke about it. In 2008 she confessed that the disease nearly killed her. "There have definitely been times in my life when I just turned to people and said, 'I'm done - this is too much for me. This is too over-whelming," she said.