Manliest Restaurants In America 2012: 'Men's Health' Names The 9 Best Spots For Dudes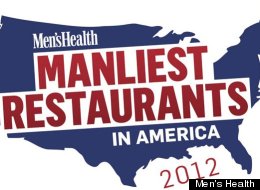 Last year, Men's Health announced the manliest restaurants in America. But apparently, there's more high-calorie plates and meat-centric fare for dudes to consume (that seems to be how the mag defines a "manly restaurant") because the 2012 edition has nine different restaurants for this year's list. Actually, Men's Health came up with nine separate "guy food categories" for readers to vote on, which include such "male" topics as brew pub, taco stands and seafood shack.
The overall winner -- the single manliest restaurant in America that is -- won't be announced until the December 2012 magazine. In the meantime, one can salivate at the list of the nine category winners.
Here they are:
MANLIEST BBQ JOINT: Oklahoma Joe's, Kansas City, KS
MANLIEST PIZZA PARLOR: Burt's Place, Chicago, IL
MANLIEST STEAKHOUSE: Cattleman's Steakhouse, Fabens, TX
MANLIEST SEAFOOD SHACK: Mabel's Lobster Claw Restaurant, Kennebunkport, ME
MANLIEST BREW PUB: Snake River Brewing, Jackson Hole, WY
MANLIEST SANDWICH SHOP: Katz's Delicatessen, New York, NY
MANLIEST TACO STAND: Hankook Taqueria, Atlanta, GA
MANLIEST BURGER SPOT: Butcher & The Burger, Chicago, IL
MANLIEST ADVENTUROUS EATING: Incanto, San Francisco, CA