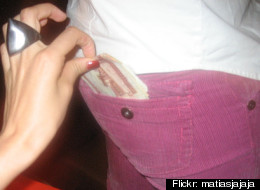 Announcements and signs plastered all over the CTA warn passengers to watch their pockets and purses for pickpockets reaching inside. But surveillance video from a CTA Red Line train suggests patrons should be wary of more devious strategies, too.
A security camera on a CTA Red Line train captured footage of a man cutting another rider's pocket and taking his wallet, ABC Chicago reports.
Police arrested Matthew Green, 56, around 5 a.m. on Sunday at the Grand Avenue station after he used the victim's bank card to buy CTA transfer cards, the Chicago Tribune reports.
At the time of his arrest, police also found in Green's possession the victim's missing wallet, a razor blade, items from two other robberies including a stolen iPhone and 11 transfer cards, NBC Chicago reports. Green faces three felony counts of theft and one for using a forged credit card.