Max Shacknai, Son Of Millionaire Jonah Shacknai, Was Likely Murdered: Report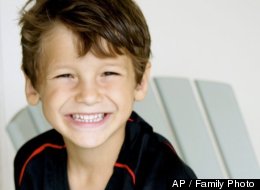 The 6-year-old son of a millionaire executive was likely thrown over a balcony in a brutal act of murder, according to a newly released medical report.
Max Shacknai, the child of Medicis Pharmaceuticals founder and CEO Jonah Shacknai, was found seriously injured, ostensibly having fallen over a balcony railing, in his father's Coronado, Calif. mansion.
Jonah Shacknai's girlfriend, 32-year-old Rebecca Zahau, said she was in the bathroom when she heard a crash and found the boy lying on the floor, surrounded by pieces of a broken chandelier. Max was taken to the hospital, where he died of his injures four days later.
Two days later, Zahau was found dead at the same home, hanging naked from an outdoor balcony with her wrists and ankles bound. Jonah Shackna's brother, Adam, was staying at the mansion's guesthouse at the time, and was the one to call police with the news that Zahau appeared to be dead.
See Photos From The Case (story continues below) :
Jonah Shacknai's Girlfriend and Son Die Within Days at his Calif. Mansion
Flowers and messages adorn a flower box outside the Spreckels Mansion in Coronado, Calif. Monday, July 18, 2011. The mansion is the site where a woman was found dead July 13, she was hanging nude from a balcony with her hands and feet bound. Credit: Lenny Ignelzi, AP

This 2010 photo released by Medicis Pharmaceuticals Corp. shows CEO Jonah Shacknai. Shacknai's 6-year-old son and 32-year-old girlfriend have each died in a span of less than a week, and both deaths were tied to his historic mansion on the San Diego Bay. Credit: Medicis Pharmaceuticals Corp. / AP

This August 2008 photo released by Horizon Eye Specialists & Lasik Center shows Rebecca Zahau, also known as Rebecca Nalepa, 32. Nalepa, the girlfriend of Arizona pharmaceuticals tycoon Jonah Shacknai, was found dead last week hanging nude from the second-floor balcony of a historic mansion, her wrists and ankles bound. Credit: Dwight Smith, Horizon Eye Specialists & Lasik Center / AP

This photo family released on Sunday, July 17, 2011 shows his 6-year-old Max Shacknai. Shacknai, son of Medicis Pharmaceuticals CEO Jonah Shacknai, has died, almost a week after falling down the stairs at his father's San Diego-area mansion, the same house where his father's girlfriend was found dead hanging nude from a balcony two days later. Credit: Family Photo / AP
The Coronado Police Department and a San Diego medical examiner ruled Max's death an accident and Zahau's a suicide. Jonah Shacknai admitted that his girlfriend's death was "undeniably strange," but he expressed confidence in the findings of the investigative team.
Zahau's family, on the other hand, had so little confidence in the findings that they insisted her body be exhumed for a second autopsy. Dr. Cyril Wecht, who performed the new autopsy, said that it was unlikely Zahau died of hanging, as her neck was not fractured. In addition, he discovered evidence of blunt trauma to her head.
Wecht recommended changing the cause of death from "suicide" to "undetermined," though the coroner did not change the cause of death.
Max Shacknai's death may also be more suspicious than originally believed. Feeling that "things didn't add up," the boy's mother, Dina Shacknai, hired a new team to review her son's case, according to the New York Daily News.
Following a nine-month investigation, Dr. Judy Melinek, a forensic pathologist, and Dr. Robert Bove, an injury biomechanics, concluded that Max Shacknai's death was no accident, KPHO reports. They say that the fall could not explain several injuries found on Max's face, shoulder, and neck, according to Fox News.
The two doctors believe that Max was beaten before either being forced over the balcony railing, or jumping over the railing in an effort to escape.
Melinek says she agrees with the coroner's findings that Max Shacknai died of blunt force trauma.
"What I did disagree with," she said, "was the manner of death, which I believe was a homicide."
A Coronado Police Department spokeswoman said that officials will review the new report, then determine whether or not to reopen the investigation.