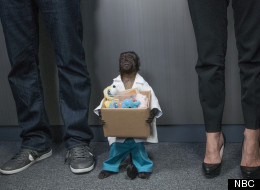 The biggest star on TV isn't even human!
Crystal the Monkey who plays Dr. Rizzo, Justin Kirk's aid, on NBC's new comedy, "Animal Practice" (previews Sunday, August 12 at 10:38 p.m. ET) is easily the fall's biggest breakout star, as deemed by HuffPost TV's Maggie Furlong. According to TV Guide Magazine, Crystal is raking in $12,000 an episode.
However, Crystal is far from the first great monkey on TV (but may be the most versatile, considering she stars on another NBC show). From Mojo Jojo on "Powerpuff Girls" to Marcel on "Friends," take a look at clips of the best TV monkeys.
Crystal the Monkey is a two-timer on this list with her newest role as Dr. Rizzo on the Fall 2012 NBC comedy, "Animal Practice," which stars Justin Kirk ... but really, more so Crystal. The cute capuchin is the biggest star of the season. Watch Crystal in an adorable plastic visor, taking bets on a turtle race in the back room.

Townsville's biggest villain, Mojo Jojo was definitely scary for kids. We love him from his catchphrase ("Curses!") to his outfit.

Ross' pet monkey Marcel made us laugh a lot -- and cry a lot when he moved on to bigger and better things (like a Jean-Claude Van Damme movie). Not making him a regular cast member was totally a mistake.

Stare, point, cue the creepy music. "Family Guy's" evil monkey hilariously lives in Chris' closet, appearing on the comedy when we feel like we've forgotten about him.

Things at "TGS" are usually crazy, but they were escalated to another level of comedy when Tracy skipped rehearsal, putting a gibbon named Little Jenna in his place to prove the staff treated him like a monkey.

TV star Crystal the Monkey wreaked havoc in her guest appearance on "Community." On the show, she plays Annie's Boobs, Troy's pet monkey who was given to him as a thank you for his work as the bagman in the Chicken Fingers distribution network. Here, watch Annie's Boobs in a hilarious chase from Senor Chang.

It's cruel that "Grape Ape's" show was cancelled in the '70s. He was a staple of Saturday morning cartoons.

When a chimp named Ginger visited the cast of "Full House," she bonded with Michelle (Mary-Kate and Ashley Olsen). Though the Tanner's home was enough of a zoo already, Ginger came into Uncle Jesse's (John Stamos) room and had quite the surprise for him.

As one of Pippi's two pets, Mr. Nilsson was one of our favorite animated monkeys on TV.

Things got primitive on "Silver Spoons" when Ricky Stratton (Ricky Schroder) decided he wouldn't be living the good life without his own orangutan.

Magilla Gorilla starred in his own show named after himself. What a diva.

Kristen Bell tried to save a monkey on "Veronica Mars" Season 3. If only the script had also included a sloth.

While Harry (Kathy Bates) and Tommy (Christopher McDonald) are duck hunting, they discovered that the owner of the hunting preserve has been secretly housing a gorilla that's escaped from the zoo on an episode of the late "Harry's Law." Swayed by the Wentworth Beaumont III (aka Wenty's) incredible intelligence (he can use an iPad and knows sign language) and gentle demeanor, Harry agreed to help her get legal guardianship.

"The Simpsons" has had no shortage of monkey -- there's Krusty's sidekick Mr. Teeny; Mojo, the monkey Homer gets to help him after learning Apu has gotten one when a robbery at the Kwik-E-Mart left him in a wheelchair; and of course, the 1,000 monkeys at typewriters Montgomery Burns has in a room (here).

The early '80s comedy starred Greg Evigan as B.J. (Billie Joe) McKay, a professional freelance itinerant trucker who traveled the country's highways with his pet chimpanzee, Bear (named after Bear Bryant, the famous Alabama football coach due to his choice of headwear).

We didn't think it would be right to have a list of TV's best monkeys without including "The Monkees." They totally count.
"Animal Practice" previews its pilot episode on Sunday, August 12 at 10:38 p.m. ET on NBC. The series officially premieres with Crystal the Monkey on Wednesday, Sept. 26, 8 p.m. ET on NBC.
For more on NBC's new 2012-2013 shows, check out the slideshow below:
Benjamin Stockham as Xander, Martha MacIsaac as Becca (seated), Bill Pullman as President Dale Gilchrist (seated), Amara Miller as Marigold, Josh Gad as Skip, Jenna Elfman as Emily Gilchrist (seated), Andre Holland as Marshall Malloy

Amara Miller as Marigold; Jenna Elfman as First Lady Emily Gilchrist; Bill Pullman as President Dale Gilchrist; Martha MacIsaac as Becca; Josh Gad as Skip; Benjamin Stockham as Xander

Allison Miller as Carrie, Khary Payton as Don, Suzy Nakamura as Yolanda, Matthew Perry as Ryan, Laura Benanti as Lauren, Julie White as Anne

Matthew Perry as Ryan King

Tracy Spiridakos as Charlie, Anna Lise Phillips as Maggie , Zak Orth as Aaron

JD Pardo as Nate, Tracy Spiridakos as Charlie, Zak Orth as Aaron, Anna Lise Phillips as Maggie

Billy Burke as Miles

Anna Lise Phillips as Maggie, Graham Rogers as Danny, Tim Guiee as Ben, David Lyons as Bass Monroe, Billy Burke as Miles, Tracy Spiridakos as Charlie, Andrea Roth as Rachel, Maria Howell as Grace, JD Pardo as Nate, Zak Orth as Aaron, Giancarlo Esposito as Lt. Neville

Ellen Barkin as Jane, Andrew Rannells as Bryan, Georgia King as Goldie, Bebe Wood as Shania, Justin Bartha as David

Bebe Wood as Shania; Andrew Rannells as Bryan; Justin Bartha as David; Georgia King as Goldie

Andrew Rannells as Bryan, Ellen Barkin as Jane, Nene Leakes as Rocky

Anne Heche as Beth

Anne Heche as Beth Waring

Heather Burns as Jenna, Alexandra Breckenridge as Carly, Michael Landes as Tom Waring, Anne Heche as Beth Waring, Madison Davenport as Emily Waring, Lamman Rucker as John

Teri Reeves as Hallie, David Eigenberg as Christopher Hermann, Charlie Barnett as Peter Mills, Lauren German as Leslie Shay, Monica Raymund as Gabriella Dawson, Taylor Kinney as Kelly Severide, Jesse Spencer as Matthew Casey, Eamonn Walker as Battalion Chief Walter Boden and Merle Dandridge as Kay Fitori

Meagan Good as Joanna Locasto

Meagan Good as Joanna Locasto

Meagan Good as Joanna Locasto, Victor Garber as Robert Bowers

Victor Garber as Robert Bowers, Meagan Good as Joanna Locasto, Katherine LaNasa as Sofia Bowers, Tate Donovan as Edward Bowers, Laz Alonso as Will Moreno

Anthony Anderson as Gary, Tempestt Bledsoe as Marny

Anthony Anderson as Gary, Jesse Bradford as Chris, Zach Cregger as Nick

Jamie Lynn Sigler as Emily, Zach Cregger as Nick, Tempestt Bledsoe as Marny, Anthony Anderson as Gary, Sara Rue as Sheila, Jesse Bradford as Chris