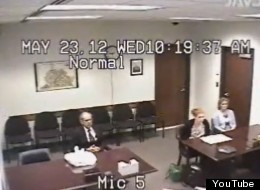 A West Virginia pastor who was recently on the receiving end of a volatile outburst by an incensed family court judge said he is not ready to forgive and forget.
"It's not a done deal. It's not over. It's still going on," Arthur Hage, pastor of Hurricane Bible Church in Hurricane, W.Va., told The Huffington Post.
Hage, 63, is referring to an incident May 23 in the courtroom of Putnam family law Judge William Watkins. Hage and his wife, Lillian Hage, were divorcing and the hearing was called to settle a discrepancy over the sale of their home. As the proceeding got under way, a camera captured Watkins screaming at Arthur Hage.
"Mr. Hage, if you say one word out of turn, you're going to jail. Do you understand me?" Watkins said. "Shut up! Don't even speak. You disgusting piece of ..." He never completed the sentence.
Watkins said he was upset over an article posted to PutnamLIVE.com, which included a photo of the judge's home. Watkins accused Hage of being responsible for the publication of the photo and speaking with the reporter who wrote the article.
"You are responsible. I'm holding you personally responsible for anything that happens at my house," Watkins said. "My house has been vandalized four times. You realize that, of course, because I'm sure you're probably in on it, laughing about it."
Hage denied speaking with the reporter and according to PutnamLIVE.com, the pastor did not participate in the article. The context of the piece also fails to mention anything about Hage. It was about a letter Watkins' homeowners' association sent out listing him as "not in good standing." The article claims Watkins, when asked for comment about the association's allegations, called PutnamLIVE.com reporter Mark Hallburn "the south end of a horse facing north."
After screaming at Hage, Watkins can be heard on video ordering Hage's driver, Paul Bentley, out of the building. "Did you bring along a comedian, Mr. Hage?" Watkins asked, to which the pastor replied, "He's my chauffeur, Sir."
Watkins then told the bailiff, "Out of the building. I want [Bentley] out of the building right now. If he smiles, I want him in here to answer what's so damn funny."
After the hearing, Hage filed a complaint against Watkins with the state Judicial Investigation Commission.
"Obviously, the judge lost his temper," state Supreme Court administrator Steve Canterbury told the Charleston Gazette. "Judges are humans; they can lose their temper. Ideally, he would've called a recess, regained his composure and come back even-tempered and he didn't."
In July, the state Supreme Court announced it was no longer looking into the incident. The court said Watkins admitted he overreacted and recused himself from the case.
"They let him off everything. They would not do anything to him. They knew he was bad, he was guilty, he was wrong, but they wouldn't do anything to him. In this country, this ought not to be allowed," Hage told HuffPost.
According to the West Virginia Record, at least six ethics complaints have been lodged against Watkins with the Judicial Investigation Commission since January.
Watkins did not immediately respond to a request for comment from The Huffington Post.
Hage said he recently discovered he cannot sue Watkins. "Since the late 1800s, you can't sue a judge," he said. The pastor said he has another action in mind, but declined to elaborate.
"The courts have demanded I not say anything," he said.
Check Out Some Cases Of Anger Management:
Washburn was a 54-year-old kindergarten teacher in Mesa, Ariz. when he allegedly punished a crying 6-year-old girl by taking off her shirt and leaving her half-naked for 10 minutes. The student started crying because Washburn had allegedly shouted at the two dozen kids in his class in January, 2014.

Delbert Huber, 82, shot Timothy Larson, a local teacher, after their argument over a missing $50 and farm equipment escalated. He pleaded guilty to second-degree murder.

Oregon woman Shirley Nunez, 47, was charged with attempted murder for allegedly running over her cop-husband with a Ford F-150 after pointing a gun at a woman he suspected him of cheating on her with.

This Floridian was so angry at his brother during an argument about missing macaroni and cheese that he allegedly stabbed him. Or, as Zipperer allegedly told cops, "I poked him a little with the knife, but I didn't mean to." Read the whole story here.

Burns allegedly threw a kitchen knife at her boyfriend, cutting his abdomen, because he farted in her face.

Martone is accused of punching a man and threatening him with a knife after he refused to call her his girlfriend following their first date.

Solomon is accused of running over her husband in her SUV because he didn't vote in the 2012 election.

Casey was accused in October, 2012 of hitting his boyfriend with a plate for listening to nothing but Alanis Morissette music.

Hunziker is accused of causing a disturbance at a P.F. Chang's in West DDes Moines in October, 2012. She allegedly told police they didn't need to be there because "she was a Republican," according to a police report.

This 15-year-old boy will be charged as an adult in the sledgehammer murder of his mother in August, 2012. Davis allegedly killed his mother and then lit his home on fire in an attempt to kill his older brother while he slept. Read more

Justin Michael Byars, 21, allegedly was so unhappy about being woken up that he assaulted the guy in the head who did it, punching the man in the head before throwing him into a fish tank. Read the whole story here.

Rodriguez is accused of biting her sister's nose off during a fight. The nose was successfully reattached.

Tina Norris and James Barfield, a Florida couple, had an orgy at their house in August 2012. Mid-way through, they apparently agreed that they didn't much care for orgies. They started beating on one another, and not in the good way. Both were charged with domestic battery and locked up.

Sheriff officers examine crushed cruisers at the Orleans County Sheriff's Department in Newport, Vt., Thursday, Aug. 2, 2012. Authorities say 34-year old Vermont farmer Roger Pion, angry over a recent arrest last month on charges of resisting arrest and marijuana possession, used a large tractor like a monster truck, destroying seven police cruisers. (AP Photo/Northland Journal, Scott Wheeler)

Germot was accused of threatening his neighbor by saying, "When I get done taking a s--t, I'm gonna kick your f---ing a--!"

Christopher Dabney, 22, allegedly attacked a US Army veteran in a wheelchair on Halloween, knocking the 35-year-old out of his chair. Dabney reportedly believed that the victim's Army uniform--and wheelchair--were fake, and was angry at what he perceived as an offensive Halloween costume. Read the whole story here.