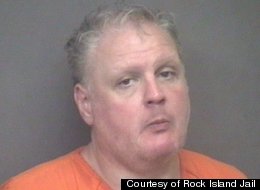 It's amazing that cops were able to slip handcuffs on Chad William Forber, considering he was covered head to toe in Crisco when he was arrested.
Forber, 41, was arrested early Monday morning by police in downtown Rock Island, Illinois, who were responding to a call regarding a naked man.
Officers say the suspect was naked and carrying his shorts as well as a can of Crisco, according to The Quad-City Times.
"He had lathered himself up in Crisco. He was covered in grease, and was holding the can under his arm," Rock Island Deputy Chief of Police Jeff VenHuizen told the paper. "He said he was looking for a place to party."
The Crisco can wasn't the only party favor he was carrying, VenHuizen said. Officers examined Forber's shorts and found a small amount of what they suspected to be methamphetamine in his pocket, The Rock Island Argus reported.
Forber was charged with possession of methamphetamine, resisting or obstructing a peace officer and possession of drug paraphernalia, according to the Associated Press.
A hearing has been set for Tuesday. Forber is currently being held in the Rock Island County Jail on $40,000 bond. His case has been assigned to the public defender's office, according to The Quad-Cities Times.
CORRECTION: A previous version of this story incorrectly listed Rock Island as a city in Iowa, not Illinois.
Things You Can't Do Naked
Thomas Edwin March, 51, had the essentials: a pair of 3D glasses, three 20-ounce cans of Ice House beer, a smashed cheeseburger, and a laptop (possibly to blast a little Bob Seger). Party time. But he got arrested because he was allegedly naked on the beach, and Bunche Beach isn't a nude beach.

Anthony Michael Hedger, 24, was arrested after authorities in South Carolina saw him walking down a highway naked carrying his 13-month-old son, also naked.

Aydrea Meaders is accused of stripping during an upstate New York school assembly. She is facing child endangerment and lewdness charges.

Osmer Hernandez, 33, of New Orleans, La., was arrested when he seranaded cops while naked and masturbating.

Police in Flagler Beach, Fla., arrested Marty R. Parrish after an officer saw him "walking south on the Flagler Beach Boardwalk naked" except for a hat on his head.

John David Kinder, 25, was arrested for allegedly dancing naked outside a Florida woman's house on Aug. 15. He was charged with disorderly conduct.

Matthew Ibarria, a fugitive from Florida wanted for allegedly attacking a relative, was arrested after jumping naked from a car in Georgia. This dashboard video from a Kingsland Police Department vehicle allegedly shows him running away. Read more.

Mabb is accused of exposing herself at an intersection in Pompano Beach, Fla. She allegedly told police she didn't "give a f--k" about her actions, according to a police report.

Lindsay Medd Stevens was arrested by police in Knoxville, Tenn., for indecent exposure after his neighbor saw him cutting a tree down -- while completely in the buff. Knox County sheriff's deputy Scott Ritch told WATE-TV that he saw Stevens standing completely nude in his yard cutting a tree, only to run inside his house when he saw the officer.

Latham, 22, allegedly got naked, stole a man's truck and then ran it into the front of a home at 50 mph. Read more.

Keith Fehr is accused of wearing a black dress and exposed himself to children at a park in Illinois. Read more.

William Bliss was arrested in March, 2012 after claiming four men made him carry a nuclear bomb -- while he was naked and drunk in the middle of an Iowa City street. Read more.

Jacob Lee Bovia is facing real indecent exposure charges for exposing his fake genitalia to a group of women on Maryland's Anne Arundel Community College campus. Read more.

It's not easy to be the most most memorable visitor when thousands of NASCAR fans come to town, but West Virginia's Joshua Greene made a pretty good run for that honor when police caught the streaking 27-year-old with a raccoon in his car.

Hodges, 20, of Florida, allegedly fled to a nudist colony and threatened residents there after committing an armed robbery at a nearby Lowe's. The fully-clothed Hodges was reported to have been easily identified by his pursuers in the naked environment.

Chad William Forber, 41, has been charged with possession of methamphetamine, resisting or obstructing a peace officer and possession of drug paraphernalia, stemming from an incident where he was found naked in public covered in nothing but Crisco.