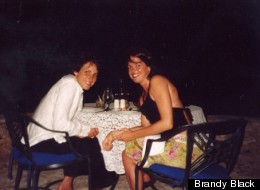 By Brandy Black | The Next Family
I understand why people say a honeymoon is necessary immediately after a wedding. Having been warned about a potential let-down period once all the excitement dies down, I was grateful, when we arrived at Maroma Resort the following day, that our marital bliss would continue.
We promised each other on the plane ride over that now that we were married, wife and wife, we would never, to other people, be anything less. From that point on, when asked by anyone about our relationship, we would answer with the truth. We had occassionally skirted this area in the past; sometimes it was just easier, more comfortable, to go along with whichever label we were given. But this was the beginning of a new life for us and there would be no shame or fear.
So when our driver asked us on the way to the resort if we were sisters...
Susan said, "No she's my esposa."
The driver laughed and said "Esposa? No, no."
Susan said "Yes, esposa."
"Esposa means wife" he said, laughing.
"I know."
"Ohhhhhhh" he replied, with a huge grin. This kicked off a crazy Spanglish conversation that lasted the entire 45-minute ride.
We were greeted with margaritas upon arrival. One of the beautiful (all bronze and stunning) hostesses provided us with details about the resort while we took in the ocean, the candlelit walkways, the lizards sitting beneath us, and our incredibly strong cocktails. Once we finished our conversation we stumbled to our villa, the quintessential honeymoon suite, with rose petals leading to the bed, hand-painted tile, French doors to our private patio, and a huge sunken tub that would be our oasis every afternoon.
Seven days of pure luxury. Having provided our names to the staff the first night at dinner, we were never asked again -- only greeted at each meal with a charming "Hola! Brandy and Susan!" We sat under the moonlight, waves crashing below as the band sang Besame Mucho to (it felt like) only us. It seemed all the staff knew we were newlyweds. When Susan got to the restaurant before I did they asked, "Where's your wife?"
It felt good to be honest, to be accepted, to be celebrated.
After a few days of bliss at Maroma we decided to venture out to Playa Del Carmen, which was a 15-minute drive from our slice of heaven. I actually debated stepping foot out of the resort, but since we hadn't done one touristy thing (our preferred method of travel) we figured we might as well do something other than eat, drink, and have sex.
Gorgeous Hostess #3 called us a cab and off we went. "Esposa" came up again. Same thing, same reaction, same "ohhhhh" followed by another Spanglish exchange to entertain us the entire way.
It was hot and stuffy and there were people everywhere. We devised a fast plan to pick up gifts for our friends back home, eat, and get the hell out of there. We roamed in and out of shops empty handed. We went into one store and a machismo clerk began following us around the store asking how he could help, what we were looking for, and then, "Are you sisters?" I put my head down and walked in the other direction, leaving Susan to do the deed.
"No, she's my esposa," Susan said, with confidence. I was proud.
In one instant his voice went from that of a tough, Latino man to the highest pitched gay voice you could imagine.
"Oh, really?! This is my boyfriend right here!" he said, grabbing the other sales clerk lingering in the aisle. "We can tell you where all the gay bars are!"
They congratulated us on our recent matrimony and mapped out a bunch of bars that we never stepped foot in. We left with a great deal of stuff that I'm sure our friends threw away and reassurance once again that the truth really does set you free.
Brandy Black is Editor-in-Chief and Founder of The Next Family, she lives in Los Angeles with her wife and three children.
Click through the slideshow below for the latest findings on same-sex weddings.
11 New Findings About Same-Sex Weddings
Legal marriage rights are rare in the U.S. but very important to LGBT couples, even if only symbolic. Many LGBT couples, even if they plan a large celebration in their home state, travel to a state where same-sex marriage is legal, for the ceremony part. They're not just having not non-legal commitment ceremonies.

This isn't surprising given that 43 percent of those surveyed are between the ages of 32 and 50, ages at which even the most supportive parents are less likely to foot the bill.

I was surprised at this number because I work with many couples who have no emotional support from their parents. A closer look shows that 16 percent of couples have no support from either family and 15 percent have the support from only one set of parents.

Lots of same-sex couples like to break the "rules" when planning their wedding. It's very common to have no wedding party.

The options for legal same-sex marriages in churches are pretty limited so most choose to have the ceremony at the reception venue.

Again, with the rule breaking...

When there's no bride, what's a gay groom to do? Enter the space together with his partner, of course...

When there are two brides, who goes down the aisle last? Who is the center of attention? Thirty percent of lesbian couples like to both be the center of attention, opting to enter down two aisles or from two different directions.

Most wedding magazines have yet to catch up to the gay wedding thing so it's not surprising that, as a result, same-sex couples don't turn to them for advice.

The top three ways same-sex couples find wedding vendors are: 1) Google search terms like "New York Gay wedding photographer"; 2) word of mouth; and 3) gay wedding directories such as GayWeddings.com. Finding wedding professionals who are LGBT-friendly is very important (since many are not) to these couples. A fully vetted vendor is very important, which is why many couples rely on "gay wedding" specific search terms and directories, in addition to the always important word of mouth.

Of course if those gay-owned businesses stink at their jobs, same-sex couples are happy to work with LGBT-friendly straight wedding professionals. But if the talent is there and the business is gay-owned, then three quarters of same-sex couples want to make the deal!
Also On The Next Family
Alone with you in the Supply Closet
Honeymoon in Maroma: Pure Bliss Turned to Total Fear