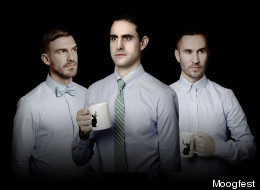 Moogfest 2012 is approaching. The unusual music festival takes up the experimental spirit of electronic music innovator Bob Moog and pushes it into even more far-reaching nooks and crannies of the ever-expanding genre. Moog, (which rhymes with Vogue), invented the Moog synthesizer, the first voltage-controlled subtractive synthesizer to utilize a keyboard as a controller.
Moog began a career in the 1950s as an electronic music engineer at the ripe age of 19. Twenty years later he had created the first music synthesizers that were portable, affordable and easily distributable. In a 2000 interview Moog said, "I'm an engineer. I see myself as a toolmaker and the musicians are my customers. They use my tools." One of our favorite accomplishments of his was creating analog effect pedals he dubbed "moogerfoogers." It doesn't get much better than that.
In honor of all things Moog, the electronic music festival Moogfest will take over Asheville, NC, the town where Moog spend the last 30 years of his life. The show will feature musicians who take up and remix Moog's electric spirit, including Primus 3D, Orbital, Miike Snow, Santigold, Richie Hawtin, Squarepusher, Explosions in the Sky, The Magnetic Fields and many more.
The festival will take place October 26-27. Tickets go on sale today, August 10. We can't wait to get our Moogs on. How about you?
See a slideshow of the bands below, and let us know your favorites in the comments section.
Santigold plays October 27.

The Swedish trio Miike Snow plays October 26.

The musical brainchild of Stephin Merritt, The Magnetic Fields, plays October 27.

GZA plays from his debut solo effort Liquid Swords on October 26.

Prefuse 73 and LA beatmaker/visual artist Teebs have teamed up and are playing October 27.

The Los Angeles-based multi-instrumentalist plays October 27.

The experimental electronic musician Kieran Hebden, a.k.a Four Tet plays October 27.

The German electronic music producer and DJ, Pantha Du Prince, plays October 26.

The English electronic music artist, Squarepusher (a.k.a Tom Jenkinson) plays October 26.

The British electronic artist, Actress, plays October 27 at the festival.