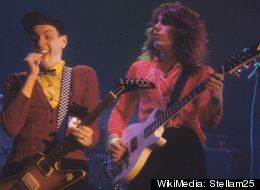 TOP 5 FOR FRIDAY, AUGUST 10
1. Solidarity Concert For Pussy Riot Outside The Russian Embassy
Let's try this again. 5 p.m., all ages, no cover
2. Chicks-For-Gays Lunch And Happy Hour At Science Club
Since the Chick-Fil-A debate doesn't appear to be going away any time soon, it's time to have some drinks. If buying credits to alleviate guilt doesn't sound fun, head to Science Club for a special menu with a portion of all sales donated to the DC Center for the LGBT Community. If you want to show more support, a series of limited edition T-shirts and underwear featuring cute baby chicks and slogans supporting gay equality will be for sale. 11:30 a.m. to 7 p.m., all ages, no cover
3. Shark Week EP Release Party At Montserrat House
In addition to this weekend being the official start of Discovery Channel's "Shark Week," it's also release day for one of D.C.'s finest indie rock bands, Shark Week. Let this party be your introduction to the world of sloppy vocals, swinging guitars and loose drumming of this four-piece. 10 p.m., all ages, $10
4. The ART Of Go-Go Happy Hour At Bohemian Caverns
A get together for fellow go-go fans and artists. If you're at all interested in D.C.'s own musical genre, here's your scene. 5 p.m., 21+, no cover
5. The Very Best At Rock And Roll Hotel
This is what happens when a London-production duo and Malawian singer get together. Everything has been thrown at the wall and the results will lead to you dancing. 10 p.m., 21+, $16
Science Club, located at 1136 19th Street NW, will be offering lunch and happy hour from 11:30 a.m. to 7 p.m.

Grilled Gardein Chik'n Breast with Choice of Jack, Mozzarella, Blue, or Parmesan Cheese, Fries, & Coleslaw with 'Cyndi Lauper'

Absolut Ruby Red & Pink Lemonade on ice

Vegetarian sandwich served, "free from preservatives, meat and homophobia."

Appropriate for under clothes.

"Audaciously redefining what lunch is all about"
TOP 5 FOR SATURDAY, AUGUST 11
1. Trillectro At Half Street Fairgrounds
Our interview with DC to BC founder Modi has us excited for a new style of street festival. If the weather plays nice, this may set the standard for future outdoor music events. 11 a.m., all ages, $30 to $100
2. Save the Date At Corcoran Gallery
Part of the Take it to the Bridge, Performance Art Series, this performance by Kathryn Cornelius will feature the artist exploring marriage and divorce in one day. Seven suitors will be wed and let go on the hour. Wedding cake, champaign, dancing, photos, the whole shebang. 10 a.m., all ages, no cover
3. The SweetBread Jim's "Potluck" Spectacular! At St. Stephens
A variety show that we approve of 100 percent. D.C.'s finest sideshow performer, and recent My D.C. profile, Mab, Just Mab is the master of ceremonies. Star FK Radium will play spacey, instrumental music that doesn't jam too much. Band of the hour Sweetbread Jim will pound out pop songs that make people happy. My D.C.-profiled Sampson will inevitably steal the show and convert new fans. Add in burlesque, magic and free food and beer from local powerhouses Red Rocks Pizza, Columbia Heights Coffee, Mama Chuy DC, Meridian Pint and more. This is a one-stop shop for D.C. produced fun. 7 p.m., all ages, $25 to $30
4. Wyatt Cenac At Arlington Drafthouse
"The Daily Show" correspondent with the driest sense of humor, Cenac released his first stand up album to critical acclaim. Scene stealing appearances on "This American Life" and "W.T.F." help illustrate the comic's quick wit and well-thought out humor. 7:30 p.m. and 10 p.m., 21+, $25
5. Weezer At Warner Theatre
Wasn't this supposed to be in a mall? 12 p.m., all ages, wristband from the Microsoft store required
9:55 p.m. to 10:55 p.m. Main Stage

9:05 p.m. to 9:45 p.m. Main Stage

8:05 p.m. to 9:05 p.m. Main Stage

7:35 p.m. to 8:05 p.m. Red Bull Stage

6:55 p.m. to 7:35 p.m. Main Stage

6:15 p.m. to 6:55 p.m. Red Bull Stage

5:35 p.m. to 6:15 p.m. Main Stage

5:05 p.m. to 5:35 p.m. Red Bull Stage

4:35 p.m. to 5:05 p.m. Main Stage

4:15 p.m. to 4:35 p.m. Red Bull Stage

3:50 p.m. to 4:15 p.m. Main Stage

3:20 p.m. to 3:50 p.m. Red Bull Stage

2:50 p.m. to 3:20 p.m. Main Stage

2:20 p.m. to 2:50 p.m. Red Bull Stage

2:00 p.m. to 2:20 p.m. Main Stage

1:40 p.m. to 2:00 p.m. Red Bull Stage

1:40 p.m. to 2:00 p.m. Red Bull Stage

1:25 p.m. to 1:40 p.m. Red Bull Stage

1:15 p.m. to 1:25 p.m. Red Bull Stage

12:55 p.m. to 1:10 p.m. Red Bull Stage

12:40 p.m. to 12:55 p.m. Main Stage

12:25 p.m. to 12:35 p.m. Main Stage

11 a.m. to 12 p.m. Red Bull Stage
TOP 5 FOR SUNDAY, AUGUST 12
1. Aerosmith, Cheap Trick At Jiffy Lube Live
Aerosmith is America's Rolling Stones and who cares? Cheap Trick! The most important band not in the Rock and Roll Hall of Fame! Pure pop rock bliss! Eight necked guitars for no reason! Their set lists on this current tour will please any fan of the fans first five records, some of the best in the late '70s, early '80s canon. 7:30 p.m., all ages, $46 to $176.50
2. Evan Valentine Album Recording At Black Cat
The D.C. native is packing his bags for a more comedy-friendly city. This send off show will double as a recording for his first album give him a chance to revive his "THOR!!! the Musical." 8 p.m., 18+, $10
3. English Country Dance At Glen Echo Park
This appears to be more "Hee-Haw" than "Downton Abbey." Casual dress, casual dancing, family friendly fun, no partner required. Make some friends in a wholesome way. 2:30 p.m., all ages, $10
4. "Lady Without Camelias" At National Gallery Of Art
This 1953 Italian film explores the balance between commercial movies and low-budget pictures for an up-and-coming actress. A film that could be made today, programming like this exemplify why the National Gallery is our favorite place to see free films in D.C. 4:30 p.m., all ages, no cover
5. "Street Market" At The Fridge
Check out our preview. 1 p.m., all ages, no cover, runs Aug. 10- 19