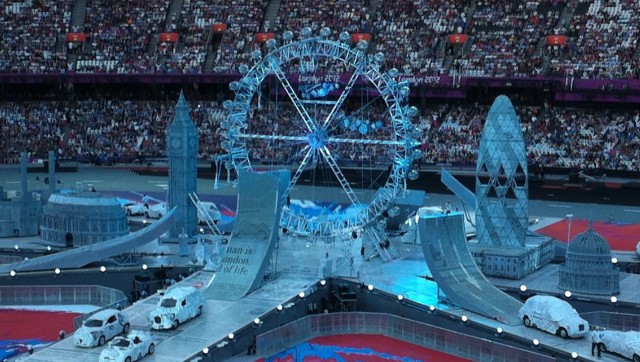 With all of the medals at the London 2012 Olympics awarded, there is one last thing left to do: PARTY!
The guests of honor, of course, will be the 10,800 Olympians that have captivated the world with their performances over the past 16 days. Unlike the Parade of Nations during the Opening Ceremony, the athletes from around the world are set to enter the Olympic stadium en masses to close the Games.
"I am so excited," 17-year-old U.S. swimmer Missy Franklin said about the approaching closing ceremony. "I think it is the perfect way to end the entire journey."
Stay tuned for live updates, photos and (when possible) video from the real-time party at the Olympic Stadium as well as commentary and coverage of the televised version that airs later on NBC in the United States.
For those planning on tuning in for the primetime broadcast, be warned there will be spoilers below.
STAY TUNED FOR LIVE UPDATES, PHOTOS, COMMENTARY:
08/13/2012 12:19 AM EDT
"I can't believe it's over."
Hours after the closing ceremony actually ended in London, NBC played back some recordings of athlete interviews done on the floor of the Olympic Stadium in the immediate aftermath of the performance by The Who.
Up first, 17-year-old swim star Missy Franklin summed up the feelings of everyone who has been contributing to this live blog for the past 17 days.
"I can't believe it's over," Franklin told Michelle Tafoya of NBC.
Thanks for enjoying (and/or not enjoying) everything that has happened during the London Olympics with us.
CLICK HERE to check out all of our coverage and to re-live (think of it as a form of tape delay) your favorite moments.
08/13/2012 12:02 AM EDT
At Long Last..
NBC has returned from your local news and its new sitcom with.. The Who. It's midnight on the East Coast and well past the bedtime of all the band members in the UK.
08/12/2012 11:08 PM EDT
PHOTOS: The Who Performed Already 08/12/2012 11:06 PM EDT
@ Blueskyfox :

Sorry @NBC, not playing your switch-and-bait game trying to get me to watch your monkey show. #SwitchingChannels
08/12/2012 11:05 PM EDT
@ Dowminator :

Really! I want to see The Who more than I want to watch NBC's newest comedy...
08/12/2012 11:04 PM EDT
@ GlennaRegan :

Seriously, NBC? Animal Practice preview? You can't interrupt the Closing Ceremony with a promo for your dumb new show...
08/12/2012 11:04 PM EDT
@ davewordnerd :

How desperate is NBC? Gotta interrupt tape-delayed Olympic closing ceremony to show a stupid sitcom?
08/12/2012 11:03 PM EDT
@ ashleyesq :

Leave it to NBC to split the #closingceremonies...for those that care, apparently the end end will be on at 11:00
08/12/2012 11:03 PM EDT
@ davidlasseter :

Oh, so you have to sit through Animal Practice to get to The Who. NBC using the whole fist on us.
08/12/2012 11:03 PM EDT
One Last NBC Fail...
With everyone knowing that The WHO already played in London hours ago but still waiting to see them during the Closing Ceremony broadcast, NBC decides to debut a new sitcom. So, you have to wait for this to see "Baba O'Riley" and "See Me, Feel Me" and "My Generation."
SUBSCRIBE TO & FOLLOW THE MORNING EMAIL
The Morning Email helps you start your workday with everything you need to know: breaking news, entertainment and a dash of fun. Learn more