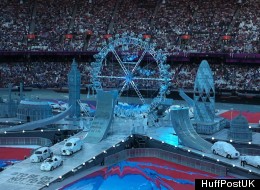 Don't head for Rio just yet.
With all of the medals at the London 2012 Olympics awarded, there is one last thing left to do: PARTY!
While the closing ceremony at the London Olympics might not contain all the educational majesty of Danny Boyle's "Isles of Wonder" opener, the artistic director of the finale, Kim Gavin, promised "the best after-show party that's ever been." The farewell bash at the Olympic Stadium is set to include musical acts from The Who to the Spice Girls.
The guests of honor, of course, will be the 10,800 Olympians that have captivated the world with their performances over the past 16 days. Unlike the Parade of Nations during the Opening Ceremony, the athletes from around the world are set to enter the Olympic stadium en masses to close the Games.
"I am so excited," 17-year-old U.S. swimmer Missy Franklin said about the approaching closing ceremony. "I think it is the perfect way to end the entire journey."
Stay tuned for live updates, photos and (when possible) video from the real-time party at the Olympic Stadium as well as commentary and coverage of the televised version that airs later on NBC in the United States.
For those planning on tuning in for the primetime broadcast, be warned there will be spoilers below.
STAY TUNED FOR LIVE UPDATES, PHOTOS, COMMENTARY:
Hours after the closing ceremony actually ended in London, NBC played back some recordings of athlete interviews done on the floor of the Olympic Stadium in the immediate aftermath of the performance by The Who.
Up first, 17-year-old swim star Missy Franklin summed up the feelings of everyone who has been contributing to this live blog for the past 17 days.
"I can't believe it's over," Franklin told Michelle Tafoya of NBC.
Thanks for enjoying (and/or not enjoying) everything that has happened during the London Olympics with us.
CLICK HERE to check out all of our coverage and to re-live (think of it as a form of tape delay) your favorite moments.