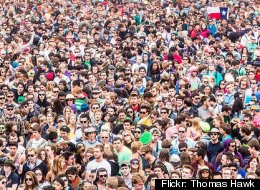 The fifth annual Outside Lands came and went in a whirlwind of food, music and celebration.
And now we want to see how much fun you had!
Submit your best photos from the weekend for a chance to be featured in our slideshow below. For more fun, click over to our friends at Stublisher, who chronicled the whole extravaganza via Hipstamatic.
fairlittlewarrior:This was behind the stage in the Neil Young area- just for decoration.

Cybesq:Watching from tree clouds

shelbs C:

Sophia Dauria:

bbhchic1:A corner of two murals from 'Outsider Art'

bbhchic1:a lotta old bike wheels

JennyCreed1:Dancing robot during the Franz Ferdinand set.

JennyCreed1:Dancing boots during Franz Ferdinand set.

poyanmaniego:

Superfredman:

Morgan Rodriguez:My friend and I were lucky enough to get close and personal with Ben Thornewill of Jukebox The Ghost; excellent performance overall :)

Morgan Rodriguez:

MRuvo:Craziness in the crowd at Passion Pit.

Gautham Panyam:Mettalica!!

Gautham Panyam:

kingkuma:Metallica!!!

RamieE:Stuart Bogie and Aaron Johnson of Antibalas peek over the side stage to say hello to Aaron's sons.

RamieE:Antibalas horns in lock step.

RamieE:Hernando Valdes gives his son a better view of Bob Weir sitting in with Norah Jones.

RamieE:

RamieE:Amayo of Antibalas electrifies the crowd.

RamieE:Teddy Kartzman and Dave Rubin. It's go time.

RamieE:Aaron Johnson of Antibalas takes it to another level.

RamieE:The World Famous Antibalas Horns

RamieE:Dispatch connects with the audience.

RamieE:Jason Roberts of Norah Jones' Band gets into the spirit of San Francisco. He later played with Norah and Bob Weir. Weir and Roberts collaborate regularly now.

RamieE:David Cross or Arrested Development watches Grand Daddy

RamieE:Music impresario Teddy Moutarde Kartzman surveys the backstage area.

RamieE:The Marine Layer was a constant companion of the weekend.