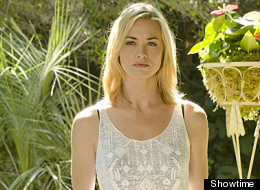 "Dexter" Season 7's most buzzed about addition, "Chuck" alum Yvonne Strahovski, was very committed to learning the ins and outs of the Showtime series -- so much so, that it scared her.
Strahovski revealed at the Television Critics Association Press Tour this summer that she watched all six seasons of "Dexter" over the course of three weeks after finding out she got the role. And she got very caught up in the series.
"I had nightmares throughout those three weeks," Strahovski told IGN. "I was just in the thick of watching some episode that was pretty creepy. I was home alone and there was a knock at the door. It was some random real estate agent doing door knocks, and it was just so suspicious to me. I remember, at the door, I was like, 'Yes? What do you want?' He then asked me a thousand questions, and I was still completely, very suspicious. I thought for sure he was a serial killer. For sure."
Strahovski added that she already knew what was going to happen in some of her back-to-back viewing sessions. "Some of the seasons were spoiled for me because ... I knew Rita was going to die, I knew Debra was going to [see him]," she told IGN. "But what I really enjoyed were Debra's therapy sessions. I didn't know that was going to happen. I didn't know that she would discover that she had these complex feelings for Dexter. That was a total shock and surprise. So now I'm super excited when I get the scripts."
As for Hannah McKay, Strahovski's "Dexter" character who has a connection to the titular character, she couldn't reveal too much. At Comic-Con this summer, Strahovski said, Hannah is "woman of mystery with a dark past." She meets ‪Dexter and helps him with an investigation of an old murder mystery.
Find out what Strahovski spilled about "Dexter" Season 7 over at IGN.
Watch the first two minutes of "Dexter" Season 7 here and tune in for the full premiere on Sunday, September 30, at 9 p.m. ET on Showtime.

At least Strahovski made it through "Dexter." Below, take a look at stars who didn't watch their own shows.
TV Stars Who Don't Watch Their Own Shows
In between her longtime role as the beloved Tammie Taylor on "Friday Night Lights" and her upcoming part on "Nashville," Connie Britton starred in Season 1 of Ryan Murphy's "American Horror Story." But, Britton admitted to Starcam.com that she hasn't seen it, and not because she doesn't want to watch herself or the show. "I haven't watched it all back because I'm too scared. I'm just too scared ... and I really want to," Britton told Starcam.com. "I'm going to get somebody and literally make them sit down and watch it with me from start to finish so that I cannot be so scared. I'm such a baby!"

Adam Driver, the actor most improved character on "Girls," recently told Vulture that they generally filmed what creator and star Lena Dunham had written, but also tried some of his suggestions. But Driver doesn't know how many made it into the controversial HBO series. "I haven't watched the show. I saw the pilot, and I learned my lesson. I can't help but see the mistakes," Driver told Vulture.

Jimmie Walker starred as J. J. Evans in the iconic '70s sitcom "Good Times," and is perhaps best remembered for his catchphrase, "Dy-no-mite!" Walker stopped by "Today" to talk about his new book "Dyn-o-mite, Good Times, Bad Times, Our Times, a Memoir" and revealed that he never watched a single episode of his own hit show, "because I was always busy doing other stuff."

"I don't really ever watch myself ... I never watched an episode of 'Lost,'" Matthew Fox admitted during Newsweek's 2010 Emmys roundtable discussion. "Breaking Bad" Bryan Cranston brought the laughs when he replied: "It's a good show. You should see it some time."

As Jerry Springer celebrated the 20th season of his outrageous daytime self-titled program, the star opened up to the Associated Press about not being one of its devoted viewers. "I don't watch the show, but it's not aimed at 66-year-old men," Springer told the AP. "If I were in college, I would watch. I enjoy doing it. It's a lot of fun."

Much like Matthew Fox, Naveen Andrews also didn't tune into the sci-fi ABC drama he starred on for six seasons. "I was very confused, just because I never saw this show," Andrews told "Daybreak" about how he felt at the end. "I saw the pilot ... but I never saw an episode of 'Lost.'" He went on to explain: "When the end came, I had people like Marilyn Manson, of all people, trying to convince me that they resolved it really well, it all made sense. I mean, he's a real fan ... He has Hurley's numbers tattooed into his arm."