 Every week here on The Huffington Post, we run a recurring feature called "This Week In Apple Rumors," which catalogues and dissects a week's worth of dubious, thinly-sourced and improbable rumors about future Apple products. These Apple rumors sprout like dandelions in this Edenic Internet garden of ours and are -- no matter how absurd, nor how opaque their origins -- accepted as gospel by a surprising portion of technology blogs and websites, even if a huge, huge majority of them turn out to be more fake than most $30 bills.
Generally, Apple rumors are proven fake because someone got faulty information, or because Apple decided to go a different direction with a product; in some cases, however, a rumor is out-and-out fiction, an invention of a prankster or fabulist. Case in point: On Monday, Swedish design company Day4 revealed that one of the more notable and ire-raising Apple rumors of the past two weeks was totally, completely and thoroughly made up on a whim, just for laughs. Even worse? Several major tech news outlets picked up on it, and now they all have to issue corrections, apologies and promises to do better next time.
Here's the story, as laid out in an awesome blog post on Day4's website: The design team at Day4 wanted to test "how easy it is to spread disinformation" on the Internet, and they decided to use the overeager Apple-watching community as a test dummy. Day4 mocked up a 3D image of a screw -- yes, a screw -- and then posted that mocked-up screw to Reddit, where they claimed "a friend" who worked at "that fruit company" had emailed them an image of the revolutionary new screw in the upcoming iPhone. The screw in question looked like no other screw that had ever been created, which would have made it nigh impossible for gadget repair shops to remove it or tamper with it using existing tools. If the screw was legitimate, in other words, it would prove that Apple was continuing an ongoing battle against local tech repair companies, having already made the Retina MacBook Pro the "least repairable" laptop ever. Should the next iPhone go that route, too, Apple repair shops might find themselves -- are you ready for this? -- "screwed."
The screw photo was a relatively small post by Reddit standards -- it received just 68 total votes, 43 of them "upvotes," in that subculture's parlance -- but because of the Internet's voracity for glimpses at Apple's secretive product roadmap, and because Apple was already viewed as unfriendly to the interests of gadget service shops, stories that featured the iPhone 5's new, inaccessible screws totally exploded. Tech sites like Boy Genius Report, Macworld UK, GottaBeMobile, AppAdvice and Cult of Mac ("Apple May Be Working On A Top Secret Asymmetric Screw To Lock You Out Of Your Devices Forever") all published speculative articles about what these new tamper-proof screws might mean for the iPhone 5, always couching their articles in the behind-saving rhetoric of "purported" and "if real" and "supposed" and the like. Wired UK even interviewed a real-life third-party iPhone technician to get his opinion on the purported new screw, and what it meant for future iPhone repairs: He didn't think the screw was real or even plausible (hint!), but if it was, he promised that the repair community would, like nature, "find a way."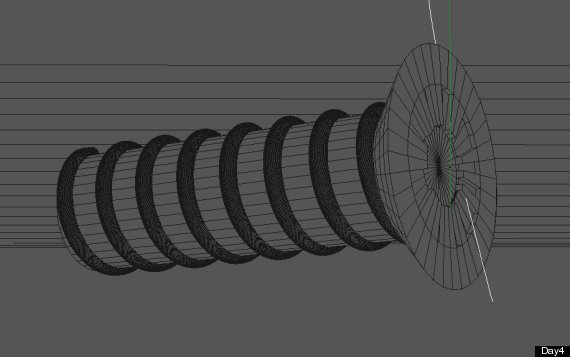 The most famous screw on the Internet.
Offhand "Jurassic Park" references aside, what is perhaps the most intriguing part of Day4's little social experiment -- and this is where you come in, readers! -- is their finding that, while the authors of the stories concerning the screw did clarify that the image was unverified, and that the story should be treated as a rumor, many Internet commenters reacted and carried on as though the new screw was a done deal, railing against the greed of Apple in comments sections. The most highly-rated comment on the Wired article, for example, is typical:
Apple needs to embed small micro-explosives in their devices which will destroy peoples devices and fingers if they attempt to open them. Why have screws at all just spot weld everything in place then embed everything in thermo-conductive solid plastic block, but I would still add the explosive screws, just the wrong torque and kabooomm....
And here's the top comment on Cult of Mac's story:
*Please, no!*
If they would really put this screw into production, I'm sure I won't be the only one to be screwed.
Given its Skull & Bones-esque secrecy, and its near-mute PR staff, you would have to have a screw loose to believe everything that is written about Apple: It seems likely that much of it is attention-getting, fabricated fluff and nonsense. If the past several weeks of journalistic oopsies have taught us anything -- The Supreme Court overturned Obamacare! The Aurora shooter was a member of the Tea Party! Bob Dylan really said those things! -- maybe you just shouldn't believe anything you hear or read, anywhere, at any time, from any source. How do we even know that Day4 really did plant those renderings of the screw? If I can see a table with my eyes, and then I turn around and the table is no longer there -- does the table still exist?
Such are the mysteries of human knowledge, and of the Apple universe. The news outlets who screwed up have issued mea culpas, and the repair community can rest easy knowing that Apple (probably) didn't invent an entirely new kind of screw for the upcoming iPhone. And lucky for the offenders, this latest turn in the screw story does not even represent the most egregiously wrong Apple rumor in recent memory -- remember that iPhone 5 with the 4.6-inch screen and the teardrop shape that was supposed to be released in October of last year? Where are the Swedish pranksters who were responsible for that whopper?
If you're reading Apple rumors, then, we suggest you do so cautiously and with healthy skepticism. To do so otherwise would be just plain screwy.
Check out the gallery (below) to see some of the juiciest Apple rumors from the past week:
At this point in the game, we're pretty sure that Apple will unveil its next iPhone on September 12, or somewhere close. All that remains is to figure out what the heck this thing is going to look like. We think -- think! -- that the major difference between the so-called "iPhone 5" and iPhone 4S will be a larger screen: Rumors put the screen size of the iPhone 5 at 4.0-inches diagonally, up from 3.5-inches diagonally on the iPhone 4S. This week, 9to5Mac wunderkind Mark Gurman was toying around with a pre-release of the iOS 6 operating system and found that it conveniently scales up to a taller iPhone display, with 5 rows of icons instead of 4. That would seem to be a sign that when iOS 6 ships, along with the new iPhone, it will fit fine on both the 3.5-inch display of the iPhone 4S AND the taller display of the iPhone 5. How big will that display be? Well, according to a fresh leak from the Chinese Apple.pro, it's still on track to be 4.0-inches. More interestingly, that report claims the next iPhone will be 18 percent thinner than the iPhone 4S, chiseling down the width of the phone to 7.6mm. That would be pretty, pretty thin, if it's true; alas, Apple.pro isn't the most reliable of sources. Still, after Peter Svensson of the Associated Press called the iPhone 4S "small and chubby" compared to the top Android phones, we'd be very surprised if Apple didn't substantially thin its new iPhone. And now: Photos of a bunch of supposed iPhone 5 parts! Go go gadget porn!

Sorry, friends: We didn't get any tantalizing videos or snapshots of a fully constructed iPhone 5 this week. But we did get the next best thing: a random smattering of wiring, circuits, and plastic doodads that could be part of the next iPhone! At left, you can check 'em all out, breathe them all in, meditate on them, consider their implications. Probably the most exciting thing here is the front cover, which does hint at that taller screen we were just talking about. Otherwise: Unless you are a very special kind of person, with very eccentric tastes, there's not much here to arouse your interest. Also in the Apple rumor-sphere this week, a supposed photo of the iPhone's battery leaked out, and it appeared to be about the same size and capacity as the current iPhone's battery. Cue Apple blogger hyperventilation: Because the next iPhone is all but certain to come with 4G LTE -- which sucks battery life faster than [FAMILY PUBLICATION] -- a similar-sized battery can only mean that the iPhone 5 will have power drain issues! Meanwhile, back on earth, we're going to wait until the new iPhone is released until we fret about its battery life. Moving along.

Right now, if you want to enjoy some high-definition Retina MacBook goodness, you have to buy a 15-inch model. Over the past month, however, we've been hearing whispers that Apple could be adding to the family with a 13-inch Retina MacBook: Apple oracle Ming-Chi Kuo of KGI Securities said as much, and a device that looked a lot like a 13-inch Retina MacBook showed up in the Geekbench results page back in July. Now, just like the Spice Girls, that Retina-quality 13-inch MacBook Pro is BACK, once again appearing in the Geekbench database. MacRumors has all the (very, very) nerdy details, for those who are in to feeds and speeds. For our purposes, however, let's just note that a 13-inch MacBook Pro with Retina display is looking more likely and could be on track for an October release, as previously suggested.

No new iPad Mini "news" this week -- we're still at the point of debating when this bad boy is going to come out (in September, along with the iPhone 5; or in November, just in time for Christmas; or perhaps in March 2013, along with the iPad 4 new iPad). We do, however, have the next best thing: Mockups! Here's one from the designers at InventHelp (find them on Facebook here), from a Gizmodo article that was accurately titled "This Is How the iPad Mini Might Look Next to the iPad." And, yes, this is how an iPad Mini might look next to the iPad! For more photos of how the iPad Mini might look like next to the iPad, I would highly encourage you to visit the Gizmodo post titled "This Is How the iPad Mini Might Look Next to the iPad." (There's also more iPad Mini mockups, also from InventHelp, at ZDNet this week). And that, ladies and gentlemen, is the end of this week's edition of This Week In Apple Rumors. Make sure you check back next week, when we'll detail not only how an iPad Mini might look next to an iPad, but also how an antelope might look next to a peanut better and jelly sandwich (SLIDESHOW)(HORROR). And remember, if you can't wait until next week, you can get up-to-the-minute Apple rumors by following me on Twitter right here.