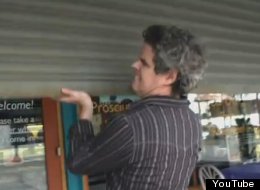 Another day, another small business owner dragged into Obama vs. Romney.
Debra Krause-McDonnell, the owner of Krause's grocery store in Cincinnati, Ohio, claims the Obama campaign used footage of her store in an ad without her permission. Images of the store appear about 10 seconds into the spot "Always," in which Obama defends his record on small business.
Now, some customers won't shop at her store anymore, Krause-McDonnell told the Cincinnati Enquirer.
"This is a place where we sell specialty cheese, specialty meat items," she said in a separate interview with Fox 19 last week. "This is not a political platform."
Ever since July 13, when Obama uttered the now infamous line, "you didn't build that," setting off a slew of attacks from Mitt Romney, the two presidential candidates have been locked in a fierce battle over who loves America's entrepreneurs more.
Krause-McDonnell told the Enquirer she was pulled into the political mud-slinging when a camera crew showed up at her shop and asked a store manager if they could film the storefront for a video about riot door protection. That same footage later showed up in Obama's ad.
According to a statement released by Obama for America-Ohio, Krause's store "appeared in a series of stock footage which the Obama for American campaign obtained from a local production company who had permission to use it."
Caleb Faux, director of the local Hamilton County Democratic Party, added that campaign officials told him Krause's store manager was told the footage could be purchased and used for any reason, the Enquirer reported.
Krause-McDonnell told Fox 19 that no one at the store signed any consent paperwork and that local Democratic groups had initially ignored her requests to have the images of her storefront removed from the ad.
The ad is no longer airing on television, according to the Enquirer, though people can still watch it on YouTube, where one version has attracted nearly 19,000 views.
This isn't the first time in the 2012 presidential race that either side's use of small business owners in campaign ads has drawn criticism. "Build," an ad released by Karl Rove's super PAC that attacked Obama, came under fire in July for using images of a fake small business owner alongside interviews with legitimate ones.
Another ad, sponsored by the Romney campaign, featured Jack Gilchrist, CEO of Gilchrest Metal Fabricating Company, criticizing Obama for claiming that small business owners like him hadn't built their companies on their own. Turns out, a New Hampshire Union Leader report later revealed, Gilchrist had benefited from millions of dollars in government loans and contracts.
Presidential Small Business Fails
A campaign stop by Mitt Romney and his staffers at an Iowa cafe left Dianne Bauer, owner of Main Street Cafe, fuming: She complained about damaged property, Secret Service blocking bathroom access and Romney not introducing himself to the cafe's staff. "Stuff got broke," Bauer said.

While most small businesses like free advertising, Debra Krause-McDonnell, the owner of Krause's grocery store in Cincinnati had a bone to pick with President Obama after his ad featured her storefront without her consent.

In video obtained by BuzzFeed, Romney attempts to identify a donut but after a few stammers says "Can you see that one of those chocolate, um, uh, chocolate goodies finds its way to our ride?"

With several strange advertisements during his campaign, it seems fitting that former Republican presidential hopeful Herman Cain would continue the trend after his campaign's suspension. The "Rabbit" ad for Cain's SickOfStimulus.com features a young girl placing a rabbit into a catapult while saying "This is small business under the current tax code." The rabbit is then launched from the catapult and "killed" in mid-air by a man holding a rifle. Another Cain ad used a flopping, out-of-water goldfish to represent the economy after the stimulus.

Pat's King Of Steaks in Philadelphia is famous along with rival Geno's Steaks for strict ordering rules, complete with commandments on their window that read "If you make a mistake, don't panic, just go to the back of the line and start over." John Kerry should have paid closer attention. During a July 2009 visit, Kerry ordered Swiss cheese on his cheesesteak which isn't an option at Pat's, where cheez whiz, Provolone and American are offered. Pat's claimed that if Kerry were elected, Swiss would be added to the menu. We know how that worked out.

After a debt laden campaign, some small businesses are still waiting for payment from former Republican candidate and Speaker of the House Newt Gingrich. These debts include $7,439.62 of printed campaign materials from Las Vegas Color Graphics, $5,000 for signs from Florida's Insite Political and $24,000 for ad productions from Florida's Noiseworks.

During a campaign stop in New Hampshire in 2000, Republican presidential candidate Gary Bauer participated in the Bisquick Pancake-Flipping Contest. As Bauer tracked his high flying pancake after the flip, he managed to take a tumble off the stage, causing the crowd to gasp.

(Interview at 2:50) In November 2008 Sarah Palin visited Triple D farm near her hometown of Wasilla, Alaska to grant the traditional Thanksgiving pardon to one turkey. Shortly after the pardon however, Palin took questions from reporters with a farmer in the background clearly slaughtering other turkeys and birds. CORRECTION: An earlier version of this slideshow described the device being used behind Palin as a "grinder" for slaughtering poultry. That was incorrect.

While celebrating July 4 in New Hampshire, Romney took a break to guzzle lemonade. When asked how it tasted Romney replied "Lemon. Wet. Good."

Business surged for Pennsylvania's Bethel Bakery after Romney joked about its cookies: "I'm not sure about these cookies," Romney told a woman at the table. "They don't look like you made them. No, no. They came from the 7-11 bakery, or whatever." "CookieGate" was great publicity for Bethel, in business since 1955.