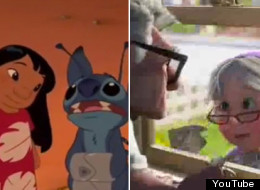 Animated films have a curious way of taking human emotions and making them infinitely more poignant. Case in point: that love scene in "Up" that had even the toughest amongst us tearing up.
Who hasn't felt a rush of emotion when Nemo was reunited with his dad or when Wall-E fell in love with Eva?
And so, if you need a good, happy cry, check out our slideshow below. It's a roundup of our favorite heartwarming moments from animated movies.
But be forewarned -- you may be humming "A Whole New World" for the rest of the day.
Most Heartwarming Scenes In Animated Films
Nothing epitomizes marriage like this beautiful scene that follows the characters' relationship from vows to funeral.

Sometimes everyone just needs their mom.

Eva malfunctions and Wall-E does everything in his power to revive her. Best. Love. Scene. Ever.

How's this for aww-inducing: "This is my family and I found it on my own."

Tramp takes his Lady out to dinner and the famous spaghetti scene follows. Enough said.

Kitty and Boo bid each other adieu and the entire audience has their hearts collectively broken.

This little gem didn't come from Pixar or Disney. It's a Master's thesis project that went totally viral a few years ago. It's sad, and so we apologize in advance for that piece of dust that probably just got in your eye.

"So whenever you feel alone, just remember that those kings will always be there to guide you. And so will I." -- Mufasa

Love at first sight... need we say more?

Nemo and his dad finally reunited. So much joy!

The touching ending to the Pixar trilogy is sure to tug at your heart strings.

Because, you know, we just had to throw this one in.