Big hair news out of New York this morning: Miley Cyrus chopped off all her hair.
While most of us were glued to our TVs on Sunday night watching Victoria Beckham, Kate Moss and other fashionistas strut their stuff at the Olympics closing ceremonies, Miley and her hairstylist Chris McMillan were up to a different kind of mischief. It involved scissors.
The drama started, of course, on Twitter, when the 19-year-old singer (and... "Two and a Half Men" guest star?) retweeted an Instagram that McMillan had posted. "Bye bun! Stay tuned!" he wrote, with a pic of the two of them, Miley's famous blonde topknot perched precariously between McMillan's hair shears. Three hours later, she tweeted the results: a choppy platinum pixie cut that totally reminds us of Agyness Deyn. "Never felt more me in my whole life," Cyrus tweeted.
After posting several snaps of her new 'do, Cyrus apparently started getting snarky responses, as she later wrote, "my dad @billyraycyrus used to tell me "opinions are are like ass holes every body has one" LOVE my hair ❤ feel so happy, pretty, and free."
Just a week ago Miley documented McMillan's work on making her blonde hair even more platinum -- but this is definitely a more dramatic followup.
Scroll down to see the photos of Miley Cyrus' new hair... do you dig her short new cut?
PHOTOS:
Good bye bun.Stay tuned.@ NYC! instagr.am/p/OPoPUQyiuA/

-- Chris McMillan (@ChrisMcMillan) August 12, 2012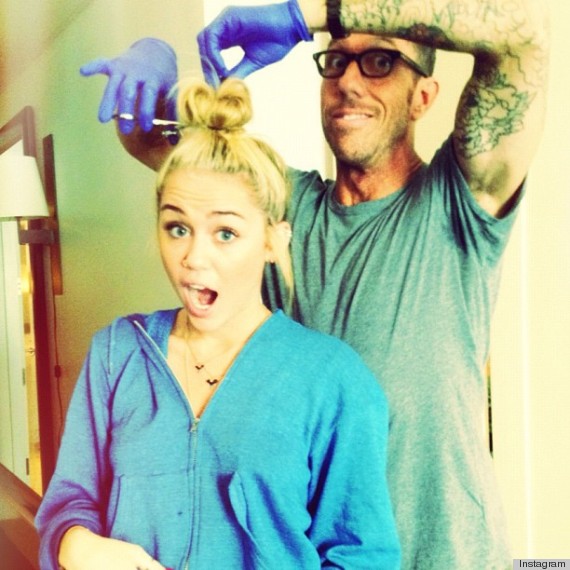 💣💣💣💣 twitter.com/MileyCyrus/sta...

-- Miley Ray Cyrus (@MileyCyrus) August 13, 2012
💣 twitter.com/MileyCyrus/sta...

-- Miley Ray Cyrus (@MileyCyrus) August 13, 2012
See some more celebrities with long vs. short hair... how did they look better?

Loading Slideshow
Miley Cyrus

Rihanna

Jennifer Connelly

Hayden Panettiere

Heidi Klum

Sarah Jessica Parker

Jennifer Aniston

Victoria Beckham

Kelly Rowland

Kirsten Dunst

Kristen Stewart

Janet Jackson

Mena Suvari

Cheryl Cole

Keira Knightley

Carey Mulligan

Kate Moss

Rachel McAdams

Elisha Cuthbert

Ginnifer Goodwin

Halle Berry

Katie Holmes

Mia Wasikowska

Michelle Williams

Natalie Portman

Selma Blair

Sienna Miller

Emma Watson

Anne Hathaway

Leighton Meester

Winona Ryder

Stars Who Rock a Short 'Do

As Paris Jackson posts a picture of herself with a dramatic shorter do on Twitter, we check out some other stars who rock a pixie cut.
Want more? Be sure to check out HuffPost Style on Twitter, Facebook, Tumblr and Pinterest.