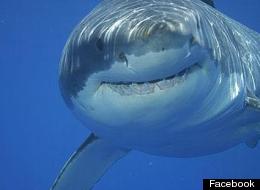 Though Shark Week has become somewhat sensationalized -- replete with drinking games and hashtags such as #Chompdown -- the Discovery Channel's annual special also serves to bring one harsh reality out of the shadowy waters and onto dry land.
Nearly one-third of shark species are at risk for extinction, and up to 73 million sharks are killed each year for their fins, Reuters reports. Though this top predator (which has been around since before the dinosaurs) faces some serious risks, there are a number of ways that activists can step up during the Discovery Channel's longest running programming event to make sure this fish sticks around for another 400 million years.
Click through the slideshow below to find out how you can protect sharks.
SLIDESHOW:
5 Ways To Take Action During Shark Week
Sharks have been around for more than 400 million years, yet great whites are now disappearing at an alarming rate. According to Oceana, an ocean conservation organization, there may be only a few hundred left off the coast of California and Mexico. You can help by petitioning to get the great white shark listed under the Endangered Species Act here.

Up to 73 million sharks are killed each year for their fins, a cruel practice that a group of shark attack survivors is determined to stop. After studying 32 shark fin soups across the country, they found that 81 percent contained fins from vulnerable, threatened or endangered shark species, according to Reuters. While the menu item is considered a delicacy, de-finnning a shark increases their chances of drowning or bleeding to death, according to Living Green Magazine. Take the Humane Society's "no shark fin" pledge here.

To make sure you make some loud and lasting noise on Twitter and Facebook, join the Shark Week thunderclap. This crowdspeaking platform will blast out each supporter's message about protecting sharks from extinction all at once, flash-mob style. Find out how you can get involved here.

Fall in love with the great white shark -- and your mission to save them -- all over again when you take a dip into some of their most intimate moments. You'll find out where they summer, mate and give birth (among other fascinating secrets!) when you watch the Discovery Channel's "Great White Highway" on Thursday.

Consider offering a hand, or some funds, to the activism groups that are doing the most good to keep sharks safe. Shark Savers is committed to ending the practice of shark finning, improving the images of sharks and raising awareness about the threats they face. The International Fund for Animal Warfare works to save individual animals, animal populations and habitats around the world and the Environmental Investigation Agency fights environmental crime.