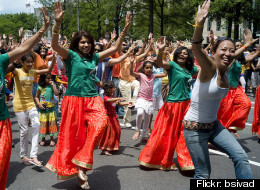 This article comes to us courtesy of SF Station.
By Matt Crawford
Outside Lands was fantastic, but it was far from a cheap weekend. For those hoping get back into the black and have some fun on a budget, there are a variety of options this week. The mid-week action is at Union Square while the Street Food Festival is expected to draw thousands to the Mission—a great opportunity for people-watching and new culinary ideas for those not interested in digging in into the eats.
The best bet for finding the artsy intellectual of your dreams this week, the San Francisco Art Institute gets deep with a two-day critical assessment of art, rhetoric and politics. Highlights include a staged reading of Oscar Wilde's 1890 play The Critic As Artist and a keynote speech by Lane Relyea, Associate Professor of Art Theory & Practice at Northwestern University. Details here.

Get over the weekday hump with a lunchtime Bollywood dance party at Union Square. This could be the closest San Francisco will get to the closing scene of Slumdog Millionaire. Details here.

The action continues at Union Square with a free performance from the Bay Area's own Jazz Mafia collective. Details here.

Admission is free, but the food is not for this festival featuring an extensive list of San Francisco's street food all stars. Details here.

After a long break, Indie Mart Street Fair returns to Thee Parkside with 100 vendors, music and other DIY activities. Promoters promise "foxy eye candy" as well. Details here.

The Alamo Square Flea Market returns for it's 29th year with antiques and much more. Find out what the neighbors are up to at Alamo Square, along with local artists and food trucks. Details here.