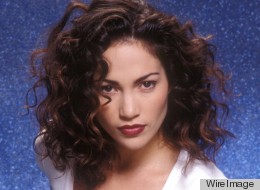 We always knew the camera loved Jennifer Lopez, but it turns out J.Lo owes her posing skills to more than good genes. The star tells InStyle this month, "When I was maybe 15 or 16, I took a class at a modeling agency." That could explain the awesome modeling skillz.
"But mostly," Lopez adds, "I think my ability [to photograph well] is innate. And it's funny because I see that my daughter, Emme, has it too -- that something special. She knows how to play for the camera."
She sure has had enough practice with dozens of magazine shoots on her resume (just this year she landed covers for Vogue, V, Glamour France, Good Housekeeping South America and now the September issue of InStyle). But getting her start with a modeling class, before she jumped to Hollywood, probably wasn't a bad idea -- in fact dozens of actors and actresses have started that way.
Ashton Kutcher famously got his start after winning the Fresh Faces of Iowa modeling contest, bringing those flats abs to high fashion runways and Abercrombie & Fitch alike. Cameron Diaz signed with Elite Model Management at 16, scoring the cover of Seventeen long before she was a household name. Everyone's favorite vampire, Rob Pattinson, also took a stab at modeling at age 12... but started losing jobs when he got too "manly." [Ed. note: the modeling world's loss was very much our gain.]
Who else, like Jennifer Lopez, dipped their toes into modeling before hitting the big (and small) screen? See a few of fave models-turned-actors below.
Actors Who Used To Be Models
Lindsay Lohan was signed with Ford Models when she was three and appeared in ads for Calvin Klein Kids, Abercrombie Kids and a Jello-O ad with Bill Cosby. (Courtesy photo)

Ashton Kutcher began modeling in high school, but in 1998 he competed in an International Modeling And Talent Association (IMTA) competition and signed with Next models in New York City. He appeared in ads for Calvin Klein. (Courtesy photo)

In the 1980's, Halle Berry began entering beauty contests and won Miss Ohio USA in 1986. She was runner-up for the 1986 Miss USA pageant and she was the first African-American Miss World entrant in 1986. (AP photo)

As a child, the 'OC Star' signed with Ford Models and appeared in multiple ads, including several for Calvin Klein Kids. (Courtesy photo)

'The Blue Lagoon' actress began her modeling career as an infant, modeling for soap companies. When she was 14-years-old, She was the youngest fashion model to appear on the cover of 'Vogue' magazine. (Courtesy photo)

Cameron Diaz signed with Elite Model Management at age sixteen, appearing in ads for Calvin Klein and Levi's before she starred in her first major film, 'The Mask.' (Courtesy photo)

The actress competed in and won the Miss Syracuse (she attended Syracuse University) pageant in 1983. She went on to win the titles of Miss New York in the same year and was crowned Miss America in 1984, becoming the first African American to win the title. (AP photo)

During his time as 'Marky Mark' in the music group, 'Marky Mark And The Funky Bunch' in the 90's, Wahlberg modeled in a series of underwear ads for Calvin Klein and occasionally appeared in magazines accompanied by Kate Moss. (Courtesy photo)

Before James Marsden became the hottest cyclops of all time in 'X-Men,' he was a Versace model while attending college. (Courtesy photo)

The South African actress began her modeling career when she won a 1-year contract with a modeling agency when she was 16. Her career apparently ended when during a shoot she was knocked off a camel and dislocated her jaw. Whatever the case may be, Theron decided to move to New York to pursue a career in ballet and acting. (Courtesy photo)

Channing Tatum has a history of working odd jobs. He worked as a stripper after dropping out of college and in 2000, he was cast as a dancer in Ricky Martin's 'She Bangs' music video. In 2000, he also began working as a fashion model, appearing in ads for Armani and Abercrombie & Fitch. (Courtesy photo)

The vampy Brit began modeling in the UK when he was 12, but his career began to dwindle as he got older, a fact which Pattinson attributes to his increasing masculine look. (Courtesy photo)

The actress began modeling in high school, eventually attending Page Parks Center For Modeling and Acting before she moved on to an acting career in 2000 with the premiere of 'Gilmore Girls'. (Getty photo)

When she was 16, Basinger began her career as a pageant girl, winning the Athens Junior Miss contest and then going on to win the title of Junior Miss Georgia. Soon after she was offered a modeling contract with Ford Models and the rest, as they say, is history.

Before she was the yellow bodysuit-clad human weapon, Uma began her career as a model at age 15. She was signed with Click Models and in 1985, she covered the cover of British Vogue. (Courtesy photo)

Long before 'Vampire Diaries,' Ian Somerhalder began modeling at age 10. He decided to pursue acting at age 17. (Getty photo)

After finishing high school, January Jones moved to New York and worked as a model, appearing in ads for Abercrombie and Fitch. After realizing that she didn't like modeling, she decided to pursue a career as an actress. (Courtesy photo)

Dutch actress Famke Janssen signed with Elite Model Management in 1984 and worked with Yves Saint Laurent, Chanel and Victoria's Secret before starring in 'Star Trek,' 'James Bond: GoldenEye' and 'X-Men.'

Before killing zombies and starring opposite Bruce Willis in 'The Fifth Element,' Mila Jovovich was a top model. She began auditioning for modeling jobs at the age of nine. She was hired by Richard Avedon for Mademoiselle and became the face of Revlon at a very young age. She's graced the covers of Vogue and Cosmopolitan and modeled for Christian Dior, Versace, Calvin Klein and others. (Getty photo)

Amber Valletta was enrolled in modeling school when she was 15. She then went on to work for Louis Vuitton, Calvin Klein, Versace and hosted MTV's 'House Of Style.' She was considered an American muse in Vogue's 1999 issue before becoming an actress, appearing in alongside Will Smith in 'Hitch' and more recently on ABC's television drama 'Revenge.' (Getty photo)

Related Video
Want more? Be sure to check out HuffPost Style on Twitter, Facebook, Tumblr and Pinterest.