Fire up your "OMG, scandalous!" or your "Big deal! Who cares?" buttons: British fashion magazine Dazed & Confused has finally released its controversial Azealia Banks cover.
Dazed & Confused tweeted last week that the cover of its September issue, which reportedly featured hot new rapper Azealia Banks smoking a condom like a cigar, had already been banned in seven countries, before it had even been released. How's that for hype?
On Wednesday, the magazine dropped the bomb and released the image. As promised, the Sharif Hamza-shot cover features Banks posing with an inflated bright pink condom between her lips like a giant cigar with the cheeky headline, "Azealia Banks Blows Up."
Ready to see it? Scroll down. (Honestly, we thought it'd be much worse given the hype. What do YOU think?) Click over to Dazed & Confused to read more.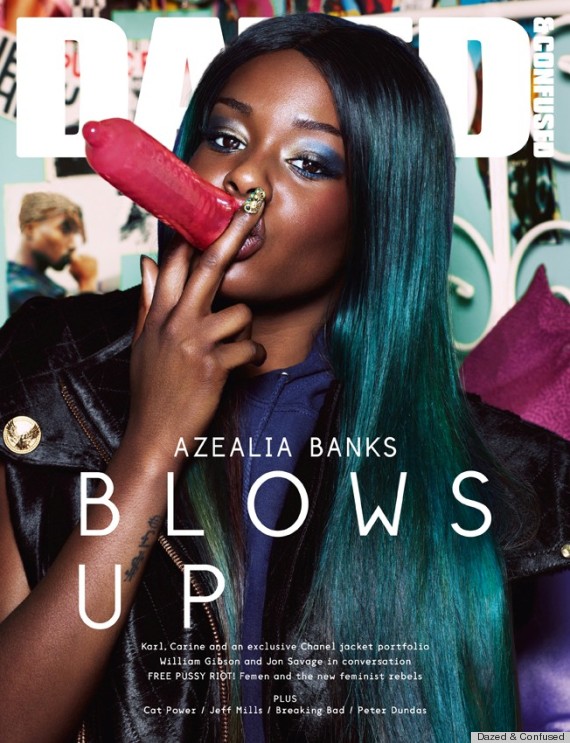 Want more scandal? See other controversial magazine covers below!

Loading Slideshow
Vogue, April 2008

Vogue's April 2008 shape issue featured NBA star LeBron James and Brazilian supermodel Gisele Bundchen in a way that many believed perpetuated negative racial stereotypes about African American men. LeBron's forceful pose seemed to depict 'King Kong-like' aggression while Bundchen was depicted as a damsel in distress. (Courtesy photo)

Cosmopolitan, February 2012

Cosmopolitan magazine's choice of then 17-year-old Dakota Fanning for the cover of their February issue caused controversy due to the nature of the magazine's sex-related headlines and the actress's young age. Although the magazine received a lot of heat for the cover, a spokesperson for the magazine told Fox News: "Dakota, who turns 18 this month, is a mature, fearless young woman and we are proud to honor her as our Fun Fearless Female of the year." (Courtesy photo)

Dossier Magazine, 2011

Famed androgynous male model Andre Pejic caused a stir when he posed topless for Dossier magazine. The nature of the cover was so controversial that Barnes and Nobles censored the cover as they would for a nudie magazine because they were worried that customers would mistake Pejic for a woman. (Courtesy photo)

Sports Illustrated, 2012

Kate Upton has been making a splash this year, appearing naked in several magazines and as one of Terry Richardson's favorite models. Her rise to fame has not been without controversy, though, having also been the <a href="http://www.huffingtonpost.com/2012/07/16/kate-upton-responds-fat-comments_n_1676226.html" target="_hplink">target of attacks from 'thinspiration' sites calling her 'fat.'</a> However, this cover will stand out as the glossy that started it all. (Courtesy photo)

V Magazine, September 2011

The cover of V Magazine's September 2011 issue was intended to pay homage to Spanish filmmaker Pedro Almodovar's 'Tie Me Up! Tie Me Down!" However, many readers were concerned that it was demeaning to supermodel Naomi Campbell and that it glamorized sexual violence. (Courtesy photo)

Vanity Fair, August 1991

It's hard to remember a time when celebrities didn't pose naked while pregnant on covers of magazines. However, that time existed and we have Demi Moore to thank for being the first, posing nude while 7 months pregnant on the cover of Vanity Fair. The issue caused a whole slew of controversy and there were stories of the magazine being sold in paper bags, like porno magazines. However, a year later Moore posed nude on another cover for the magazine covered in body paint as a commemoration to this infamous cover. (Courtesy photo)

Vanity Fair, March 2010

Vanity Fair's March 2010 'Young Hollywood' edition raised brows when all of the celebs they chose for their issue were thin and white. Although all of the young actresses they chose did have big movies released in 2010, many wondered if there were no actors of color who could have been featured in the magazine? (Courtesy photo)

Grazia Magazine, May 2011

After a slew of accusations, <a href="http://www.huffingtonpost.com/2011/08/11/grazia-photoshop-kate-middleton_n_924540.html" target="_hplink">'Grazia' magazine admitted to heavily Photoshopping</a> a picture of the Duchess of Cambridge at the royal wedding in April, whittling down her waist and copy-pasting her left arm over to replace her right, which was holding Prince William's hand. (Courtesy photo)

Vogue Italia, June 2011

Vogue Italia's plus-sized edition raised eyebrows not only for the magazine's choice of 'curvier' instead of rail-thin models, but because of the scintillating nature of the pictures inside the magazine. Shot by Steven Meisel and styled by Edward Enninful, the models are photographed in various states of undress, making it slightly NSFW. (Courtesy photo)

Flaunt Magazine, 2011

The American monthly magazine made two covers of their October issue, one featuring James Franco's face and one featuring his butt. Needless to say, this NSFW magazine cover is controversial because of its bumtastic nature. (Courtesy photo)

Teen Vogue, November 2010

Jourdan Dunn and Chanel Iman pose happily on the cover of Teen Vogue's November 2010 issue, however the magazine did not know that <a href="http://www.huffingtonpost.com/2009/10/28/pregnant-jourdan-dunns-te_n_336809.html" target="_hplink">Dunn was pregnant</a> until after the photo shoot. The 19-year-old model reveals her pregnancy in the magazine, and because Teen Vogue decided not to pull the cover, many advocates against teen pregnancy were concerned about the message that the magazine was sending to its teen readers. (Courtesy photo)

W Magazine, November 2010

When Kim Kardashian appears in the buff for any magazine, it's always controversial. In this case, the celeb posed for W Magazine's November 2010 cover with her lady bits covered by a tagline by artist Barbara Kruger. Additionally and perhaps more controversial were the outtakes of this shoot in which Kardashian is naked and dipped in silver paint. (Courtesy photo)

W Magazine, November 2011

W Magazine commissioned Chinese dissident and world-famous artist Ai Wei Wei for one of its November 2011, art issue covers. The cover features model Sui He recreating the scene of the artist's violent arrest. (Courtesy photo)

W Magazine, November 2009

Then 47-year-old actress Demi Moore appeared on the November 2009 cover of W Magazine looking a little too thin. The actress dismissed claims that her photo had been Photoshopped (especially in the hip area) saying that she was just very thin. (Courtesy photo)

Vogue, March 2012

The British singer looked amazing on the cover of Vogue's March 2012 issue, so amazing that some people thought the Grammy winning songstress looked Photoshopped. The actress was drawn into controversy when fashion designer Karl Lagerfeld called her "a little too fat," however, she dismissed the comments in the pages of this edition of Vogue. (Courtesy photo)

New York Magazine, February 2008

The always controversial Lindsay Lohan graced the February 2008 cover of New York Magazine, recreating Marilyn Monroe's 'The Last Sitting' photography session of 1962. Since Lohan's spread featured the troubled young actress in various stages of undress and featured near-explicit nudity, the issue garnered a lot of attention. (Courtesy photo)

Rolling Stone, April 1999

Before the pop star became the center of a paparazzi frenzy (remember head-shaving, K-Fed, etc.), Britney Spears was a 'Teen Queen.' At least that's what Rolling Stone dubbed her in their April 1999 issue which featured the then seventeen-year-old Spears in lingerie and holding a Tellytubby. In 1999, the young singer was already developing into a sex symbol, but many believed that this cover was a little too mature for a 17 year-old. (Courtesy photo)

Purple Magazine, February 2010

Lindsay Lohan was photographed by the ever controversial Terry Richardson for Purple Magazine in 2010. Apart from the fact that the subject is Lindsay Lohan, the cover was controversial because she was posed in a Christ-like pose, with a crown of thorns adorning her head. (Courtesy photo)

Q Magazine, 2010

Lady Gaga always knows how to cause a scene and this magazine cover was no exception. During a time when there were rabid rumors about Gaga being a man, she decided to <a href="http://www.huffingtonpost.com/2010/02/23/lady-gaga-dons-a-strap-on_n_473337.html" target="_blank">confront the issue directly by wearing a strap-on for her photo shoot</a>.

Vogue Hommes International, Fall/Winter 2012

Male model Marlon Teixeira's embrace of Stephanie Seymour is striking -- is she being choked? And is that ever OK? (Courtesy photo)

Dazed & Confused, September 2012

The British magazine reported that the controversial cover, with rapper Azealia Banks blowing up a condom, had <a href="http://www.huffingtonpost.com/2012/08/15/azealia-banks-banned-magazine-cover-dazed-confused-condom_n_1778291.html" target="_blank">been banned in seven countries before it was even released</a>!

Time Magazine's Controversial Magazine Cover Among Top That Have Created Buzz
Want more? Be sure to check out HuffPost Style on Twitter, Facebook, Tumblr and Pinterest.