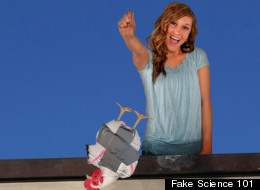 We first celebrated Fake Science back when it was just a Tumblr, and now it's grown into a full-fledged book, paper and all, appropriately titled "Fake Science 101: A Less-Than-Factual Guide to Our Amazing World."
Fake Science is a lot easier than regular science, and a lot funnier too. Check out an excerpt of images from the new book below, and if you want more, follow them on Twitter or pick up a copy of the book on Amazon.
Da Vinci's "Vitruvian Man" drawing was considered a landmark study in anatomy, until people realized it had too many arms and was shy about nudity.

This scene from the famous Bayeux Tapestry depicts the Dark Ages dumping of slop. It was, admittedly, more sanitary than keeping it around.

Now not even a planet, Pluto used to have it all. For years, scientists used the Plutocentric model of the solar system.

Though we normally think of laboratory rats as the pioneers in man's journey to space, human test subjects are equally crucial. And, until his accidental death, Ned Kerrey was one of the best at taking a hit.

The tiger is most well known for its baby-killing proclivities. No matter how pretty they are, you should never let a tiger into your child's daycare center.

The mix of chemicals in our air is wide and varied, and includes a range of different strange, unidentifiable smells you usually encounter in elevators.

Gold is a valuable medal because it is backed by gold. A dip in a pool of gold coins helps gild the skin.

Understanding the seasons is crucial when planning the launch of your lemonade stand.

High school students learn about engineering and physics through the chicken drop. They create a device that they hope will keep a chicken alive when it's dropped from the roof. This chicken is covered with straws, pipe cleaner, and duct tape. How do you think it will do?

We've seen how science explains your life, but you should also use science to direct your life. This crossword puzzle looks enough like graph paper to be useful.