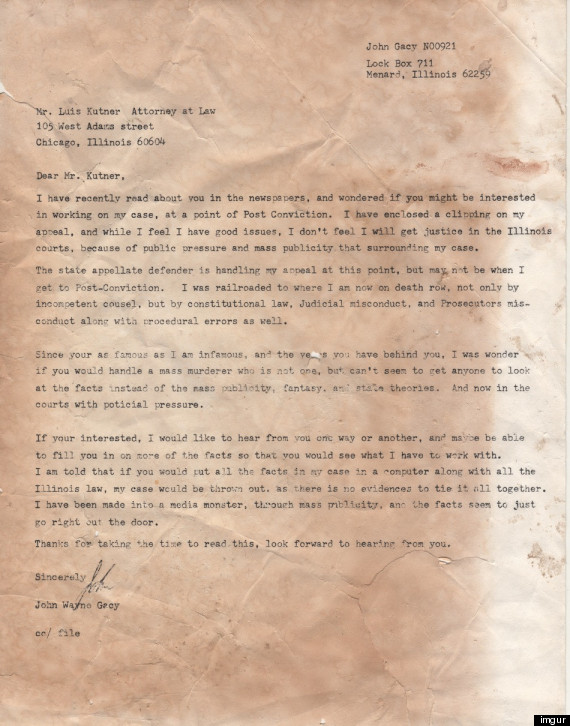 A typewritten letter sent to Amnesty International co-founder Luis Kutner by serial killer John Wayne Gacy has allegedly been discovered in a basement.
Reddit user "Shipyaad" wrote that he found the letter in his home, a house he claims once belonged to the son of the famous Chicago lawyer.
"I moved into a new place and found it wedged in between a couple of boards in a wall downstairs. It's like someone was trying to hide it or something," the user wrote.
In the letter, Gacy asks Kutner for his services. Kutner, a renowned human rights activist and lawyer who co-founded Amnesty International with Peter Benenson in 1961, never took Gacy on as a client. But the serial killer and rapist, who buried 29 of his victims at his own home, alludes to their mutual fame in the letter.
"Since your [sic] as famous as I am infamous..." Gacy writes, "I was wonder [sic] if you would handle a mass murderer who is not one... to look at the facts instead of the mass publicity, fantasy and state theories."
Gacy killed at least 33 young men and boys between 1972 and 1978, and was sentenced to death. He was given the nickname "The Killer Clown," as he sometimes adopted the persona of "Pogo the Clown" for charity fundraising events.
Gacy was executed by lethal injection in 1994. His notorious last words were "Kiss my ass," according to CBS News.
Writer Jason Moss corresponded with Gacy and other serial killers on death row as research for his book, "The Last Victim."
Gacy was also a prolific artist, often painting depictions of cartoon characters and clowns. In 2010, a Gacy painting of the seven dwarves playing baseball against the Chicago Cubs sold for $9,500.
Some commenters on Reddit speculated on the letter's value, with one user appraising it at $4,000. Others encouraged user "Shipyaad" to sell it on eBay, or donate the "exciting piece of history" to the National Museum of Crime and Punishment.
(via Reddit)
YOU MAY LIKE
CONVERSATIONS
FOLLOW HUFFPOST