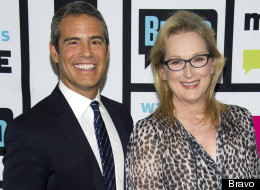 Bravo's "Watch What Happens Live" is on hiatus until Sun., Sept. 9, which should give us just enough time to not compare every single future guest of Andy Cohen's to the fabulousness that was Meryl Streep.
And she was fabulous. Streep, easily the show's biggest celebrity guest to date, was a great sport even with a hand injury (thanks to a "stars are just like us"-sounding avocado-related injury) and a superfan just steps away in the hilarious Billy Eichner (the man saw "She-Devil" in the theater), who was manning the bar between "MERYL STREEP!" screams.
Not only did Streep not Plead the Fifth in Cohen's signature hot-seat game -- and she cheered when she heard she was in good company with Katie Couric, Vanessa Williams and Mike Tyson -- she also joked that she wanted Cohen to play her in the inevitable biopic of her life. All of this went down while she sipped on Fresquilas every time her "Mamma Mia" character did splits in the corner of the screen, and laughed admitting she didn't know what "gingers" were. (Oh Meryl ... now you know that the only thing Andy Cohen loves as much as a great guest is a fiery redhead!)
If you're a celebrity hoping for a seat in the Clubhouse soon, take note -- that is how it's done. But now that Andy has hit the lottery of late-night guests, where should he go from here? We've got a few suggestions for guests we'd love to see in the Clubhouse.
Dream Guests For "Watch What Happens Live"
Imagine: Dame Helen Mirren talking about the "Real Housewives"; Dame Helen Mirren playing Plead the Fifth; Dame Helen Mirren doing shotskis. Andy Cohen, make. this. happen.

Matt Bomer is still one of "WWHL's" most charming guests ever (doing the Bayside High cheer with Tiffani Thiessen? Classic). We'd love to see Andy defend Bomer as a valid choice to star in the "Fifty Shades of Grey" movie, and to slap Ellis on the wrist for saying a gay man can't pull off the role.

Everyone loves Gabby Douglas' gold medal smile, but no one's talked about the devilishness behind the smile. Obviously she's too young to partake in the bartender's blend of choice, but we think Andy could get her to break away from the Olympics-approved soundbites and have a little fun.

It's not the "Inside the Actors Studio" treatment (which one of them has already gotten), but this Hollywood golden couple would have a blast on Bravo late-night. Kyra's free now that "The Closer" has ended its run, and Kevin's about to get very busy shooting Fox's midseason thriller "The Following." Soon please!

Christian Bale has had his fair share of bad press over the years, but showed his softer side when he visited victims of the horrific "Dark Knight Rises" shooting in Aurora, CO. Now his publicists should let him really revamp his image with a stiff drink and some silly games!

"The X Factor" is coming back the same week "WWHL" is, and now it's got Britney, b*tch. What more reason do you need?

Isn't it about time someone gave Jack a new pair of shades to wear? The man has a million fascinating stories, and would have fun with Plead the Fifth, but we'd watch just to see him rock "Mazel" sunglasses in the clubhouse.

We'll admit it: This sounds appealing for the trainwreck factor alone. But La Lohan will need to promote Lifetime's "Liz & Dick" somewhere ... and Andy could get her to do some 'splaining for her many tabloid scandals.

Another one of our favorite Hollywood couples, we'd love to see Idina and Taye singing, dancing and talking Hollywood shop with Andy.

Connie Britton always seems like a whole lotta fun, doesn't she? We think she'd be game for all the dishing and, yes, game playing in the clubhouse, and if anyone could get her to sing a bit to promote her new ABC series "Nashville," it's Andy.