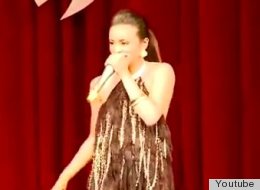 When it comes to the talent portion of beauty pageants, the typical menu of items includes singing, dancing, playing a musical instrument and the occasional death-defying stunt (blazing fire batons, anyone?).
Then there is Queenierich Rehman, the Filipina pageant contestant who may singlehandedly make talent acts cool with her wildly impressive skillz (yes, skillz with a z). For the talent portion of Miss World 2012, currently happening in China, Rehman sang... and beatboxed. At the same time. And girl is one hell of a beatboxer.
The 23-year-old contestant, who hails from Pasay City, keeps her act a surprise, having the pageant hosts introduce her act as a mystery. She starts off singing beautifully, crooning like your average (read: above-average) pageant queen. Then the beatboxing begins, a medley that includes 50 Cent, Justin Timberlake and even "Teach Me How To Dougie."
The crowd, obviously, goes wild. Turns out this is Rehman's signature: she bested 24 Filipina beauties at the Miss World Philippines 2012 pageant with the same act (winning the special honor of "Miss Talent") and she names hip-hop music as one of her hobbies in her MissWorld.com bio.
Watch the video above and be amazed (and also note her awesome jumpsuit and gold platforms heels, an appropriately sassy choice for her unconventional act, we think). The only way we could be more impressed? If she played the water glasses at the same time.
The final round of Miss World 2012 takes place on August 18, broadcast live from Ordos Stadium Arena in China.
See last year's Miss World winner...
(Via Buzzfeed)
Want more? Be sure to check out HuffPost Style on Twitter, Facebook, Tumblr and Pinterest.