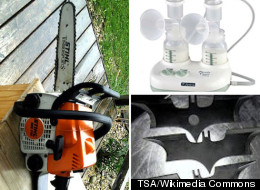 Why can't they just carry on a magazine like the rest of us?
We're only halfway through 2012, but already the U.S. Transportation Security Administration (TSA) has confiscated an awfully long list of wacky items passengers tried to bring aboard planes, as highlighted in a blog post by the agency Tuesday. Your guess is as good as ours as to why these people thought they'd be OK carrying Batman throwing stars, live eels, or M-80s onto passenger planes.
Click through the slideshow below to see the full list of the 15 most insane items we could cull together. Which do you think is craziest?
15 Craziest Items Airport Security Stopped
Let's start with guns, because there're just so damn many of them. The TSA reports that it's confiscated 821 firearms in 2012 to date (691 of which were loaded). Some were stowed away in creative places, like in a potted plant or inside stuffed animals. Poor Mickey Mouse!

Everyone knows that the Batman has his own plane and doesn't need to fly commercial. This faker, caught in San Diego in June, is not Bruce Wayne.

The crazy thing about this story wasn't what was stopped from going on a plane, but why. A mother of a 9-month-old was told she couldn't board her plane in Hawaii in February with her breast pump. The reason? Because the milk bottles were empty, KITV reported. The woman embarrassingly had to go to the bathroom to fill the bottles with milk, and the TSA later had to issue an apology.

Don't mess with this grandpa, who tried flying out of JFK.

Fortunately this weapon had no grenades in it when confiscated in February in Seattle.

In Texas, they don't mess around with fake grenades. Officials at the Dallas/Fort Worth International Airport found a live 40mm explosive grenade in one man's luggage. The guy actually had a good excuse. "It was a soldier who made a mistake and in the end, no charges were filed," the TSA explained.

The curious part of this story is that you can fly with a chainsaw, if it's in your checked luggage. But this guy traveling out of Elmira, NY, still had gas in his wood-cutter when he attempted to get it onto a plane in January.

This was confiscated at North Carolina's Raleigh-Durham International Airport.

The TSA finds plenty of stun guns, but this one, masked as a cellphone and uncovered by officials in Indianapolis in June, takes the cake. Insert your "there's an app for that" joke here.

An X-ray screening in Philadelphia International Airport reveals one passenger trying to carry on three M-80 fireworks, along with "a water bottle wrapped in black electrical tape and filled with flash powder." Unsurprisingly, the man was arrested.

Regret that useless souvenir you got on your last vacation? Meet this diver who found an 18th-century, coral-covered cannonball while exploring a ship near Ft. Lauderdale, Florida. The TSA determined that the projectile was still potentially explosive even after centuries underwater, and had to evacuate the checked baggage area and call in a bomb squad.

These stuckers were taken by officiers in Salt Lake City, Utah.

What's in the water in Dallas? An old bazooka round was found in a passenger's bag at the Dallas/Fort Worth Airport. "Not knowing if this was live or inert, Law Enforcement Officers established a 100-foot perimeter around the item and evacuated the baggage area and terminals near the item," the TSA wrote. Five delayed flights later, it was determined to be not live.

Obviously, this is scary. In Harrisburg, PA, in June, a passenger "had been at a conference where the items were given out as souvenirs."

Found in San Diego in January.