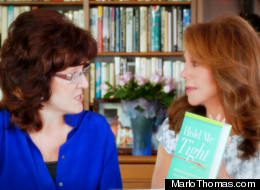 If you're in an unhappy relationship, should you stay together for the kids? Relationship expert Dr. Sue Johnson weighed in on this complex question when she visited me on Mondays With Marlo.
And if you want more relationship advice from Dr. Sue, check out her top tips here:
Relationship Advice From Dr. Sue Johnson
People tend to think romance is all a mystery, but that's not true. There's a scientific approach to bonding, and it's explained in Sue Johnson's book "Hold Me Tight".

The most important thing in a relationship is knowing that your partner will be there for you when you need him or her. The lynchpin is dependability. Even if other issues exist, this is the biggest requirement for a good union.

The first step is to recognize moments of disconnection, instead of letting them pass unrecognized. Say, "I'm feeling lonely too" Converse on an emotional level.

We forget that it's not always about special techniques. Simply put, it's about how you connect with each other. Have a relationship with someone you can talk to. Emotional safety is what makes for a good sex life.

There are six main emotions that show on anyone's face. Anger comes from fear. When you're upset, ask yourself what you're afraid of. Mostly, it'll stem from what we all fear in a relationship: abandonment and rejection.

Try to avoid them; they're generally quite tough to pull off. We're wired to bond with a few other people on this planet, and want to count on them when we need them. It's hard to create that kind of safety in this type of arrangement.

Don't expect mind reading. Communicate your needs gently, but be honest about what it is you want specifically. If you just want him to hold you, say so.

Even for the sake of the children, it's better that you get out of the relationship. Feeling emotionally alone in a partnership leads to physical illness and clinical depression. It's better that you take care of you first, so you can be healthy enough to take care of your loved ones.

If you and your partner routinely fall into the same argument, give it a name. For example, you could call it the vortex, tornado, or spiral. Next time you find yourself arguing, you can say, "I think we're getting caught in the vortex." This will make both of you aware, and want to avoid repeating the same old pattern.

Feel for it. Like everything else in life, you have to go find your pleasure.

If your partner isn't talking about money, he or she may feel like their financial knowledge is inadequate. Make sure you ask your significant other how they're feeling during your conversation. Kindness is key when talking about touchy subjects like money.

Why aren't you engaged yet? It could be as simple as being open with your partner and asking him for what you want, even if it makes you feel vulnerable. This is simple to say, but sometimes it can be very hard to do. Regardless, you should always be honest about what you want and ask your significant other what they want. Both people need to know where the other one stands, otherwise you won't be in an honest relationship.

It's most useful to think of sex as playtime. The first thing you can do is build a nice cozy fire or sit down and light candles. Drink wine and share your thoughts on sex. You're different people. You may want different things and have different fantasies then when you first got married. Build a playful place together. And then...enjoy!
Add Marlo On Facebook:
Follow Marlo on Twitter:

Weekly Newsletter

Sign up to receive my email newsletter each week - It will keep you up-to-date on upcoming articles, Mondays with Marlo guests, videos, and more!

Sign up here