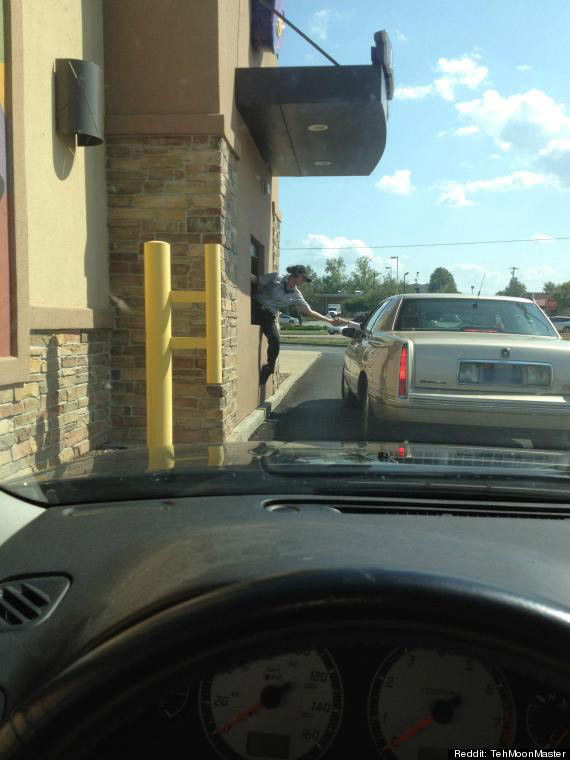 We feel a bit bad laughing about this, but the above picture featuring an elderly woman and her hapless Taco Bell drive thru attendant is too much to handle.
Reddit user TehMoonMaster posted an image Thursday with the title, "Old people and Taco Bell, amirite?" It shows an attendant with one leg out the window as she tries to reach an elderly woman's car, inexplicably parked quite a distance away from where it should.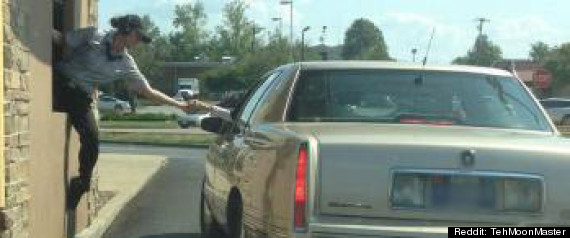 In the comments, TehMoonMaster offers a few more details:
After the drive thru nonconformist drove off at a blinding (get it?) 3 miles per hour, my lady friend and I asked the drive thru worker if she had to exit the window very often. The girl said only for that old woman, and that we best stay behind her on the road cause "some people just shouldn't be allowed to drive"
We hate to say it, but that attendant may have a point.
Also on HuffPost:
Loading Slideshow
10. Sonic

America's Drive-In rounds out the top 10 with U.S. revenues of $3.6 billion.

9. KFC

KFC, the biggest chicken vendor in America, comes in ninth with revenues of $4.7 billion, though there were 107 fewer outposts in August 2011 than there were the year before.

8. Pizza Hut

<a href="http://www.huffingtonpost.com/2011/07/27/pizza-hut-ads_n_911106.html" target="_hplink">Good ads</a> equal big revenues for the biggest pizza chain in America. Pizza Hut took in a solid $5.4 billion in 2010.

7. Dunkin Donuts

America runs on Dunkin' to the tune of $6 billion a year -- that's almost $20 for each and every person in the country.

6. Taco Bell

2010 U.S. revenues of $6.9 billion make Taco Bell the biggest Mexican restaurant chain in the country.

5. Starbucks

Starbucks may have had a few hiccups <a href="http://www.huffingtonpost.com/2011/07/13/starbucks-bistro-boxes_n_897768.html" target="_hplink">when it comes to introducing food</a>. But its success in beverages has propelled American's biggest coffee purveyor into fifth place among fast food chains, with 2010 revenues of $7.6 billion.

4. Wendy's

Wendy's fries may be <a href="http://www.slashfood.com/2011/04/20/wendys-fries-vs-mcdonalds-fries-taste-test/" target="_hplink">number one</a>, but its revenues aren't there quite yet.

3. Burger King

Number two burger chain Burger King was sold for $3.26 billion to 3G Capital in 2009. 2010 revenues of $8.6 billion make that sound like a deal to us! (We know, we know, there's a difference between revenues and profits...)

2. Subway

Subway has the most outlets of any fast food brand; it expanded that total by 816 in the past year alone. But because each store is relatively small, revenues, at $10 billion, pale in comparison with those at the number one chain.

1. McDonald's

With revenues standing at a whopping $32.4 billion in 2010, the Golden Arches aren't being dethroned any time soon. What's surprising about its success is that per store sales at McDonald's are bigger than those even cult-ish brands with fewer outlets. With $2.4 million <em>per store</em>, they're second only to Chick Fil-A, which fans travel miles to visit.