John Slattery Heads To 'Arrested Development,' Ryan Lochte Has A Tough Time On '90210' And More: What TV Taught Us This Week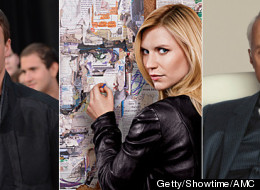 With the Olympics behind us, this week in TV saw athletes stopping by talk shows and Ryan Lochte opening up about how difficult it was for him to memorize lines for his "90210" appearance.
To the dismay of "Good Wife" fans, Kristin Chenoweth left the series before she even debuted after an on-set accident, and Benedict Cumberbatch called "Downton Abbey" "f---ing atrocious."
From Lochte's statements to two thrilling new trailers, click through our slideshow for a recap of this week's events in TV and, of course, what we learned from them.
What TV Taught Us This Week
The Event: This week, news broke that John Slattery -- a.k.a the hilarious Roger Sterling of "Mad Men" -- would be joining the Bluth family for the new "Arrested Development" season. The Lesson: Being the comic relief on a drama probably means you're going to steal the show on a comedy.

The Event: After bashing "Downton Abbey" back in April, Benedict Cumberbatch issued what seemed like a sincere apology. But this week, the "Sherlock" star completely undid his damage control by calling the hit series "f---ing atrocious." The Lesson: Hurt "Downton" once, shame on Cumberbatch. Hurt it twice, shame on PBS.

The Event: After being hit in the head by falling scaffolding on the set of "The Good Wife," Kristin Chenoweth tried to recover for a little while ... and then called it quits. "It is with deep regret to inform everyone that due to my injuries, I am unable to return to 'The Good Wife,'" she told People. "[I'm] getting better slowly, and thank you everyone for your concern." The Lesson: Your guest stars will back out when things fall from the sky. Safety first!

The Event: Ryan Lochte is making his acting debut on "90210," and according to the Olympic swimmer, it hasn't been an easy run. "Memorizing lines, and trying to like, say them and still like, do movement and all that. That was hard," he said. The Lesson: Olympic athletes should steer clear of Hollywood.

The Event: Acting may be hard for Ryan Lochte, but the U.S. Women's gymnastics team made quite the impression on "The Colbert Report" this week. After wowing the crowd with their skills, McKayla Maroney stole the show with her signature "not impressed" look. The Lesson: Maybe its just Ryan Lochte who needs to steer clear of Hollywood?

The Event: Jesse Plemons appeared on Sunday's episode of "Breaking Bad" as one of Walter White's henchman who killed a young witness in cold blood. And this isn't the first time Plemons has murdered someone on the small screen. His good-guy "Friday Night Lights" character Landry killed a guy with a pipe. The Lesson:Good guys can get away with murder.

The Event: This week, an Alabama resident named Walter White made it to the top of Tuscaloosa County Sheriff's Office most wanted list for violating his probation after being caught manufacturing methamphetamine. Sound Familiar, "Breaking Bad" fans? The Lesson:There's a fine line between fiction and nonfiction.

The Event:This week thrilling, terrifying and shocking new "Dexter" and "Homeland" trailers hit the web, getting everyone excited (and a little afraid) for the upcoming seasons of the Showtime dramas. The Lesson: When it comes to Fall TV, Showtime's where it's at.