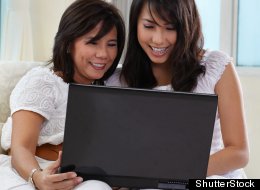 You may ask your kids for their thoughts on music, that new outfit or what to have for dinner ... but on who to date? That's the premise behind myLovelyParent, a new online dating website for people 50 and older based in Britain.
The site was created by two brothers (one is 34, the other in his early 40s) who want to help their "very lovely single mum in her 60s" find "handsome chaps" for friendship or companionship. According to their blog chronicling the new website's beginnings, it's an idea that's sat with them for awhile:
...we're trying to open up the world of online dating to our parents' generation. They're a generation who, on the whole, are less digitally proficient, less accepting of social networking (in its most literal sense) and who are incredibly discrete when it comes to matters of the heart. ...There are plenty of people out there who don't want to be alone. And we believe, through digital, we can bring them together.
While a number of studies say otherwise when it comes to tech-savvy post 50s, we'll bite. So how does the online dating site work? British sons and daughters can sign up their single parents and create an online profile for them. They can then search the site for people they think would be perfect for their parent and "recommend" standout profiles to their lovelorn 'rents. Automatic emails with their kid's suggestions are sent to the parents, and who knows? A love connection could happen! The start up is still in beta and accepting requests for invitations when it goes live in September.
From what we can tell, this is the first online dating site of its kind, putting the task of selecting a potential date primarily in the hands of your children (the UK has mysinglefriend.com, which lets your friends write your profile for you, though we're sure a few people have done this on existing sites). The sons may get a date for more than just their mom: According to their site there are 1.7 million widowed women and 5.8 million people 45 and older living alone in the UK; in 2010 there were 119,589 divorces in England and Wales. MyLovelyParent may just be the ticket -- there's even talk of bringing it across the pond!
Have your children set you up on a date? Would you trust their judgment when it comes to fixing you up with Mr. or Ms. Right? Tell us in the comments!
Earlier on Huff/Post50:
Where To Meet Singles Over 50
Sometimes it feels like the foundation of your social life is so strong that you no longer find the opportunity to meet new and exciting people. Throw a barbecue or party in which guests bring a friend that no one in the group knows. Alternatively, tag along with a friend the next time their office has a company picnic or function -- this is a great way to meet somebody who you know is responsible enough to hold down a career and who you can 'check out' with an acquainted friend before you agree to a date.

There's no longer a stigma about a woman learning to golf or a man taking a Pilates class, though such activities are still gender lopsided enough one way or the other to open up the dating options for the minority sex. In time you'll be able to go to a local public course and complete someone else's foursome, or cap off an exercise class by going for coffee with some of your fellow students -- both of which will give you the opportunity to meet a host of new people (most likely of the opposite sex). Just make sure you're doing something you want to do -- it would be a shame to begin a relationship under false pretenses.

Organizations such as "Habitat For Humanity" allow you to come into contact with people of all ages and from all walks of life, all of whom have strong, respectable values. And it's not just a great chance to meet a prospective date -- volunteering attracts interesting, good-natured people who themselves are excited to meet new faces and make friends.

Book clubs are great places to meet well-read, like-minded adults -- you can usually find one by calling your local library. Similarly, wine clubs, outdoors clubs and gardening clubs are good options as well depending on your interests. Joining a club allows you to grow as an individual and sets up the opportunity for you to meet someone who shares a common interest.

Singles over 50 are flocking to the online dating world more than any other demographic. It would be a shame to let 20th century prejudices about online dating spoil the opportunities that could await you with a membership. The perception that dating sites attract eccentrics or shut-ins is a dying one, but if you need convincing, just see for yourself the array of adults turning to sites like "Match" and "eHarmony" to help them begin meaningful relationships with interesting people. Here are the top five most popular dating sites for Post50s.
(h/t Good)