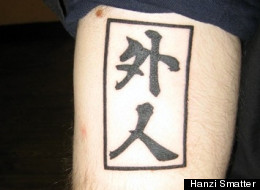 Asian character tattoos on English-speaking people are nothing new, with phrases like "hope," "dream" and "love" adorning many an ankle or lower back. Unfortunately, not all of those tattoos mean what the unsuspecting person might have thought.
Our pal Tian Tang over at Hanzi Smatter has been chronicling the "misuse of Chinese characters in Western culture" for quite some time, and trust us: he's translated some doozies.
From a badass "Outlaw" tattoo that ended up translating to the less-than-threatening, "Hiding Criminal," to the simple-yet-hilarious "Foreigner" tat, these 19 Asian tattoo FAILS are truly LOL-worthy. Browse our favorite Tian Tang translations below and check out his website for more.
Also see: The Funniest Misspelled Tattoo Of All Time.
Well, there's this.

It's supposed to say "Fear No Man." You know, except the coffin man.

A more correct tattoo was never designed.

Exactly what it's supposed to mean! This person is bringing it.

It's supposed to mean "Tree." So, close?

It could also mean "snitch or rat." It was supposed to mean "Outlaw." Apparently, snitches get tattoos.

Tang suggests maybe this was supposed to mean "left and right," but it would be gibberish.

Probably not what they intended. Also, pig is upside down.

This was supposed to mean "to fight is to suffer." So, yeah either way it's kind of a bummer tattoo.

Or, it could mean "dense growth of bush." We're not sure what's better.

Overall, a lot of mistakes were made this night.

It's good to just let the cops know off the bat who you are.

This sounds kind of like an epic poem, right? It could also mean, "the great emperor's tailor."

It was supposed to mean "bitch," so it's not too bad. Stop crying.

This is something we all need to celebrate.

Maybe instead of learning an entire language, people should just learn the words to avoid using in their tattoos.

It's supposed to say "promise," so it's pretty close. It's just a little more formal of a promise.

It was supposed to mean "loyalty." But some people really love noodles, so...

Um, what?