Today is the birthday of iconic father and son architecture duo Eliel and Eero Saarinen. Representing two generations of Finnish-American artists, the Saarinens share not only the same profession, but also the same date of birth. Scroll down for a slideshow of their work.
Eliel Saarinen was born on August 20th, 1873 in Rantasalmi, Finland. He began his career at the Helsinki University of Technology before joining his own architecture firm, Geselius, Lindgre, and Saarinen in 1896. The trio's first major design -- the Finnish pavilion at the 1900 World Fair -- showed unique combinations of Finnish wooden architecture, British Gothic Revival, and Art Nouveau, a convergence of influences that would later come to be known as Finnish National Romanticism.
In the early part of the 20th century, Saarinen senior designed the Helsinki Central railway station, worked on the city-planning project in Munksnas-Haga and Helsinki, advised on city development in Reval, Estonia and Budapest, Hungary, and designed the Finnish markka banknotes. It was also during this period that Eliel and his second wife Louise gave birth to their soon-to-be-famous son, Eero.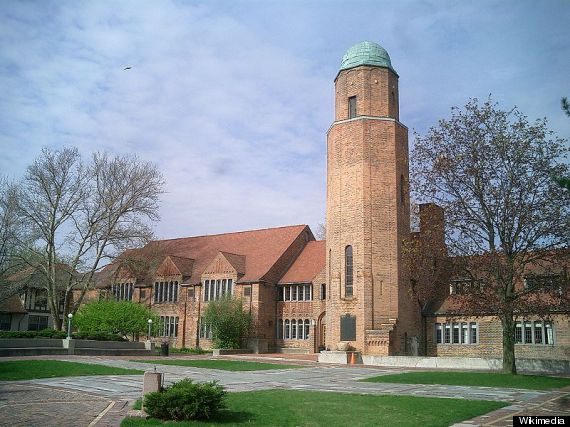 Cranbrook Academy of Art, designed by Eliel Saarinen
The youngest Saarinen was born on August 20th, 1910 in Kirkkonummi, Finland. Shortly after his thirteenth birthday, he, his father and their family emigrated to the United States after Eliel's second-place design entry for Chicago's Tribune Tower was adopted in Houston, Texas as the Gulf Building. First moving to Evanston, Illinois, the elder Saarinen would later settle the family in Bloomfield, Michigan, and worked as an architect professor. After moving on to the University of Michigan, Eliel died in 1950 in Ann Arbor, Michigan at the age of 76. Among his famous pupils were Ray Kaiser and Charles Eames, both of whom were early students at Cranbook Academy of Art.
Eero, however, first received attention for a chair design he made in collaboration with Charles Eames. Eero's pursuits in industrial design would continue throughout his life, creating signature stylings like the "Tulip Chair" that were produced by famed furniture manufacturer Hans Knoll.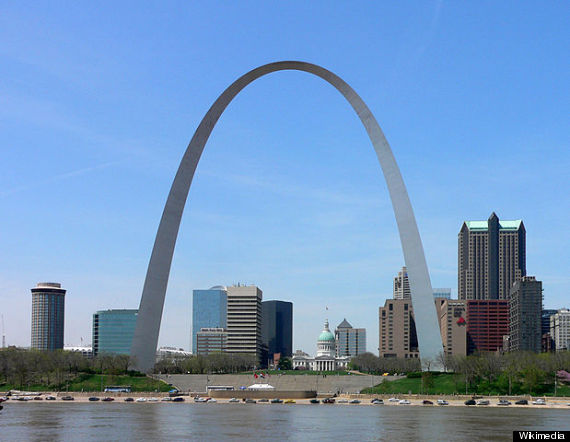 The Gateway Arch, designed by Eero Saarinen
Beyond furniture, Eero was involved in a number of significant architectural projects under the wing of his design office, "Eero Saarinen and Associates." In the mid 20th century he served on the jury for the Sydney Opera House design, imagined the headquarters for John Deere, GM, IBM, and CBS, and designed the TWA Flight Center at John F. Kennedy International Airport. Many of these structures made use of Eero's signature catenary curves, a U-shaped line that represents an idealized slope of a hanging chain or cable.
But Eero's most famous creation came in 1948, when the younger Saarinen created the winning design for the centerpiece of the Jefferson National Expansion Memorial in St. Louis, better known as the Gateway Arch. Created with help from structural engineer Hannskarl Bandel, the iconic Gateway to the West remains the tallest man-made monument in the United States and the largest architectural structure designed as a flattened catenary arch.
Sadly, Eero was not able to witness the completion of the monumental feature of Missouri's skyline. He died in 1961, four years before the Arch was finished. But just as Eliel's legacy lives on at the University of Michigan in a professorship named after him, Eero's reputation as a master of American 20th century architecture persists in the influential designs he leaves scattered across the United States.
So raise your glasses to the Saarinens' shared birthday! In honor of the father and son's big day, check out the slideshow below of works created by the famous architects and let us know what you think of their architectural accomplishments in the comments section.
Happy Birthday, Eero and Eliel Saarinen!
SUBSCRIBE AND FOLLOW
Get top stories and blog posts emailed to me each day. Newsletters may offer personalized content or advertisements.
Learn more