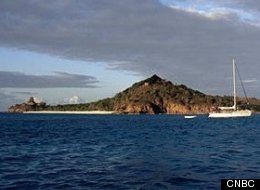 Owning a private island is something very few people can even dream of. But some of the super-rich not only own a slice of paradise, they've also managed to turn these exotic destinations into a lucrative business opportunity.
L'Oreal billionaire heiress Liliane Bettencourt, for example, recently made headlines after selling her private island in the Seychelles for $60 million. While Oracle co-founder Larry Ellison's half a billion dollar purchase of Hawaii's sixth largest island in June is considered to be one of the most expensive deals in history.
More from CNBC:
The Market for Private Islands is Sinking
'Rich Kids of Instagram': Overserved and Oversharing
What the Wealthy Are Driving
We look at eight business tycoons who own private islands around the world. Our list of islands ranges from popular Caribbean island getaways to some of the most remote destinations — all in the quest for paparazzi-free privacy.
So, which billionaires own some of the world's most expensive private islands? Click below to find out. Also, see more billionaire private islands at CNBC:
Private Islands Owned By Billionaires
Purchase price: $11 million In a bankruptcy court auction in 1993, Wall Street financier Louis Moore Bacon plunked down a cool $11 million for Robins Island, located off the coast of Long Island, New York. Bacon, 55, has reportedly invested millions in restoring the 445-acre island, including importing oak trees to preserve its natural habitat. When the hedge fund manager bought the island, he gave $1.1 million to the Nature Conservancy to monitor rare and endangered species on the island , which include Eastern mud turtles. The billionaire has also built vacation homes for his family, along with a helipad. After stepping in to help preserve undeveloped land on New York's New Suffolk waterfront in June, Bacon is set to receive the Audubon Medal for environmental protection next January. The society, which has awarded the likes Walt Disney and Jimmy Carter in the past, is also honoring Bacon for his conservation work on Robins Island, and his properties in North Carolina and the Bahamas. See more billionaires' private islands at CNBC.

Purchase price: $13.5 million Microsoft co-founder and billionaire investor Paul Allen listed Allan Island, which he bought in 1992, for sale in August last year at $13.5 million. The 292-acre island has been on and off the sale block since 2005, when the initial asking price was $25 million. The island, named after a Navy hero, is located in the San Juans archipelago in the Pacific Ocean, off the coast of Anacortes, Washington. Allen had reportedly bought the island to build a vacation home, but instead purchased land on nearby Lopez Island in 1996 to build the home. The island is mostly underdeveloped with just a log caretaker's cabin, a dock and a 2,400 feet grass airstrip. And there's a big drawback: the island has no electricity, and it would cost a reported $3 million to pipe power in, according to the island's property agent. See more billionaires' private islands at CNBC.

Purchase price: $75.1 million About 18 years after transforming British Columbia's James Island from an explosives plant into an exclusive island retreat, U.S. telecom billionaire Craig McCaw is looking to sell the property for $75.1 million. McCaw bought the 780-acre island located off the coast of Vancouver Island for $19 million in 1994 -- the same year he and his brothers sold McCaw Cellular Communications to AT&T for $12.6 billion. On the island, the billionaire went on to build a 5,000 square-feet main house; six guest cottages; a pool; private docks; an airstrip and an 18-hole golf course designed by golf legend Jack Nicklaus. The grounds also house a library, gym and a general store. Power lines are buried underground throughout the island, electric vehicles are used and smoking is banned. The bursting of the dotcom bubble took a tool on McCaw's finances, leading him to put the island up for sale in 2001 after his fortune dropped from $7.7 billion to $2.7 billion. The island was originally listed for over $70 million, but by 2003 the price had dropped to $49 million before the sale was halted. Some famous guests known to visit the island include music producers Quincy Jones and David Foster, and Microsoft founder Bill Gates. See more billionaires' private islands at CNBC.

Purchase price: $100 million Virgin Group's Richard Branson bought Necker Island in the British Virgin Islands for about £180,000 in 1978, and the island is now worth an estimated $100 million. The flamboyant British billionaire turned the 74-acre island into a luxury retreat in 1984, with Balinese style houses run by 60 private staff. The resort can provide accommodations for up to 28 people, and individual rooms for a week-long gateway can cost up to $35,000. Renting the entire island reportedly costs over $50,000 a night. The island also has more than 200 flamingos; and, for a daily fee of $2,500, guests can go underwater on a three-person submarine called the Necker Nymph. Some famous celebrities who have tied the knot on the exclusive island include Branson and wife Joan, and Google co-founder Larry Page who married Lucy Southworth in 2007. Necker Island made headlines in August last year when British actress Kate Winslet and Branson's family were among guests that escaped uninjured from a major house fire caused by a lightning strike during a tropical storm. See more billionaires' private islands at CNBC.

Purchase price: $500-$600 million Tech titan Larry Ellison's purchase of 98 percent of Hawaii's sixth largest island -- Lanai -- is considered among the most expensive in the world. Ellison -- the third richest person in the U.S. and sixth richest in the world according to Forbes -- bought Lanai in June from David Murdock, the billionaire behind Dole Foods. The 141 square-mile island is known for its pineapple fields and is home to 3,000 people. Tourists visit the island for its two Four Seasons resorts, golf courses and luxury housing. Oracle co-founder Ellison now owns the two luxury resorts as part of his share of the island, while the remaining two percent is owned by private residents and the local government. As part of the sale agreement, former owner Murdock retains the right to develop a 200-megawatt wind power project on northwestern Lanai. That has faced stiff resistance from locals concerned about the operation disturbing archeological sites and displacing native birds. Residents have been vocal in their demands that Ellison respect the island's native history and artifacts in his future development plans. See more billionaires' private islands at CNBC.