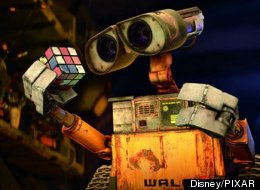 Since the Curiosity rover touched down inside Mars' Gale Crater earlier this month, the inquisitive robot has captured countless hearts and aroused the imaginations of many.
Now, with everyone going gaga over the 1-ton robot, people are being encouraged to take a stronger interest in the usually abstruse field of robotics.
For the first time ever, members of the public are being asked to select four robots for induction into the Robot Hall of Fame (RHOF).
Created in 2003 by Carnegie Mellon University, the Robot Hall of Fame "recognizes excellence in robotics technology," honoring both fictional robots that have inspired innovation and "the real robots that embody it."
"The technology and art of robotics are advancing at an increasingly rapid rate and so the Robot Hall of Fame also must evolve," said Shirley Saldamarco, RHOF director and a faculty member at Carnegie Mellon's Entertainment Technology Center, according to a press release. "As more students, workers and consumers become accustomed to robots, it seems like a natural step to give the public a voice in selecting inductees."

By casting an online ballot, members of the public will choose their favorite robot in four different categories: Education & Consumer, Entertainment, Industrial & Service and Research.
With choices such as WALL-E (the adorable star of the 2008 Disney/Pixar blockbuster) and PackBot (the battle-tested robot that can carry out dangerous missions such as bomb disposal), the 2012 nominees are some of the most creative, cutting-edge and useful machines around.
After the winning bots are inducted to the Robot Hall of Fame in a ceremony on Oct. 23, they will take their places alongside NASA's Mars Sojourner, ASTRO BOY and Star Wars' R2-D2, among other notables, according to the website.
To read about all the nominees, click through this slideshow:
Robot Hall Of Fame Nominees
"Create was designed by iRobot based on the Roomba platform and was introduced in 2007. It is a robot platform for educators, students, and developers. It accepts practically all accessories designed for iRobot's domestic robots." -- Robot Hall of Fame

"NAO is an autonomous, programmable, humanoid robot developed by Aldebaran Robotics of France in 2004. The robot has been utilized as a toy, education device, and in the Robot Soccer World Cup (Robocup) Standard Platform League." -- Robot Hall of Fame

"The platform offers students and adults hands-on and innovative ways to explore science, technology, engineering, and math. The versatility of the platform allows it to be easily altered to suit students of different levels of ability from middle schools to university labs." -- Robot Hall of Fame

"WALL-E (Waste Allocation Load Lifter - Earth Class) is the lovable star of the 2008 Disney/Pixar blockbuster by the same name. WALL-E inadvertently embarks on a space journey that will ultimately decide the fate of mankind." -- Robot Hall of Fame

"She is the Jetsons household Robot from "The Jetsons" which aired from 1962-1963 and from 1985-1987. She may be outdated but the Jetsons would never trade her in. Rosie does all the household chores and some of the parenting. She is a strong disciplinarian and occasionally dispenses family advice." -- Robot Hall of Fame

"He is the star of the 1986 Tri Star Pictures Comedy/Sci Fi film 'Short Circuit'. He is one of five prototypes proposed for Cold War use by the U.S. military and inadvertently becomes sentient as a result of a power surge. He begins to explore his new world and makes friends while the military attempts to track him down." -- Robot Hall of Fame

"Created by iRobot, PackBot is one of the most successful battle-tested robots in the world. It performs bomb disposal and other dangerous missions for troops and first responders. Over 2,000 units are currently on station in Iraq and Afghanistan and it was one of the first robots to enter the damaged Fukushima nuclear plant after the 2011 tsunami." -- Robot Hall of Fame

"Jason is a remotely operated vehicle designed and built by the Woods Hole Oceanographic Institutes Deep Submergence Lab and allows scientists access to the seafloor without leaving the ship. Since 1988 the system has made hundreds of dives to hydrothermal vents, 1,600 year old shipwrecks, the German Battleship Bismarck, and military uses. Its prototype was used to explore the Titanic upon its discovery in 1986." -- Robot Hall of Fame

"The autonomous mobile robot is part of the Kiva Mobile-robotic Fulfillment System which enables extremely fast cycle times with reduced labor requirements, from receiving to picking to shipping in a warehouse setting. Today Kiva is widely recognized as THE solution for eCommerce fulfillment and item picking applications of all types." -- Robot Hall of Fame

"This dynamically stable quadruped robot created in 2005 by Boston Dynamics is capable of traversing difficult terrain, running at 4mph, carrying 340lbs, and can climb a 35 degree incline. It was funded to research a robotic pack mule to accompany soldiers in terrain too tough for conventional vehicles." -- Robot Hall of Fame

"PR2 by Willow Garage is a robotics research and development platform that lets researchers innovate right out of the box. It uses an open platform so investigators can easily share work with colleagues in the research community. More powerful than a video or publication, others can easily reproduce results enabling true scientific validation." -- Robot Hall of Fame

"Robonaut is a dexterous humanoid robot built and designed at NASA Johnson Space Center in Houston, Texas. It was built to work alongside people to expand our ability for construction and discovery. Central to the robot is what is called dexterous manipulation that allows the robot dexterity that exceeds that of a suited astronaut." -- Robot Hall of Fame
For more information, visit the Robot Hall of Fame's website here.