TV Best New Comedy Of 2012-2013: TV Critics Share Their Picks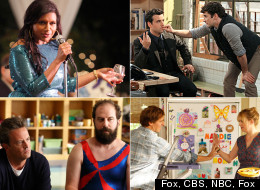 What's the best new comedy of the 2012-2013 TV season? Sadly, it's slim pickings this year -- there are a few diamonds in the rough, but there's a whole lotta rough (just wait until we post the Worst New Shows video on Wednesday).
The A.V. Club's Todd VanDerWerff said it best: "So this year, most of the comedies are -- can I swear? -- are kind of s----y."
But again -- there are some bright spots. From "The Mindy Project" and "Ben and Kate" on Fox, to NBC's "Go On" starring Matthew Perry and a few random picks in between, HuffPost TV gathered 20 top TV critics from around the country to share their picks for best new comedy.
Watch the video here to see what you should have on your must-see list, then check back all week long for more from the critics. We also covered Best New Drama, Worst New Show, Hottest TV Star and Most Anticpated Returning Shows, and we'll post a new video each day this week.
A special shout-out to all of the critics who shared their opinions, in order of appearance: Damian Holbrook from TV Guide Magazine; Sarah Rodman from The Boston Globe; Alan Sepinwall from HitFix; Melanie McFarland from IMDb TV; Meg Masters from TVLine; yours truly; Denise Martin from Vulture; Michael O'Connell from THR.com; Todd VanDerWerff from The A.V. Club; Alyssa Rosenberg from ThinkProgress.org and Slate; Dan Fienberg from HitFix; Ken Tucker from Entertainment Weekly; Jarett Wieselman from ETonline and TheInsider.com; Jace Lacob from The Daily Beast; HuffPost TV's own Mo Ryan; Ellen Gray from the Philadelphia Daily News; Carina MacKenzie from Zap2it; Eric Deggans from the Tampa Bay Times; Gail Pennington from the St. Louis Post-Dispatch; and Matt Roush from TV Guide Magazine.
Check out the HuffPost TV snap judgments of all the new pilots here, by network:

NBC | Fox | ABC | The CW | CBS
Tune-in info:
*"The Mindy Project" premieres Tues., Sept. 25, 9:30 p.m. ET on Fox.
*"Ben and Kate" premieres Tues., Sept. 25, 8:30 p.m. ET on Fox.
*"Go On" premieres (again) Tues., Aug. 21, 10 p.m. ET on NBC, with new episodes starting Tues., Sept. 11, 9 p.m. ET on NBC.
*"Partners" premieres Mon., Sept. 24, 8:30 p.m. ET on CBS.
*"The New Normal" premieres Tues., Sept. 11, 9:30 p.m. ET on NBC.