This article comes to us courtesy of SF Weekly.
While you all have been lazily basking in the sun this summer, this 8-year-old girl has been working her tail off to change the world, one lemon at a time.
In the northern city of Fairfax, Vivienne Harr has spent the last 57 days of her summer vacation turning lemons into lemonade -- literally. She's been selling the sweet refreshing beverage with plans to use all her proceeds to fight human trafficking across the world.
As of Saturday afternoon, the young entrepreneuer had already earned more than $30k at her makeshift business, which she appropriately dubbed Make-A-Stand! Lemonade: The Sweet Taste of Freedom.
She plans to keep selling lemonade until she raises $150,000, using only fair trade lemons, of course. '
"And it's really hard to find fair-trade things. I mean, we're buying fair trade things because, I mean, you can't be freeing slaves and having them to work harder for the cause that you're trying to do to help them be free," Harr told reporters.
Initially, she was charging $2 per cup of lemonade (rasberries optional) but as business boomed, she decided to leave it up to her customers to pay whatever they wanted to in exchange for a delightful glass of lemonade.
"We're betting on the goodness of people, and we found that the average price went up $18 when we made it free," her dad said. "We said, 'Pay what's in your heart.'"
Every dime is going to the Half Moon Bay-based nonprofit called Not For Sale, whose mission is to fight human trafficking and modern-day slavery around the world.
If you can't make your way up to Fairfax to buy a cup of lemonade, feel free to kick in for Vivienne's cause here.
You can also read about Vivienne's experience in her own words. Here's a few excepts: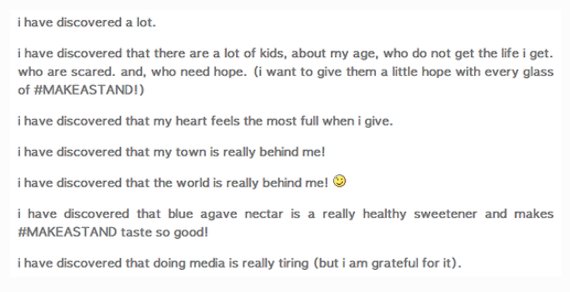 For more on Vivienne's story, watch the ABC News video below:
Follow SF Weekly on Twitter for more San Francisco news.
Earlier on HuffPost:
Loading Slideshow
Kicker Queen

Until recently, Community Christian required girls to wear a dress to the annual homecoming game. So in order to accommodate sophomore <a href="http://www.huffingtonpost.com/2011/11/28/katie-davidson-female-foo_n_1117097.html" target="_hplink">Katie Davidson</a> as both a female member of the homecoming court and a star kicker on the football team, the school updated its official homecoming regulations to allow the girls to wear football uniforms.

Quick Escape

14-year-old <a href="http://www.huffingtonpost.com/2011/11/23/australian-teen-escapes-b_n_1109922.html" target="_hplink">Hiro Shizuka</a> from Sydney, Australia managed to escape his home just moments before it was completely engulfed in flames from a fire caused by electric heaters.

Teen Tapper

Irvington High School freshman <a href="http://www.huffingtonpost.com/2011/11/23/rachel-binney-teen-tap-da_n_1110540.html" target="_hplink">Rachel Binney</a> flew to Riesa, Germany to compete at the World Tap Dancing Championships.

Eye for Design

Between visits to local stores and design trips to Paris, 19-year-old Sam Allen is already turning his passion for design into a <a href="http://www.huffingtonpost.com/2011/12/11/sam-allen-teen-runs-succe_n_1141906.html" target="_hplink">successful career</a>. In the above video, CBS News talks to the teen entrepreneur about his interior design business -- which he runs while still living at home with his mother.

Techie Teen

17-year-old Luis Fernando Cruz, originally from Honduras, <a href="http://tech2.in.com/news/general/teen-develops-eyeballtracking-technology-for-the-disabled/264342" target="_hplink">created</a> advanced eyeball-tracking technology that offers a new way of communicating for disabled individuals.

Fighting for Her Rights

<a href="http://www.huffingtonpost.com/2011/12/01/michele-bachmann-gay-marriage_n_1123784.html" target="_hplink">As reported</a> on HuffPost Politics, high school student <a href="http://www.huffingtonpost.com/2011/12/01/jane-schmidt-iowa-teen-ch_n_1124772.html" target="_hplink">Jane Schmidt</a> attended Michelle Bachmann's town hall in Iowa on Wednesday and challenged the politician's position on same-sex marriage.

Graduation Walk

After almost dying from a severe concussion during a school football game, <a href="http://articles.boston.com/2011-06-08/sports/29634931_1_lystedt-law-tahoma-high-school-head-injuries" target="_hplink">Zack Lystedt</a> was told that he might never walk again. But on his high school graduation, Zack walked tall.

Orchestrating Success

14-year-old composer Spencer Gravel's orchestral arrangement "Southeast of Gull Island: The Wreck of the Carl D. Bradley" <a href="http://www.freep.com/article/20111204/NEWS06/111204007/Teen-composer-readies-premiere-Ypsilanti?odyssey=mod%7Cnewswell%7Ctext%7CFRONTPAGE%7Cs" target="_hplink">made its debut</a> during the Ypsilanti Youth Orchestra's concert last week. The eighth-grader has been composing music since he was nine years old.

Teen LEGO Genius

High school senior <a href="http://www.huffingtonpost.com/2011/11/29/rocco-buttliere-teen-lego_n_1118612.html" target="_hplink">Rocco Buttliere</a> has been creating LEGO structures since he was in seventh grade -- now, his scale models of famous skyscrapers are on display at his local public library.

Freezer Frenzy

16-year-old <a href="http://abcnews.go.com/blogs/headlines/2011/11/teen-trains-in-freezer-for-south-pole-trek/" target="_hplink">Amelia Hempleman-Adams</a> from the U.K. trained in a freezer in preparation of her quest to become the youngest person to ski the 97 miles to the South Pole.

A Selfless Sweet 16

Insteading of asking for gifts, Tewksbury High sophomore Taylor Lirakis and Shawsheen Tech sophomore Alyssa Post <a href="http://tewksbury.patch.com/articles/teens-use-sweet-16-party-to-help-others" target="_hplink">gave</a> funds donated by their Sweet 16 guests to local charities.

Sailin' Solo

In November, 16-year-old <a href="http://www.huffingtonpost.com/2011/11/23/laura-dekker-dutch-teen-s_n_1109845.html" target="_hplink">Laura Dekker</a> made it more than halfway around the globe in her journey to become the youngest person to sail around the world solo.

Peace Keeper

13-year-old <a href="http://www.huffingtonpost.com/2011/11/21/malala-yousufzai-pakistan_n_1105528.html" target="_hplink">Malala Yousufzai</a> has been nominated for the International Children's Peace Prize for the diary she kept about the Taliban banning girls' school in Pakistan's Swat Valley and shared on BBC Urdu online.

Techie Teens

Indian <a href="http://www.pcworld.in/news/indian-teens-hyderabad-develop-low-cost-tablet-ave-58662011" target="_hplink">teen computer whizes</a> Nikhil and Chiman Prakash Reddy created their own low-cost tablet computer, AVE, which they claim is good enough to rival mainstream competitors.

Pro Jumper

This month, 17-year-old <a href="http://www.huffingtonpost.com/2011/12/03/sarah-hendrickson-us-teen_n_1127154.html" target="_hplink">Sarah Hendrickson</a> won the first-ever women's World Cup ski jump.

Award-Winning Research

17-year-old California student <a href="http://www.huffingtonpost.com/2011/12/05/california-teen-wins-100k_n_1129649.html" target="_hplink">Angela Zhang</a> won $100,000 for Siemens Foundation's annual high school science competition for her research which created a tiny particle that can target cancer tumors with great precision.

Ain't No Mountain High Enough

In 2010, 13-year-old Jordan Romero became the youngest person ever to climb Mount Everest. This month, Jordan (now 15) will <a href="http://www.gadling.com/2011/12/07/teen-climber-jordan-romero-prepares-for-final-seven-summit/" target="_hplink">leave for Antarctica</a> in his quest to climb the continent's highest peak, Mt. Vinson. If the teen is successful, he will have climbed the highest peak in each of the seven continents.

Track Star

17-year-old runner <a href="http://www.chron.com/news/houston-texas/article/Teen-amputee-from-Mexico-gets-to-run-2408851.php" target="_hplink">Alan Sanchez</a> won a track meet using an artificial leg borrowed from his coach. An above-the-leg amputee, Alan is now training for the paralympics.

Latin Grammy Winner

18-year-old composer and producer <a href="http://latino.foxnews.com/latino/entertainment/2011/12/06/teen-music-prodigy-composes-for-top-latino-artists/" target="_hplink">Jesus Manuel Nieves</a> was awarded a 2011 Latin Grammy for his work on Tito El Bambino's album, <em>Invencible</em>.

Special Sewing Club

<a href="http://www.dailynews.com/education/ci_19493695" target="_hplink">Nicole Kosoff</a> of El Camino High School has organized a club of students who spend their lunch breaks sewing pajamas for homeless children.

Close Call

17-year-old Washington student <a href="http://www.huffingtonpost.com/2011/12/08/emmanuel-williams-teen-wa_n_1137521.html?ref=high-school" target="_hplink">Emmanuel Williams </a>likely saved a bus full of students when he woke up their bus driver, who had fallen asleep at the wheel while entering an onramp to the Interstate highway.

Teenage Heroes

14-year-old Johnny Grail and Antonio Ezzo and 17-year-old Michael Dusek from Florida received the <a href="http://articles.sun-sentinel.com/2011-12-08/news/fl-margate-teen-heroes-brf-20111207_1_backyard-canal-margate-city-commission-meeting-heroes" target="_hplink">Civilian Life Saving Award</a> for rescuing a toddler who had fallen into a canal. Two dove in to save the child, while the third ran for help.

Spreading Hope

After her mother took her own life, 16-year-old <a href="http://www.huffingtonpost.com/2011/11/10/kaitlin-brand-suicide-prevention-video-mom-death_n_1086527.html" target="_hplink">Kaitlin Brand</a> created a suicide prevention tribute was meant to let others know they help is always available. The YouTube video -- which went viral last month -- contains a simple, touching message in its description: "self explanatory. i love and miss you mom."

Paying It Forward

<a href="http://articles.baltimoresun.com/2011-11-28/explore/bs-exha-forest-hill-kim-salmeri-an-incredible-teen-with-a-plan-20111128_1_service-dogs-cpl-canine-partners" target="_hplink">Kim Salmeri</a>, a physically disabled teen who has been wheelchair-bound for most of her life, started the Pay It Forward fundraiser to help people with disabilities. Through a local campaign, she raised over $11,000 for Canine Partners for Life Organization (CPL), a non-profit dedicated to training companion dogs that aid individuals with physical and cognitive disabilities.

Teen Envisions Helicopter of the Future

15-year-old <a href="http://www.marketwatch.com/story/california-teen-wins-sikorsky-challenge-to-envision-helicopter-of-the-future-2011-12-05" target="_hplink">Tharon Trujillo</a> won the Igor Sikorsky Youth Innovator Award to envision a helicopter of the future. The teen created a design for an unmanned helicopter with the power to efficiently carry relief supplies and electrical power to natural disaster scenes, which won him a trophy and $1,000 scholarship prize.

Olympic Hopeful

14-year-old high school freshman and nationally ranked gymnast <a href="http://www.huffingtonpost.com/2011/11/30/mykayla-skinner-14-year-o_n_1120538.html" target="_hplink">MyKayla Skinner</a> -- who has been training for nearly 10 years -- recently made the U.S. Gymnastics National Team.

A Cheer to Remember

Talk about bringing it on! 1,300 cheerleaders, ages five to 15 years old, <a href="http://www.huffingtonpost.com/2011/11/14/cheerleaders-break-world-_n_1092749.html" target="_hplink">broke</a> the Guinness World Record for "World's Largest Cheer." Led by the Science Cheerleaders -- current and former NFL and NBA cheerleaders who are now pursuing careers in science and technology -- the girls did a five-minute cheer about the importance of science and engineering.

Spirit Squad

With their big smiles, impressive dance moves, and school spirit, Boca Raton High School's<a href="http://www.huffingtonpost.com/2011/12/13/special-cheerleaders-insp_n_1145665.html?ref=mostpopular" target="_hplink"> 'special' cheerleaders</a> -- who struggle with disabilities -- have enough positive energy to make the entire student body want to get up and dance in the middle of a pep rally as if they were in an episode of <em>Glee</em>.

Team Players

When 15-year-old Taylor Howell told his high school football coach that he'd love to play football if he wasn't blind, <a href="http://www.npr.org/2011/11/06/142031957/blindness-not-enough-to-sideline-california-teen?ps=cprs" target="_hplink">his coach responded he'd have to come up with a better excuse than that</a> -- and he's now a center on the JV team. Taylor's teammates have learned to give him non-visual cues and help guide him when necessary, and the team is looking forward to a successful season.

Black Belt Breakthrough

Timothy Aquilino, an autistic 15-year-old martial artist from New Jersey, <a href="http://edgewater.patch.com/articles/inspiring-video-of-autistic-teen-who-earns-black-belt-at-south-river-martial-arts-in-edgewater#youtube_video-8364459" target="_hplink">just earned his black belt in karate</a>. Check out this inspiring video of Timothy breaking through a wood board -- and also through his own personal challenges.

Making His Wish

What would you do if you could make just one wish come true? For 17-year-old Ryan Peskuski, the answer to that question was easy: he wanted to <a href="http://cjonline.com/news/2011-11-06/teen-uses-wish-give-mother-dream-wedding#.Trgzt1ZSlIM" target="_hplink">give his mom her dream wedding</a>. Rather than asking the Make-A-Wish Foundation of Kansas for something special for himself, Ryan -- who was recently diagnosed with cancer -- wanted to give his mother the wedding of a lifetime.

A Cinderella Story

Senior Rebeca Arellano was crowned Patrick Henry High School's <a href="http://www.huffingtonpost.com/2011/10/29/rebeca-arellano-lesbian-high-school-student-crowned-homecoming-king_n_1065232.html" target="_hplink">first lesbian Homecoming King</a> last month. (Her girlfriend Haileigh Adams was crowned queen the next day!) "They were chanting my name and it was one of the most amazing experiences I've ever had," <a href="http://www.10news.com/news/29616851/detail.html" target="_hplink">Rebeca told KGTV</a>.

Marching to the Beat of his Own Drum

After attending Cincinnati's Gay Pride Parade in July, 17-year-old Harrison High School senior Adam Hoover <a href="http://news.cincinnati.com/article/20111103/NEWS01/111040361/Gay-teen-leads-equality-march?odyssey=tab%7Ctopnews%7Ctext%7CFRONTPAGE" target="_hplink">is organizing a march in support of same-sex marriage</a>. Hoover is using Facebook (the page he created, "Support Gay Marriage in OHIO," <a href="http://www.wlwt.com/news/29687320/detail.html#ixzz1d9wfaXjq" target="_hplink">currently has 172,000 followers</a>), Twitter, and YouTube to create a buzz around the event.

Full Speed Ahead

Sophomore Scott Benz of Anoka High School in Minnesota suffered a brain injury after falling during a broomball game, and subsequently suffered from three strokes. Scott had to relearn how to talk clearly and walk again after each stroke. But that didn't stop him. <a href="http://www.kare11.com/news/article/944043/14/High-school-student-learns-to-run-again-after-surviving-stroke-" target="_hplink">Last month</a>, he represented his school at the final cross-country meet of the season.

Girl's Best Friend

16-year-old high school<a href="http://today.msnbc.msn.com/id/45034031/ns/today-today_health/#.TrmUkFZSlIN" target="_hplink"> junior Sami Stoner</a> never let being blind stop her from doing what she loves. With the help of her guide dog Chloe, Sami competes in cross-country tournaments, and she is believed to be the first high school athlete in Ohio to compete with an animal.

King Kevin

Students at Urbana High School in Maryland overwhelmingly voted for their most spirited student to become Homecoming King. That student was Kevin Schombert, a senior with Downs Syndrome who participates in the school's Unified Sports program. "I am very pumped today. Very pumped," <a href="http://www.myfoxdc.com/dpp/news/maryland/kevin-schombert-is-urbana-high-school-homecoming-king-102011#ixzz1d9U8ZIFr" target="_hplink">Kevin told MyFoxDC</a>.

Flying High

Inspired by the movie <em>Top Gun</em>, 16-year-old high school sophomore and aviator JT Sanchez from Tulare, California took <a href="http://www.visaliatimesdelta.com/article/20111101/NEWS01/111010302" target="_hplink">his first solo flight last month</a>. Now that he has earned the right to fly solo, he is working towards his pilot's license.

Surf's Up

World surfing champion Kelly Slater called 17-year-old Gabriel Medina, from Brazil, <a href="http://wwos.ninemsn.com.au/article.aspx?id=8371609" target="_hplink">the future of surfing</a>. After winning the Quiksilver Pro in France last month, Medina won the Rip Curl Pro Search at Ocean Beach in San Francisco this week -- and he even beat out Slater for the title!

Dairy Queen

16-year-old <a href="http://www.stardem.com/article_ea69ab04-6263-55cd-a0b5-2395cd99b373.html" target="_hplink">Cassie Schirmer of Galena, Maryland</a> and her Brown Swiss cow, named Misty, won second place in the Junior show at the World Dairy Expo in Wisconsin last month, meaning that she's raised one of the finest cows in the world. Talk about being a proud owner!

Young at Art

<a href="http://latino.foxnews.com/latino/community/2011/11/02/michelle-obama-honors-latino-youth-salvador-flores-with-national-arts/#ixzz1cYgZxA0" target="_hplink">Michelle Obama honored 19-year-old Salvador Flores with a 2011 National Arts and Humanities Youth Program Award</a> for his work with ArtLab-Platteform, an internship program that uses the arts to tackles social issues affecting teens. Not only is Salvador the first in his family to graduate high school, but he's also now a student at the Community College of Denver.