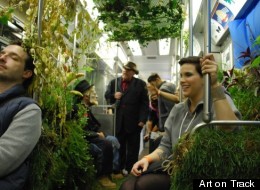 We know sometimes art galleries can be a little stuffy, the cold white walls and icy gallerinas leaving much to be desired. As Land Art legend Robert Smithson put it, "A work of art when placed in a gallery loses its charge, and becomes a portable object or surface disengaged from the outside world."
We've picked ten spaces that strip away the white-walled objectivity of the gallery norm; in fact, some of the galleries have no walls at all. Some require an unusually drawn-out schlep, like climbing through underground tunnels or scuba diving miles off the coast. One is so small humans can't actually make it inside, while another is 6,500 square miles, and the last has no boundaries at all!
The following ten galleries illuminate that a space does not have to feign invisibility to allow the art to speak. An art gallery can make an argument or a joke, enhancing and transforming the gallery going experience. Behold, our ten favorite art galleries in very strange places.
As always, let us know what you think in the comments section below.
11 Unexpected Art Galleries
Nashville's Smallest Art Gallery (NSAG) is the smallest art gallery in Nashville, and at 27 by 37 inches, probably the whole world. The gallery features international artist's tiny art, art that is really for sale. Before being an art housing establishment, NSAG was a neglected display case covered in graffiti. Now, the minuscule museum is open 24 hours a day 7 days a week and even has a solar panel, making it an 100% self-sufficient art gallery.

In January 2012, New York artists Sam Pulitzer and Mathieu Malouf opened an art gallery in the desirable location of the Lower East Side in a less desirable location of a garbage can. The artists spoke seriously about the real estate decision to Art in America: "We were thinking of the number of galleries that are popping up in the neighborhood, gentrifying spaces that were inoperable. The garbage can was a way to elevate the game in that regard." The space is called William Gallery and located on the 5th floor of 179 Canal Street. We could not locate a website for the can, but we would like to image it looks something like the space above. Visit to confirm.

Each year a six-car Chicago Transit Authority train car is given over, for free, to a different local artist for a total makeover. For one night only the train loops around the elevated track, giving the public a chance to see artwork in motion. The gallery, called "Art on Track," gives artists exposure not just to those visiting the train as a gallery, but those doing their daily commute. This year, the world's largest mobile art gallery is celebrating its fifth birthday in September.

The Boston Museum of Fine Art housed a peculiar gallery in 2011... in their bathroom. Based on "Flush the Walls," a protest-exhibit held 40 years ago, artists snuck into the museum bathroom and turned it into a gallery. The impromptu exhibition drew 75 people before it was shut down by security. Yet the museum responded positively to the unexpected bathroom decor, saying it " underscores the MFA's role as a place that inspires creativity."

Hot n' Now is a Michigan Fast Food chain that mostly serves burgers, fries and shakes, but one location has a very different menu. Local artists set up shop in one of the former fast food joints and created Redemption Gallery. With works ranging from kinetic metal sculptures to pinstriped cars, the gallery repurposes old items and brings them to new life. "Running your own gallery means the artists make a fair price on their art," founder Rick Weese told Michigan local news, and the buyers get more art for their money."

This art gallery provides a way to enter a bowling alley without renting socks, so we are quite supportive. Pop-up art gallery Shoebox L.A. took over bowling alley 'All Star Lanes' last year for an unusual sculpture exhibition by Kim Tucker. The gallery founders told Eastsider LA they are attracted to spaces that "are not spaces one would initially connect with art." Shoebox LA has also held gallery shows in a park and shopping mall.

The Homeless Museum of Art doesn't have a location, in fact it doesn't even have walls. Travelling around New York locales like Times Square, the High Line and the Bowery. At the unconventional art museum you won't find much actual art, but you will find an eccentric mustachioed director and his taxidermy coyote/ PR representative. Visiting HoMu is an eye opening experience, part performance art and part therapy, that shows the core of the museum experience may not be found in the rituals we associate with a big, "serious" museum.

A Bosnian nuclear bunker, designed during the Cold War to protect the Yugoslavian president from a nuclear strike now houses artworks to commemorate the Cold War era. The biggest military complex in fomer Yugoslavia, a shocking 6,500 square meters in size, took 4.5 billion U.S. dollars to complete. Now the underground bunker hosts 44 artists from 18 countries, serving as a visual reminder of another time. As the plaque outside reads: "Let us build a monument to remind is of our futuristic past."

'The Underbelly,' organized in Paris four stories below the street, turned dark and dank abandoned tunnels into a secret art gallery. The only people who were aware of the convergence were the ten participating artists, three organizers, two photographers and one writer. The tensions were high between accessing the unsanctioned space, avoiding inhalation poisoning in an airless tunnel and keeping relations between street artists calm. But we imagine the experience of seeing a 12 foot graffiti portrait in a tunnel of pure darkness is pretty unbeatable.

Photographer Andreas Frank dove down to the Vandenberg, a United States missile tracking ship that had sunk off the coast of Key West, Florida, in 2009. He used these images from the wreckage as a canvas for an underwater world that never was, digitally manipulating a surreal civilization on board the ship. To show his exhibition, dubbed "The Vandenberg: Life Below the Surface," Frank returned to the site of the original photographs, turning the sunken ship into an unorthodox gallery. Gallery goers dove underwater seven miles off the coast of Florida to see the sunken world in its native habitat. Talk about a commute!