Beer is king when it comes to alcohol market share. This year, world beer production has hit a new high and craft beer production is also exploding. But beer shouldn't get too comfortable in its throne -- U.S. beer shipment volumes have fallen for three years straight and the wine and spirits market are both growing at pretty significant rates.
The graph and chart below, with data from the Distilled Spirits Council of the United States, details alcohol market share based on percentage of standard-sized drinks -- so that's 12 ounces of beer, five ounces of wine and 1.5 ounces of spirits.
(Story continues below)
U.S. Beverage Alcohol Market Share - Percentage of Drinks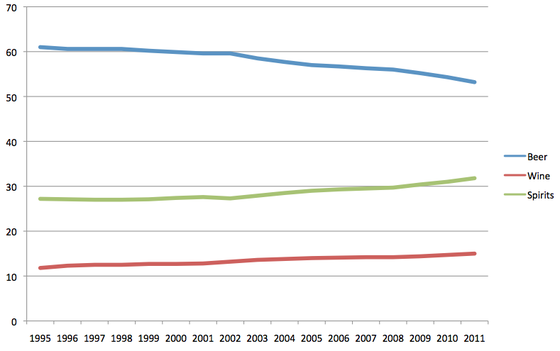 Conversion based upon 1 standard drink (12 ounces of beer, 5 ounces of wine and 1.5 ounces of spirits)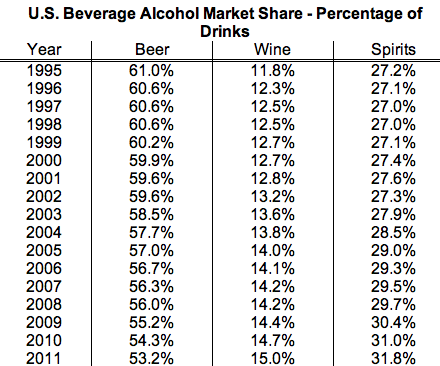 The second chart is based on revenue share rather than percentage of drinks. As you can see, the results are similar to the first chart.
U.S. Beverage Alcohol Market Share - Revenue-Based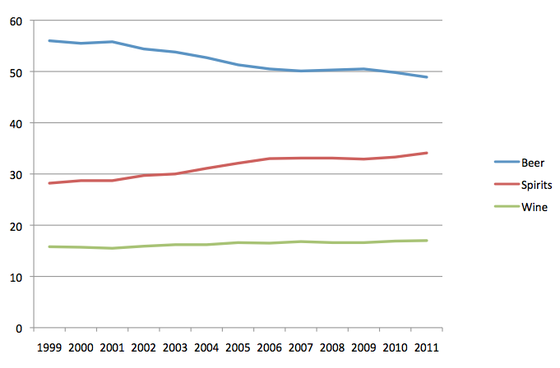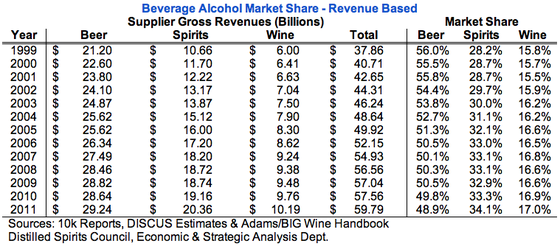 There's still some significant ground before the spirits sector closes the gap, but the steady rise in spirits and wine, along with the steady decline in beer market is certainly indicative of a slow change of taste and preference. In an era where craft beer is more popular than ever, it is interesting to see market share rates for beer go down overall. Have your preferences changed? Let us know in the comments.
Also on HuffPost:
Loading Slideshow
20. Brooklyn Brewery

19. Dogfish Head Craft Brewery

18. Stone Brewing Co.

17. Boulevard Brewing Co.

16. Lagunitas Brewing Co.

15. Harpoon Brewery

14. Minhas Craft Brewery

13. Bell's Brewery, Inc.

12. Matt Brewing Co.

11. Deschutes Brewery

10. The Gambrinus Company

9. Craft Brew Alliance, Inc.

8. New Belgium Brewing Co.

7. Sierra Nevada Brewing Co.

6. North American Breweries

5. Boston Beer Co.

4. D. G. Yuengling and Son Inc.

3. Pabst Brewing Co.

2. MillerCoors

1. Anheuser-Busch Inc.